Dr. Preston-Dillon demonstrates the use of Narrative Sand Therapy© to help clients find emotional healing.
About this event
Narrative Sand Therapy©: Practice, Ethics, Theory and Clinical Skills
Sand therapy is nested in the larger context of human story-telling, including centuries of oral traditions across cultures. The depth and power for emotional healing can be a profound experience when using metaphors and symbols in sand. It is a process useful for clients of all ages and abilities. This workshop will introduce foundational competencies, ethics and guidance for Narrative Sand Therapy© practice. Guiding this process is existential psychotherapy, a search for meaning while emphasizing depth and presence with an emphasis on collaboration between client and clinician.
Through the use of metaphor, poetics, symbols and story we honor and validate client experience. Additionally, we unpack social-cultural constructions, distortions of the wounded self from shame, trauma, and alienation. The gift of existential depth with symbols in sand is permission for authenticity, spontaneity and imagination, in life and in therapy.
Attendees are asked to bring to the workshop, one small object from nature (something organic, such as a stone, piece of wood/branch, leaf, pine cone, small bit of dirt etc.) and one object from around the home or office, small enough to fit in hand, such as a tooth brush, nail, anything from any room. This workshop is partly an experiential session.
***Counts toward ethics requirement
Workshop Details
CE Credit: 3
Workshop Level: Beginner to Intermediate
Workshop Type: Webinar ONLY **Zoom information will be provided via e-mail the day prior to the event.**
Approved Professionals:
Social Workers (Category I)
Professional Counselors, Addiction Counselors, & Marriage & Family Therapists (Category A)
Out of State Providers: Our workshop is co-sponsored by the Maryland Psychological Association. Most mental health boards across the United States will accept CE credits from state health professional organizations like MPA. Please check out your professional board information to determine if this workshop will meet your continuing education needs.
Learning Objectives
Identify three (3) guiding principles for safe collaborative amplification and active imagination with symbols and metaphors.
Explain three (3) existential ideas to help understand and respond to symbols and story in sand.
Identify two (2) examples of culture-related alienation or trauma, and identity how that may emerge in sand scenes.
Describe two (2) narrative clinical skills to enhance client-clinician engagement.
Clinical Questions
What is the relationship between symbols and metaphor?
What tone or attitude is essential to resonate with sand scenes - a practice of mindful presence and deep empathy?
How does symbol amplification reflect layers of meaning?
What ethical issues are present regarding safety and trauma?
How do we discern valuable therapist-client projections?
What exercises outside of client sessions can help activate imagination and wonderment?
How can we use flow and silence to empower the internal voice?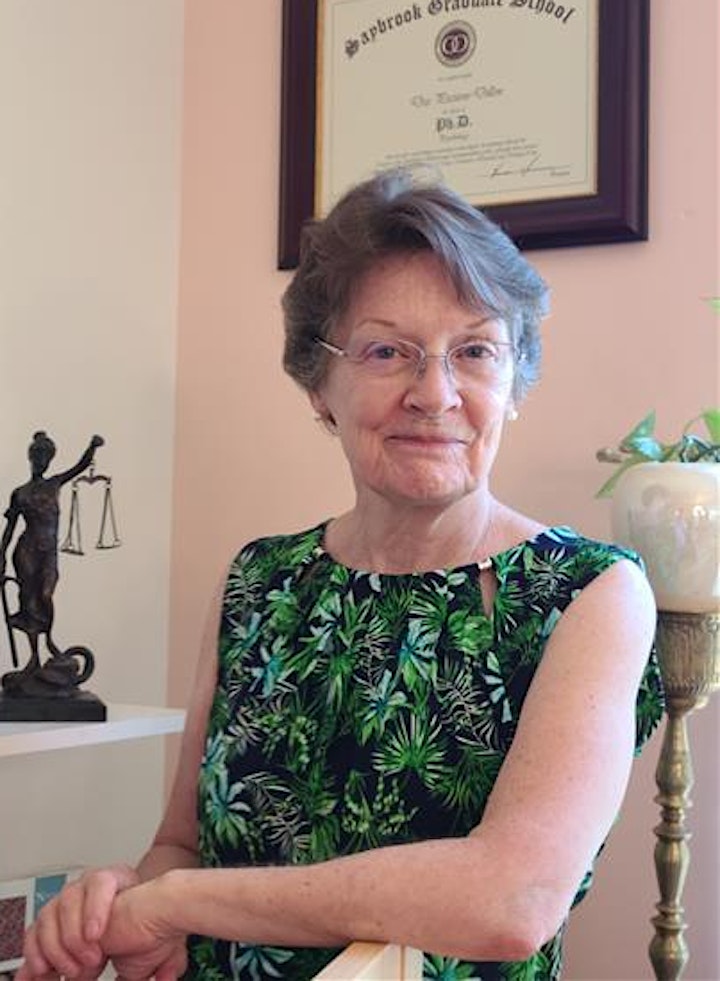 About the Presenter
Dr. Preston-Dillon is the founder and director of the Center for Culture and Sandplay. A clinician educator, Dee's 40 years teaching and clinical work anchor her immersive approach with clinicians and graduate students. She considers her life work a study of sand therapy as a projective process, incorporating cross-cultural, client-centered, and existential approaches. With a master's in counseling and a doctorate in psychology, her dissertation was a cross-cultural study of Sandplay, a qualitative analysis comparing indigenous and Jungian understanding of sand scenes.
She is an affiliate faculty for the graduate counseling program at Johns Hopkins University, the master's in Art Therapy at George Washington University, and the Ferentz Institute for Trauma Training. Presenting at over 40 national and international conferences on expressive arts, clinician competencies, and play therapy, her focus has been on theory, ethics, and the clinical use of metaphors with symbols in sand. Dr. Preston-Dillon sees the essential nature of clinician-learning as an authentic immersion, in a deepening experience, within their own sand scenes.
Her work with clinicians is an active engagement to validate clinician insights and extend their capacity to resonate with client representations in sand scenes. She developed the Sand Therapy Competency Scale, a graduated skill-set for clinicians who use different approaches such as Sandtray and Sandplay. A new approach to work with sand scenes emerged from her cross-cultural work, Narrative Sand Therapy©.
Dr. Preston-Dillon provides professional CE courses, private cohort retreats, agency staff training, and individual consultation for practiced immersion in sand. She teaches the advanced certificate programs in Sand Therapy, level I and Level II, through College Park Youth and Family Services, Maryland. Her training studio is located in Brandywine, Maryland.
Workshop Co-Sponsor
This activity is being co-sponsored by the Maryland Psychological Association, the Maryland Psychological Association Foundation, and iHEAL. The Maryland Psychological Association is approved by the American Psychological Association to offer continuing education for psychologists. The Maryland Psychological Association maintains responsibility for the program and its content.