Description
Discover the Power of Connection! Come to the NAPW Power Networking Event where you'll make connections with like-minded professional women who share your same passion to Aspire, Connect, and Achieve!
FREE to all NAPW Members!! Bring your business cards!!
EVENT HIGHLIGHTS:
Connect with NAPW Member

Meet professional women in a variety of industries

Free VIP Member Showcase*

"Photos for Philanthropy" – For $20, take a professional
photo with Star. Proceeds benefit NAPW Foundation.
Free Food and Hospitality

Power Networking and Meetups

Raffle / Giveaways
Be inspired by "The Power of One"! Listen as NAPW President Star Jones conducts one-on-one interviews with Councilman Yvette M. Alexander and Chamber Hill Strategies Partner, Jenn Higgins. These professional women are achieving their career goals and making a tremendous impact on a local and national level. Don't miss this opportunity to make powerful connections that will energize your network!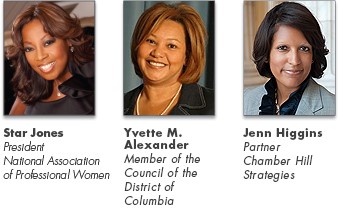 *For more information on the VIP Member Showcase, please contact Sonya Sellers at ssellers@napw.com.
#NAPW2016PNE #WomenNetworking #Professional
---