Description
Speaker: Estela Hernandez, Vice President of Oklahoma Council of Public Affairs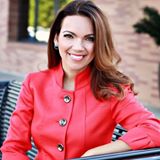 This Meeting is for Women only.
Town Village is the Sponsor for our meeting room.
Please Bring $5.00 Cash to Cover Room charge.
Breakfast will be served at meeting.
Please Like us on Facebook
Please Bring a Friend to our next Event!
Please Connect with our officers. We want to know you!

NAPW TULSA CHAPTER Officers:
Lynnette Warren, Secretary
Shontae Davis, Treasure
Michele C. Scott, President