Description
---
You're Invited!
Are you a professional woman?
Want to build your career, grow your business, or expand your network?
Join us at this NAPW empower-networking kick-off event of the New Year.
We're Raising the Bar in 2018!
Event Agenda (6:00 P.M. - 8:00 P.M.)
6:00 - 6:15: Networking
6:15 - 6:45: Program: Welcome, Mission, 2018 Goals & Partnerships
6:45 - 6:55: Present DoubleTree Hotel Partner and Host, Kimberly Wyckoff, Director of Sales Greensboro, NC
6:55 - 7:00: Break

7:00 - 7:30: Featured guest, Julian Brittano "Raising the Bar" Talk Show Premiere
7:30 - 8:00: Networking Reception
---
FEATURED GUEST, JULIAN BRITTANO, CO-STAR ON OPRAH'S "GREENLEAF" AND HOST OF "RAISING THE BAR" TALK SHOW

---
COME OUT! COLLABORATE ! PARTICIPATE IN THE TAPING OF THE SHOW!
---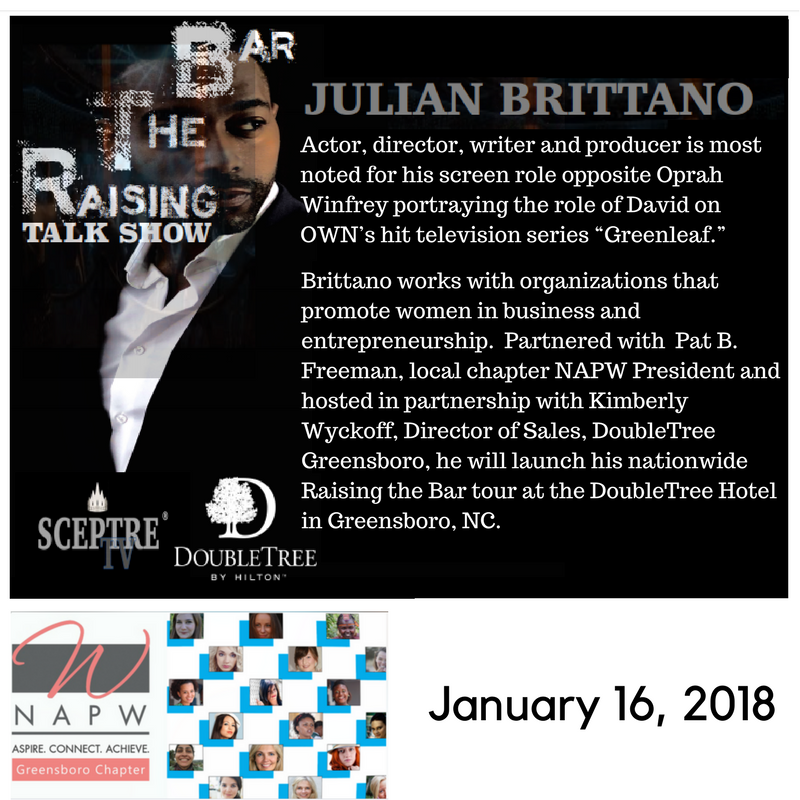 ---
---


DON'T MISS THIS OPPORTUNITY TO BE EMPOWERED AND NETWORK WITH LIKE-MINDED PROFESSIONAL WOMEN.
Learn more by clicking on the video!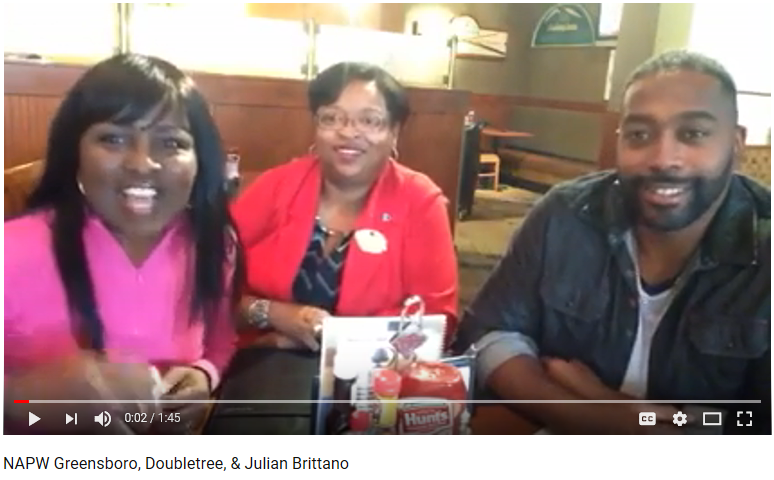 ---
---
---
NAPW has over 850,000 members and 200 Chapters nationwide. Keep your power network strong! Connect to an exclusive community of dynamic, intelligent, accomplished women from diverse backgrounds and fields to enhance your business and career success.
---


Register Today! Limited tickets available.



FAQs
How can I contact the organizer with any questions?
Send questions to Pat B. Freeman, NAPW Greensboro Chapter President: napwgreensboro@gmail.com
What is the dress code?
Business or business casual
Do I have to be registered to attend?
Yes
Do I need to be a member?
Not required but hope you will become a member