Nappiology Expo - 4th Annual Natural Hair Experience - pay at the door

Saturday, November 3, 2012 at 8:00 AM (CDT)
Event Details
Nappiology Expo
Saturday, November 3, 2012
Hurst Conference Center
Pay at the Door
$10 - general admission or
$20 - workshop + admission
children under the age of 12 enter for FREE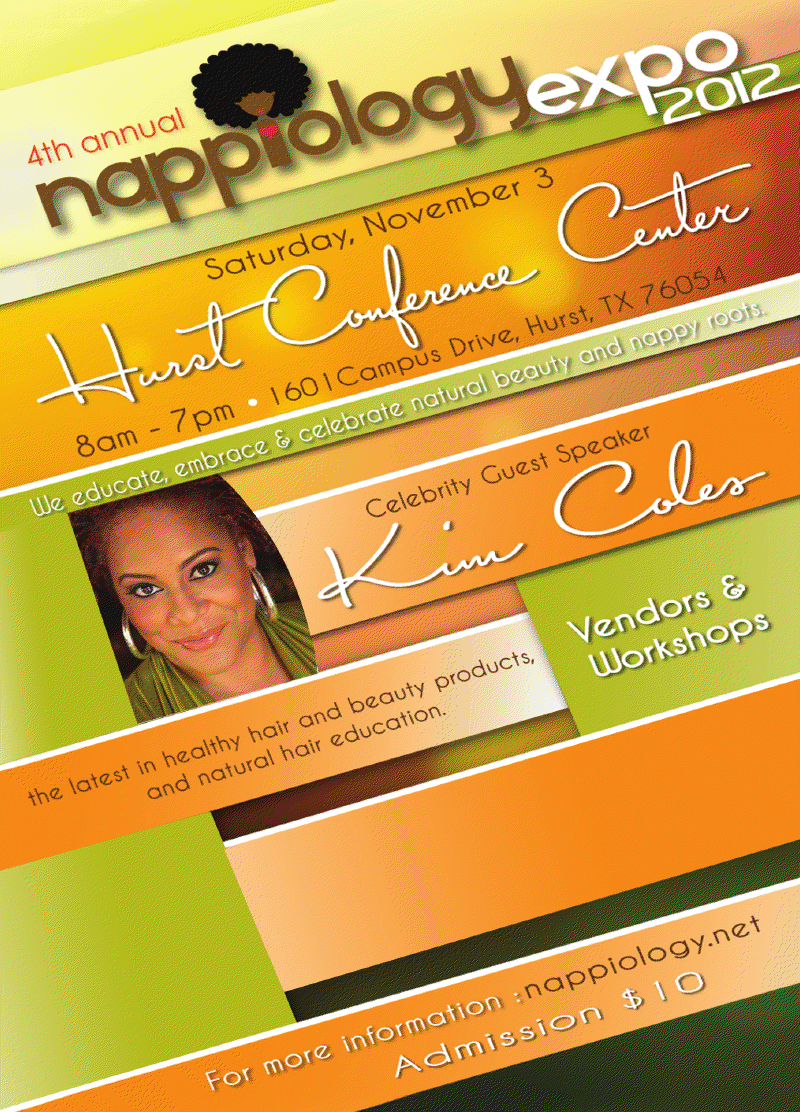 The Nappiology Expo focuses on providing natural hair educational information to those living in the Dallas/Ft. Worth, Texas metroplex and surrounding areas. We are celebrating our 4th Annual natural hair show and we are making preparations for the thousands that will attend this regional event. 
We would be thrilled to have your business as a sponsor and/or vendor! Here are a few perks:
*Actor, Kim Coles is the featured personality and guest speaker conducting one of the 9 workshops
*Exposure to over 10,000 people through Nappiology's Social Media Reach - facebook, meetup.com/nappiology and twitter
*Exposure to 5000 or more Attendees in 2012
*A 10X10 or 10X20 Vendor Booth Space
*Membership to the Nappiology Chamber of Commerce
*Prominent shared logo recognition on-line (expo website, facebook, meetup and twitter) through Dec 2012
*Natural hair stylist showcase 
*Nappy Hour - social networking opportunity - Nov 2, 2012
*Market your product to thousands of women, men and children from Texas, Mississippi, Oklahoma, Louisiana
*We also have a bus load of naturals travelling from Tennessee to attend this year's Nappiology Expo
The Nappiology Expo is an intoxicating napptural (natural and nappy) experience for both men, women and children. We are inviting vendors to provide information and services about natural hair products and styles.
Nappiology is the study of napptural (nappy and natural) hair. We educate, embrace and celebrate our natural beauty and nappy roots. Nappiology is an engaged napptural hair community of more than 2000 members who read the nappiology discussion board material, submit salon and product suggestions and also reviews or locates stylist in the Dallas /Ft Worth, TX area. We're an active social networking hair group bonded together by our love of natural beauty and nappy roots.
The Nappiology community is composed of those visiting the site to learn, share, and make informed purchases and decisions across multiple categories and material. In the hair care category alone, a signficant percentage of our nappiology members buya large numberof natural hair care products per month. One out of three nappiology members spend more than $300 per year on natural hair products.
Nappiology, Inc hosted its third (3rd) natural hair show for those who lived in the DFW and surrounding areas on November 2011. We had over 2000 people to attend last year.  On June 16, 3012, Nappiology hosted the Fro Fest for the City of Desoto with special guests, Miko and Titi Branch, founders of Miss Jessies's celebratuing our natural roots Juneteenth.  Fro Fest had over 2500 people in attendance.
We are gearing up for another exciting show that includes new consumer, nutrition information, the latest in healthy hair and beauty products and services and so much more. Of course, we are an anticipating that the Nappiology Expo will be filled with excitement, beautiful people, atmosphere, music and a sea of information on natural hair, health and beauty.
We are inviting you to be a part of this NAPPIOLOGY celebration. Throughout the year, Nappiology, Inc highlights various salons and other providers who cater to the needs of our organization. We look forward to you becoming a member or our extended team as we continue to grow in our knowledge of natural hair care.
This event is open to the public and will be advertised throughout all media aspects in DFW area.
Thank you for supporting the Nappiology Expo. Working together you have helped to create a demand for this type of an event in the DFW area. Our members are still excited about the 2011 natural hair show and are awaiting the 2012 show. If you have products for natural hair, healthy living and eating, etc. this is the show for you. Our show is unique as our exhibit spaces are limited to only related natural hair products and services. Don't delay, please reserve your space today. We truly appreciate our exhibitors and are excited about your participation with this event. We look forward to hearing form you soon. See you at the show in Dallas/Ft. Worth metroplex.
Don't miss this opportunity to get your products and services in front of a crowd of interested consumers.
The choice to go natural has grown tremendously. Women, men and children everywhere are choosing healthy natural hair over tradition. Studies show that a significant percentage of African Americans are now wearing their hair chemical-free and that number is rapidly increasing.  Natural hair is becoming the main stream in our society especially in the advertisement industry. For example: We are seeing more natural hair models being exposed in tv commercial advertisements. Nappiology would like for you to be a part of this movement and help us provide all this excitement together under one roof.
Mark your calendar(s) for Saturday, November 3, 2012
Vendor information please contact De Phillips Johnson - nappiology@gmail.com
Sponsorship Package - for additional information please contact sponsors@nappiology.net
Hotels near the Hurst Conference Center
* must mention Nappiology Expo to receive discount
 Holiday Inn Express & Suites
820 Thousand Oaks Drive
Hurst, TX 76054
Phone – 817.427.1818
www.HIExpress.com
$109.00

 Hyatt Place
1601 Hurst Town Center Drive
Hurst, TX 76054
Phone – 817.577.3003
www.HyattPlace.Hyatt.com
$82.00
 
     
  Hampton Inn & Suites
1600 Hurst Town Center Drive
Hurst, TX 76054
Phone – 817.503.7777
www.hamptoninn.com
$109.00
  
When & Where

Hurst Conference Center
1601 Campus Drive
Hurst


Saturday, November 3, 2012 at 8:00 AM (CDT)
Add to my calendar
Organizer
Thank you in advance for the napptural love and support! 
much love and nappiness!!
© 2011-2014 Nappiology, Inc., a 501(c)(6) non-profit organization.  All rights reserved. Nappiology, Inc. is the owner of family of marks and logos including the NappiologySM,Nappiology.netSM, NappiologistSM,Nappy NewsSM, Embracing, Educating and Celebrating Our Natural Beauty and Nappy Roots!SM, NappiversarySM, and Natural Hair Chamber of CommerceSM marks and logos included in this website, and of this website's trade dress, including the overall look and feel, design properties, distinctive color combinations, typography, graphic designs, photographs and imagery.