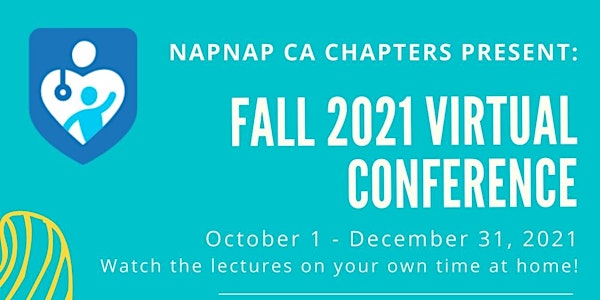 NAPNAP California Chapters presents Fall 2021 Virtual Conference
NAPNAP California Chapters present Fall 2021 Virtual Conference
About this event
Presented by Los Angeles, Orange County, Sacramento, San Diego, San Francisco and San Joaquin NAPNAP Chapters.
Registration opens September 1st, and lectures will be availabe from Oct 1 - December 31st.
This is a pre-recorded video conference that can be watched at your leisure through December 31st
Starting October 1, you will have access to the event page (located on the right of this page, "Access this Event")
SPEAKERS & TOPICS:
Chloe Journel, PNP - Preoperative Stratification & Optimization of Children with CHD Undergoing Cardiac Anesthesia
Kimberly Erlich, MSN, RN, MPH, CPNP, PMHS - Don't Worry: Learn How to Manage Anxiety
Ramin Azhir, MD - Adolescent Mental Health: An Overview of Common Issues in the Outpatient Setting
Najmeh Zadeh, MSN, NP - What's that Sound? (Stridor)
Timothy Foster, MD - Pediatric and Adolescent Dysautonomia
Linda Camacho, RN, MSN, CPNP - Pediatric Surgical Abdomen
Debra Browne, RN, MSN, CPNP - Obesity...It's What's Happening to Our Kids!
Diana Poon, CPNP-PC, & Daphne Li, MD - Heads up! Synostosis
Shannon Reese, RN, BSN, VA-BC and Kaitlyn Morris, RN, BSN, VA-BC - An Overview of Pediatric Vascular Access
Alexandra Roche, MD, ABOM - Shhhhh! STI's The Epidemic No One is Talking About
REGISTRATION FEES:
$15 of all registration fees will be donated to an organization of your choice below:
NAPNAP Member Fees:
Early bird (September 1st- 30th)- $65
Regular (October 1st - November 30th)- $75
Student (September 1st - November 30th)- $55
Non-Member Fees :
Early Bird (September 1st- 30th)- $75
Regular (October 1st - November 30th)- $85
Student (September 1st - November 30th)- $65
Organizations you may choose to donate to:
The Painted Turtle
-- The Painted Turtle, located just outside of Los Angeles, strives to provide year-round camp experiences for children with chronic and life-threatening illnesses. They support the medical requirements for these children while providing them life-changing experiences beyond their illnesses. All campers and families attend free of charge.
Special Olympics, California
-- The Special Olympics provides year-round training and competitions in athletic events for children and adults with intellectual disabilities. These Olympic-type sports gives them opportunities to develop physical fitness while partaking in positive experiences with other members and families of the Special Olympics community.
Additional option:
The SF Bay Area chapter is hosting a mask sale to support a grant fund for a local nurse practitioner. We will be calling for applicants who are in need of financial resources to support his or her proposed project to provide direct care to communities where healthcare is limited or difficult to access. The selected applicant will be awarded the proceeds gained throughout this mask drive. Those interested may purchase a mask here.
Once you register, you will receive an invite via e-mail to the Online Event Page available to you on October 1st.
Lectures will be available to view from October 1st through December 31st.
Please click on each lecture to watch on your own time.
Each lecture comes with an evaluation to receive CE credit.
BOTH watching the video lectures and evaluations MUST be completed by December 31st as the event page will close at this date. No refunds will be available if you are unable to finish the lectures/evaluations by this date.
AFTER each lecture/evaluation is completed, you will receive a link for your CE Certificate.
A total of 9.5 CE credits will be available if you finish the 10 lectures/evaluations.
Each lecture is equivalent to 1 CE unless otherwise indicated; one lecture is 0.5 CE.
For any questions, please contact napnapceu@gmail.com.