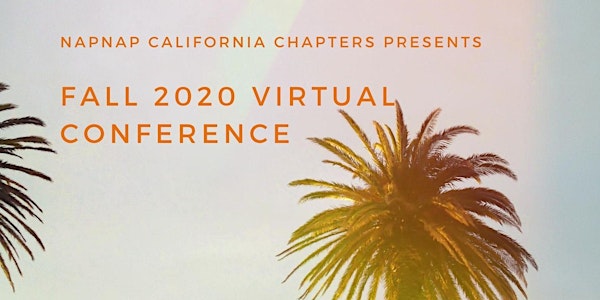 NAPNAP California Chapters presents Fall 2020 Virtual Conference
NAPNAP CALIFORNIA FALL 2020 VIRTUAL CONFERENCE
About this event
Presented by Los Angeles, Orange County, Sacramento, San Diego, San Francisco and San Joaquin NAPNAP Chapters.
OCTOBER 1st - DECEMBER 31st
This is a pre-recorded video conference that can be watched at your leisure through December 31st.
SPEAKERS & TOPICS:
Karen Brand, PNP - Pediatric Palliative Care
Jennifer Busse, FNP-BC, MPH - Essential of Treating Pediatric Pain
Kelli Garber, PPCNP-BC - TeleHealth and the Nurse Practitioner: Maintaining Quality and Compliance
Terea Gianetta, DNP, CPNP- Primary Care Hematology 101
Sarah Green, CPNP-AC - Promoting Professional Well Being and Resilience for Pediatric Advanced Practice
Katie Huffling, CNM - Nurse Leadership to Address Climate Change
Dan Jacobson, CPNP-C - Better the Devil you Know: Procedural Sedation in the Acute Care Setting
Natasha Nakra, MD- Multi-system Inflammatory Syndrome in Children
Mary Tresgallo, DNP, MPH, FNP-BC- Medical Ethics in Pediatrics: Who is Vulnerable?
REGISTRATION FEES:
$15 of all registration fees will be donated to an organization of your choice below:
NAPNAP Member Fees:
Early Bird (September 1st - 30th)- $65
Regular (October 1st - November 30th)- $75
Student (September 1st - November 30th)- $55
Non-Member Fees :
Early Bird (September 1st - 30th)- $75
Regular (October 1st - November 30th)- $85
Student (September 1st - November 30th)- $65
Organizations to donate to chosen by chapter (you may donate to any organization independent of which chapter you are affiliated with):
Sacramento Chapter:
- - Children's Receiving Home of Sacramento: crhkids.org
The Children's Receiving Home of Sacramento is committed to positively impacting the lives of children, youth, and families affected by abuse, neglect, behavioral health issues, and trauma in California.
- - Sacramento Food Bank and Family Services: sacramentofoodbank.org
As the largest nonprofit provider of basic human needs in Sacramento County, we take our mission one-step further by offering educational opportunities and family support services that allow people who seek support to shape their best tomorrow. We are a place for hope and prosperity, a place where women and men, children and elders, are offered the tools they may need—food, clothes, education, technology, or just plain kindess—as they move toward a path of financial independence and self-sufficiency.
San Diego Chapter:
- - Polaris Project: polarisproject.org
We respond to sex and labor trafficking as they happen. We learn from that response and share that learning. Finally, we use what we learn to pilot big, new ideas for slowly, carefully, finally, dismantling big, old systems that make trafficking possible.
- - Rapid Response SD: rapidresponsesd.org
The San Diego Rapid Response Network (SDRRN) is a coalition of human rights and service organizations, attorneys, and community leaders dedicated to aiding immigrants and their families in the San Diego border region.
San Joaquin Chapter:
- - Marjaree Mason Center: mmcenter.org
Marjaree Mason Center supports and empowers adults and their children affected by domestic violence, while striving to prevent and end the cycle of abuse through education and advocacy.
- - EPU Children's Center: epuchildren.org
Exceptional Parents Unlimited (EPU) was founded to help struggling parents become exceptional parents of their exceptional children through their programs.
San Francisco Chapter:
- - National Cares Mentoring Movement: caresmentoring.org
National CARES Mentoring Movement is a pioneering community-galvanizing movement dedicated to alleviating intergenerational poverty among African Americans. It offers Black children in low-income families and unstable communities the social, emotional and academic supports they need to unleash their potential and graduate from high school prepared to succeed in college or vocational-training programs and 21st-century careers.
- - Caring for Each Other: sesamestreet.org
These are challenging times, and your friends at Sesame Street are here to help. Our new hub is filled with videos, playful learning activities, and ways to help families stay physically and mentally healthy. The Sesame Street Muppets are staying home, too, but still connecting with friends online—and each week we'll post new videos, like Singalong with Elmo or Snack Time with Cookie Monster.
- - West Contra Costa Public Education Fund: edfundwest.org
When communities work together to eliminate inequities, our youth will thrive. The West Contra Costa Public Education Fund mobilizes resources for our students and aligns the efforts of our partners to ensure that all students succeed in college, career, and life.
Los Angeles Chapter:
- - One LA IAF: www.onela-iaf.org
One LA is a broad-based organization, made up of member congregations, schools, and nonprofits who shape the organization's agenda and teach their constituents how to be effective public people.
- - Downtown Women's Center: downtownwomenscenter.org
The Downtown Women's Center (DWC) is the only organization in Los Angeles focused exclusively on serving and empowering women experiencing homelessness and formerly homeless women.
- - Homeboy Industries: homeboyindustries.org
Homeboy Industries is the largest gang rehabilitation and re-entry program in the world.
Orange County Chapter:
- - Court Appointed Special Advocates for Foster Children: californiacasa.org
California Court Appointed Special Advocate Association ensures that children and youth in the foster care system have both a voice and the services they need for a stable future.
- - Human Options- Domestic Violence Prevention Program: humanoptions.org
We ignite social change by educating Orange County to recognize relationship violence as an issue that threatens everyone, advocating for those affected by abuse, extending a safe place for victims and empowering survivors on their journey of healing.
Registration is now extended through November 30th.
Once you register, you will receive an invite via e-mail to the Online Event Page available to you on October 1st.
Lectures will be available to view from October 1st through December 31st.
Please click on each lecture to watch on your own time.
Each lecture comes with an evaluation to receive CE credit.
BOTH watching the video lectures and evaluations MUST be completed by December 31st as the event page will close at this date. No refunds will be available if you are unable to finish the lectures/evaluations by this date.
AFTER December 31st, you will receive a CE Certificate for each lecture/evaluation you have completed.
A total of 9 CE credits will be available if you finish the 9 lectures/evaluations.
Each lecture is equivalent to 1 CE.
For any questions, please contact napnapceu@gmail.com.