NAPIA 2015 Biennial Meeting
When and where
Location
Marriott Niagara Falls - Gateway on the Falls 6755 Fallsview Boulevard Address Line 2 Niagara Falls, ON L2G 3W7 Canada
Description
North American Pulse Improvement Association 2015 Biennial Meeting
NAPIA 05-06 November 2015
8am to 6pm Thursday and Friday
Preconference Reception to Celebrate International Year of the Pulse - Wednesday evening 4 November 2015
The NAPIA/BIC biennial meetings and associated meetings will be held 5-6 November 2015 at the Marriott Niagara Falls - Gateway on the Falls, Niagara Falls, Ontario
Marriott Niagara Falls - Gateway on the Falls Hotel Information:
Telephone 503.281.6111
Personalized group website: coming soon
Ask for the BIC/NAPIA Conference Rate of $115-135/night, plus taxes.
Invited Speaker: To be announced
Graduate Student Presentation Competition
Awards for oral and poster presentations
Student must be first author and presenter
Deadline Summary
Abstracts: 1 September 2015
submit to Weidong Chen (w-chen@wsu.edu)
Early Registration: 1 September 2015
Hotel at Conference Rate: 4 October 2015
Abstract Format:
Please follow the following abstract format: A blank line should separate the affiliation from the text. The abstract should be limited to two or three sentences in length. The total abstract should be no more than 6.5" wide and 3.0" high. The presenter should be identified with an asterisk after his/her name. The affiliations should be followed by the email address of the presenter. Abstracts should be typed in Times New Roman font, 12 pt.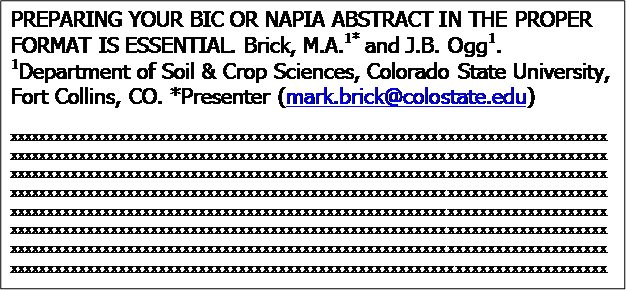 NAPIA abstracts should be emailed by Sept. 1, 2015 as a Word document to Weidong Chen at w-chen@wsu.edu
Indicate whether the presentation is for: ___ Oral or ___ Poster session
and whether the presenter is a student: ___ Student Presenter
Reports:
Abstracts or a paper (maximum of two pages in length) for each oral and poster presentation is requested for publication in the 2015 issue of Pisum Genetics (http://hermes.bionet.nsc.ru/pg/). An electronic copy of papers should be provided to Kevin McPhee (kevin.mcphee@ndsu.edu), Pisum Genetics editor, by November 15.
For BIC Registration, contact Phil Miklas (phil.miklas@ars.usda.gov)