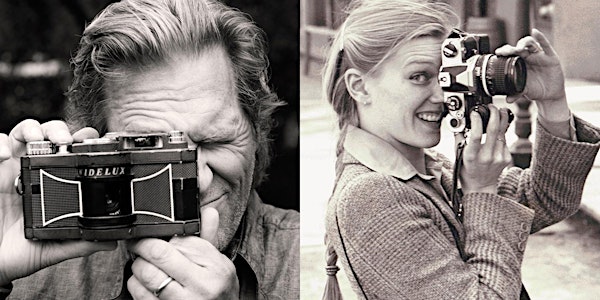 NapaValley Museum Opening Celebration Jeff Bridges & Susan Bridges Exhibits
Opening Celebration for Jeff Bridges and Susan Bridges Exhibits, Saturday, October 22, 2022 at 5 pm
When and where
Location
Napa Valley Museum Yountville 55 Presidents Circle Yountville, CA 94599
About this event
Join us on Saturday, October 22 from 5:00 to 7:00 pm, for the opening celebration of:
JEFF BRIDGES: PICTURES and
SUSAN BRIDGES: INSIDE HEAVEN'S GATE
- Two extraordinary exhibitions of photography by two extraordinary artists, in our three museum galleries -
Free for Members; $20 for Non-Members, including museum admission to all galleries, plus wines from John Anthony Vineyards.
We encourage members to verify or renew their memberships in advance on our website!
About the Exhibitions
JEFF BRIDGES: PICTURES, an exhibition exploring the work of the Oscar-winning actor, author and acclaimed photographer, will be on display in our Main Gallery from October 22, 2022 through April 23, 2023 .
Academy Award-winning actor Jeff Bridges is a giant of American cinema, with dozens of leading credits to his name, but he is also a renowned photographer whose work has been published in numerous books and exhibitions. For more than 30 years, Bridges has captured the creative world of moviemaking through scenes shot on a variety of film sets using his specialized Widelux F8 panoramic camera. The result is a fascinating, surprisingly candid body of photographic work offering a vision of Hollywood that is both intimately human and formally beautiful.
SUSAN BRIDGES: INSIDE HEAVENS GATE will be on display in our Spotlight and History Galleries from October 22, 2022 through April 23, 2023.
This striking collection of photos bring the 19th century vividly back to life in the 21st century in the Museum's History Gallery. During the filming of the epic 1980 western Heaven's Gate, Susan Bridges took behind-the-scenes photos of the actors, sets, and scenery. Her photos capture never- before-seen glimpses from the director's chair and intimate portraits shot on location near Glacier National Park in 1979.
Image of Jeff Bridges © Sam Jones. Image of Susan Bridges, by Jeff Bridges.
Thank you to John Anthony Vineyards for its support of our opening celebration!
Jeff Bridges: Pictures and Susan Bridges: Inside Heavens Gate are presented through generous contributions by Bank of America, the Napa County Board of Supervisors, the NVTID-Yountville, and the trustees, members and supporters of the Napa Valley Museum.
About the Museum
The Napa Valley Museum Yountville is located at 55 Presidents Circle in Yountville and is open Thursdays through Sundays from 11 to 4 pm. Visit www.napavalleymuseum.org for more information about the exhibitions, memberships and tickets.
Proceeds benefit the Napa Valley Museum Yountville's 501c3 nonprofit arts and education programs. For the protection of all our visitors, including our neighboring Veterans Home residents, we suggest that visitors wear face masks. County regulations require face masks for the unvaccinated . We encourage members to n our website!
The Napa Valley Museum is a 501(c)(3) nonprofit organization dedicated to enriching the cultural fabric of the Napa community through exhibitions, collections, educational programs, and creative activities that promote knowledge and understanding of art, nature, and history. From world premiere exhibits to exhibitions of iconic international and renowned regional artists, exhibitions by local and student artists, plus explorations of Napa Valley's history and environment, the Napa Valley Museum Yountville has something for all ages and interests. For more information about these exhibitions and the Museum's programs, or to join the Museum, please visit www.napavalleymuseum.org. 
Please note: purchasers on Eventbrite will be added to our Museum mailing list using the email address provided. Opt-out by emailing info@napavalleymuseum.org or upon receipt of the newsletter. Thank you for supporting the Napa Valley Museum Yountville, a 501c3 nonprofit organization.