About this Event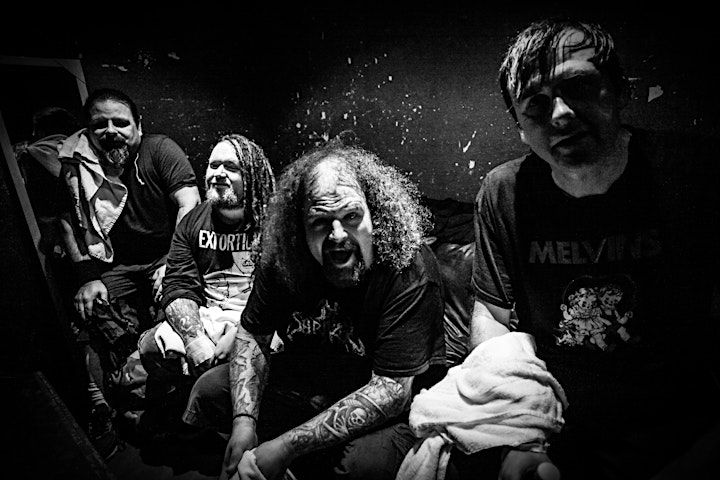 Art reflects life. Extreme times demand extreme responses. Silence sucks. Noise is always the answer. And yes, NAPALM DEATH
continue to be one of the few bands on this planet that adhere to all these principles and more. For the last three decades,
their name as been synonymous with heavy music taken to the extreme – music that confronts, confounds and eviscerates in
equal measure.
NAPALM DEATH's enduring impact on the world of sonic savagery began in earnest in the late 80s, when the band's first two
albums – 1987's Scum and its 1988 follow-up From Enslavement To Obliteration – refined and redefined the notion of brutality
and velocity in the worlds of punk, hardcore and metal. Endorsed by legendary and much-missed DJ John Peel, the Brummie
grindcore pioneers were such an exhilarating and yet alien dose of jolting adrenaline that even the mainstream media were
forced to prick up their ears and take note. Throw in the fact that NAPALM DEATH were – and still are – driven by a ferocious
intelligence and a genuine desire to make the world a better place through the promotion of rational thought and respect for all
fellow humans, they stood apart from the often nihilistic and intellectually bankrupt underground metal scene and have remained unique and unerring ever since. While grind purists may point to those earliest records as evidence of the band's significance, it is the tireless and terrorising exploits of the now classic line-up of vocalist Mark 'Barney' Greenway, bassist Shane
Embury, guitarist Mitch Harris and drummer Danny Herrera that have cemented NAPALM DEATH's status as extreme music legends. Over the last 20 years, the band have released a relentless slew of groundbreaking and fearless albums and other releases
that have consistently punched holes in the heavy music world's perimeter fence, espousing an indestructible credo of creativity
and lyrical fire along the way.
However, unlike the vast majority of so-called veteran bands, NAPALM DEATH seem to be gaining momentum and focus as their
story continues into its fourth decade. Albums like Smear Campaign (2006), Time Waits For No Slave (2009) and Utilitarian
(2012) have proved beyond doubt that while their creators remain firmly at the forefront of the grindcore scene, they are also
increasingly capable of expanding the boundaries of their own sound while exhibiting an undying passion for incorporating the
most unimaginably intense and perverse fresh elements into their otherwise remorselessly fast and furious blueprint. And now,
with the release of their fifteenth studio album, Apex Predator – Easy Meat, the undisputed Gods of Grind are poised to shatter
preconceptions and redefine what it means to be truly extreme all over again.
"I guess the word to use is thrusting! It really goes for the throat!" says Barney. "People probably look at NAPALM and think
'Fuck me, is that band still around?' There's a natural tendency as bands go on, that people on the outside say 'Oh, they're still
making albums but they must be a bit humdrum now…' and you know what? That's something that I hope no one ever says about
us. I find I don't want something more refined or less extreme, I want something more extreme. Sometimes we'll be in the studio and someone will say 'Isn't that a bit noisy?' and I'll say 'Fucking hell, what do you mean? Turn it up! Let's go and throw a
microphone through the speaker!' So that's our attitude. The age of the band should never come into it. Just because you're
older, it doesn't mean you lose the urge to make something challenging… or even annoying! Some of the sounds that NAPALM
use are deliberately designed to annoy people, no question!"
A sprawling and frequently bewildering onslaught of fervently left-field and fiendishly inventive extremity, Apex Predator – Easy
Meat takes everything that NAPALM DEATH have learned, absorbed and harnessed over the last 30 years and twists the resultant
maelstrom into an unfathomable, tooth-shattering squall of ferocity. There is plenty of the hyperspeed grind that fans have long
become accustomed to, but the more artful and dissonant elements that have long lurked within the band's sound have been
brought violently the fore like never before. As influenced by Swans, Killing Joke and Throbbing Gristle as they are by Siege,
Celtic Frost and Discharge, these new songs add a wild array of new textures and tones to NAPALM DEATH's sonic realm – all
mixed to abominable perfection by long-time studio comrade Russ Russell - as slow-motion psychedelic sludge, barbaric post-
industrial skree and flat-out quasi-electronic antagonism collide around the band's trademark barrage of warped riffing and
throat-flaying roars.
"The title track, it's like Public Image Limited times ten!" says Barney. "It's really extreme. There's a lot of those influences on
the album – Public Image, Killing Joke, Swans… all that kind of stuff. We were starting to do it on the last album, mixing it into
the fast stuff, but this time we've mixed it in even more. Some of the chord stuff on there is pretty fucking mad. It was intentional. Sonically, we wanted it to be even more extreme. It's quite simple. We're not fucking around! Therein comes the paradox. You've got the really nasty, horrible, violent sound and then the really humane lyrics. I love that paradox."
Once again proclaiming their refusal to stand by while the world plummets rapidly down the shit-chute, the new NAPALM DEATH
album is plainly one of the most lyrically incisive and enriching records of the band's career to date. Inspired by real world
events and the never-ending cycle of predatory capitalism that causes so much poverty, misery and death around the globe,
songs like Dear Slum Landlord…, Metaphorically Screw You and Hierarchies are as uncompromising and vital on a conceptual
level as they are in musical terms. As ever, Barney's humanistic worldview blazes brightly throughout – a positive voice in a
wilderness of apathy and hate.
"I see the world as a see-saw," he explains. "There are countries in the world that relentlessly consume and then there are
other countries that are the fucking dumping ground, and the common perception is that they have less value. I don't think that
way but it's just a natural way to think for a lot of people. The event that sparked it, and even this passed a lot of people by,
was the building that collapsed in Bangladesh last year, at a textile manufacturers. It was the dodgiest situation ever. The building was already unsafe, there were huge cracks in the wall and they'd built extra storage on top, extra workshops, because the
greedy bosses wanted to increase their output, and then the whole building collapses. These clothing companies, in the main, it
was crocodile tears and nothing's happened and to me that's fucking shameful. People think that slavery is a thing of the past,
but there are slave conditions all over the world, where people are working under threat of death. Slavery is far from gone. I
know that it's something I can't change on my own, although I try to make the correct choices in my life, but I felt I wanted to
raise the point a little bit and hopefully open people's eyes."
Adorned with some of the most gut-wrenching and distinctive artwork to grace an album in decades, Apex Predator – Easy Meat
may well be NAPALM DEATH's definitive statement, both on the state of the world and the limitless possibilities of extreme
music. Right now, there is no other band with the brains and balls to make music this original, intelligent or downright
terrifying. It's 2014, the world is fucked and we need NAPALM DEATH more than ever.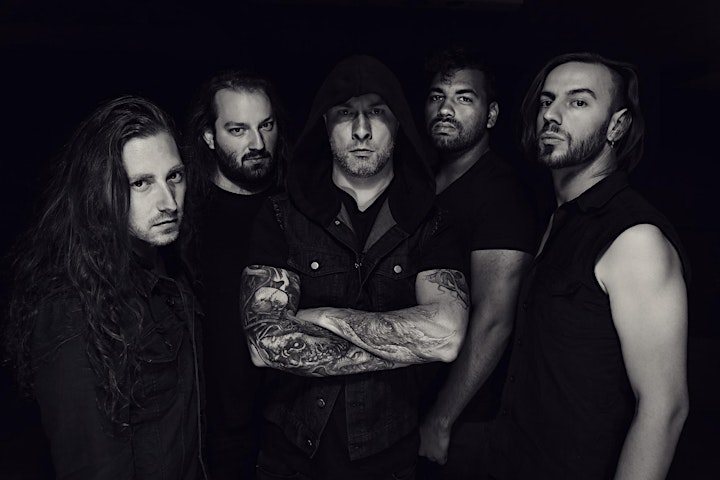 Founded in small Belgian municipality of Beveren in 1995, death metal merchants Aborted went from
underground heroes—debut album, The Purity of Perversion, cut right to the proverbial bone—to heralded genre
leaders by the time they had released their fifth album (and first for Century Media), Slaughter & Apparatus: A
Methodical Overture. Initially inspired by Carcass, Suffocation, Deicide, Morbid Angel, and Slayer, as well as
being informed by horror movies like Hellraiser, Re-Animator, and Evil Dead, Aborted's musical and visual vision
was perfectly aligned to death metal's core axioms. And that still holds true today.
"[Our sound] is like a bulldozer ramming down a rollercoaster, smashing a billion bodies without remorse,
warning, or regret," says vocalist Sven de Caluwé. [We are] death incarnate!"
Such hyperbolic statements are rare in death metal these days, but de Caluwé absolutely means it. Over the
course of nine full-lengths—Retrogore is Aborted's newest—the intimidating frontman has growled, grunted, and
roared over blasting, uncompromising death metal, with lyrical topics covering gore, the horrors of religion,
pornography, gangrene, serial killers, Cenobites, and more. Aborted is both a deep, gross dive into the
fantastically blood-thirsty, but it's also a direct reflection of humanity.
"I loathe the current state of our society." de Caluwé reveals. "This album [Retrogore] has more personal views
upon religion and politics than I ever thought I would put on paper for a band, as I hate getting into those
matters. We prefer getting into gore-loving fun themes about poo-poo and horror movies, but some things
needs to be said, of course, in our own very well-aborted drenched sauce!"
Written over the course of 2015 by all members of Aborted, Retrogore is both technically proficient yet
sublimely dark. Songs like "Cadaverous Collection", "Divine Impediment", "From Beyond (The Grave)", and the
title track feature Aborted's signature style, with the addition of haunting melodies and oppressive doom motifs
upping the sonic ante. And the hooks? Retrogore has more hooks than the entire Hellraiser series combined.
"It is darker, more evil sounding," laughs de Caluwé maniacally. "There is just as much extremity and intensity
as The Necrotic Manifesto, but it is a bit more spaced, some parts are more memorable/catchy, some parts are
way more over-the-top technical and extreme. Retrogore has the fastest tempos we ever recorded. And it has
the typical Aborted sound, just evolved into a darker, more pessimistic, horrendous way."
If the album title Retrogore implies anything it's that Aborted are still enthralled by the horror movies they grew
up with and were roused by. Whether it's The Funhouse, The Gate, An American Werewolf in London,
Possession, or Tenebre, the sanguine arts are definitely part of Aborted's odious fabric. Even the incredible
Christopher Lovell cover art is a throwback to the 1980s, with references to Nintendo and He-Man.
"Retrogore is all about nostalgia towards the good old golden age of horror, the '80s," de Caluwé offers. "So,
it's very heavily inspired by that time period in cinema, as well as some more current political and religious
events that have seeped their way into my thoughts."
For Retrogore, the Belgians decided to move away from Hansen Studios—where they recorded Global Flatline
and The Necrotic Manifesto, respectively—to hit up Kohlekeller Studios with producer Kristian Kohlmannslehner.
The studio previously housed death metallers Benighted, gothic metallers Crematory, and heavy metallers
Powerwolf, but was primed for Aborted as the group had recently exited with the Termination Redux EP in
hand.
Release Date: April 22nd
, 2016
"We recorded for roughly 22 days," remembers de Caluwé. Give or take a few. [Also], no late night kebabs
were involved. We cooked for ourselves mostly."
Comparing the recording of Retrogore to The Purity of Perversion and the pivotal Engineering the Dead has its
pitfalls—technologically speaking—but every aspect of putting and album together and recording it has changed.
Mostly for the better, according to the Belgian.
"I cannot emphasize it enough," de Caluwé huffs. "Vastly. There was no recording stuff at home then. There
was practice 2-4 times a week to try to hash out songs that way, which was also great because you immediately
knew the songs would work live. Now, it's a lot easier to pan out your ideas within the area of knowing what
you can play. However, you have to actually play it as a band to know if the songs will transcend on a stage or
not. A mistake many bands make."
If 2015 was Aborted's finest year to date—and their 20th Anniversary—then 2016 is poised to take Aborted to new
heights. New album, Retrogore, is an absolute rager, an unparalleled tour de force heretofore unseen in the
group's oeuvre. It's a massive step forward. With tracks like "Whoremageddon", "Termination Redux", and the
album's incredible capper "In Avernus", Retrogore is death metal for a new age, fashioned in hate and forged
with carnage in mind for audiences new and old.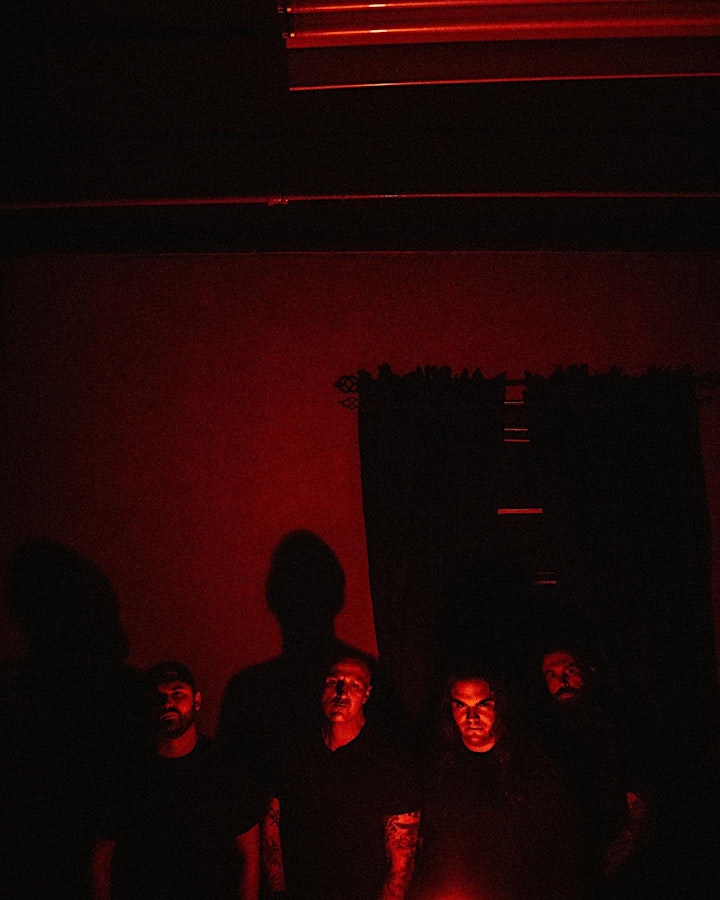 Tombs has been touring in the US and Europe since 2007, having shared the stage with such
notable extreme luminaries as 1349,
Goatwhore, Crowbar, Fit for an Autopsy, Rivers of Nihil, Wolves in the Throne Room and their own
string of outings as headliners. Along the way, they have had stops at notable festivals as Maryland
Death Fest, Psycho California, Decibel Metal and Beer Fest, Ozzfest, Roadburn, Roskilde Fest and
Hellfest among others. Look for new music in early 2020.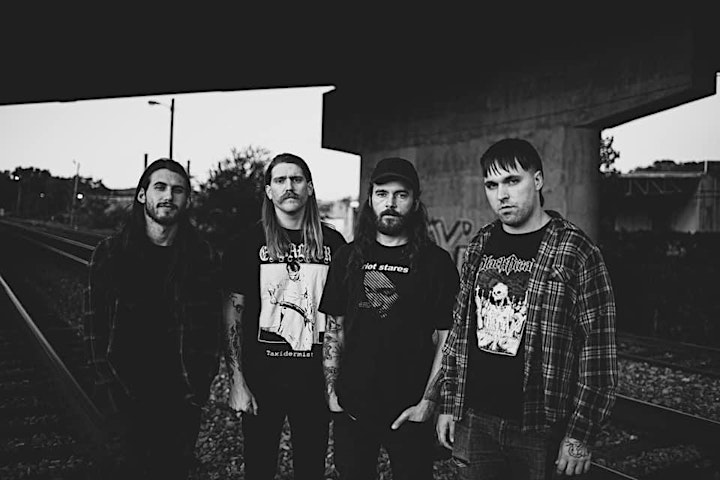 South Carolina's only grind band, WVRM, are preparing to release ​Colony Collapse​, their debut
release under the Prosthetic Records banner.
An uncompromising collection of 14 short, sharp shocks, ​Colony Collapse​ is a product of its
surroundings, an anthology of its environment, and a detailed record of the lives of the people who
made it. Over the course of their preceding three splits, four EPs and two full lengths,
WVRMhaveexperimentedwithpushingtheirpersonalandmusicalboundaries;C​ olony Collapse​ captures
the evolution of their sound and politics in one relentless and violent release.
Far from being a leading light in a burgeoning local scene, WVRM are the o​ nly​ light in a miniscule
scene in Greenville, South Carolina. Whilst the city is also home to death metal stalwarts, Nile, there
is no flourishing hotbed of musical activity to be found. This creative isolation is just one of the
driving forces behind the forceful aggression of WVRM.
WVRM's music is political in nature, but far from a broad rage against the machine, their lyrics take a
micro-look at the effects of socio-political entrenchment on everyday lives. Proudly working class,
they explore both the psychological and physical meaning of being so. WVRM trace the lineage of
their ancestral progress, and what it means to participate in a community that lacks upward
momentum.
Recording between April and August 2019 with the band's own guitarist, Derick, in the producer's
chair, the band felt free to experiment. They made use of noise pedals, violin, a Chinese prayer
bowl, cello and Tibetan prayer bells alongside their more traditional instruments. The resulting
cacophony is a more textured kind of grind than is the norm.
Stating that their music sounds as it does - nihilistic, vicious, caustic - because of where they're from,
because of who they are - WVRM are striking out to redefine what extreme music from South
Carolina can be. Whilst there's no doubting that they are definitively a grind band, WVRM take
inspiration from the development of a rich variety of ever-evolving sounds coming out of the
Southern states over the past several decades; traces of a sludge-doom sound echo through the
album, as it has done in previous releases.
The artwork depicts a bee crawling over a human skull, created by a local artist by Wes Brooks. The
image represents the titular colony collapse - a phenomenon that occurs when worker bees leave
behind the queen bee and collapse the colony. Imbued in the one image are multiple concepts
including the extinction of humankind, as well as the idea of workers taking control of the life and
death of society.
Colony Collapse​ is WVRM at their abrasive, vitriolic best.