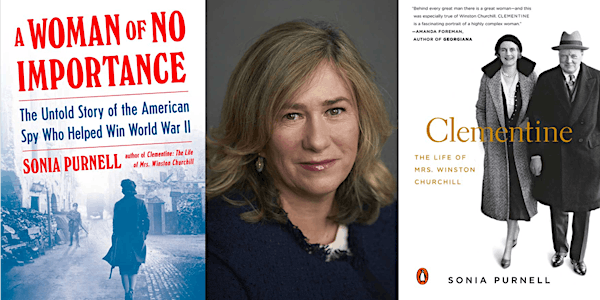 Napa County AAUW Authors Forum 2021 Fundraiser
Award winning journalist / biographer Sonia Purnell speaks to us from London in an interview with Julia Flynn Siler.
About this event
Please join us for our ninth annual Authors Forum and Scholarship Fundraiser. This year's virtual, intercontinental event features biographer and journalist Sonia Purnell, author of A Woman of No Importance being interviewed by fellow journalist / biographer Julia Flynn Siler.
A Woman of No Importance is the thrilling, true-life account of World War II spy Virginia Hall, a young American woman with a wooden leg, who was, in the Gestapo's view, the Allies' most dangerous spy. Sonia Purnell will be speaking to us from London. Julia Flynn Siler, one of last year's Authors Forum speakers, will be interviewing Sonia Purnell.
Ticket holders will receive the link for the program by email two weeks prior to the event and the day of the event
Books are available for purchase through Napa Bookmine, in-person, by phone or online: https://www.napabookmine.com/event/napa-county-aauw-authors-forum-2021. Napa Bookmine will donate a portion of sales to the Scholarship Foundation. If you purchase in-person or by phone (707-733-3199), please mention the AAUW Authors Forum so your purchase will qualify for Bookmine's donation. Online indicate this in the comments section of the purchase.
All proceeds will go to scholarships for Napa girls and women. This event is sponsored by the Napa County AAUW Scholarship Foundation, a 501(c)(3) corporation, tax ID number 68-0133579. Additional donations may be sent to Napa County AAUW Scholarship Foundation, PO Box 10407, Napa, CA 94581-2407.