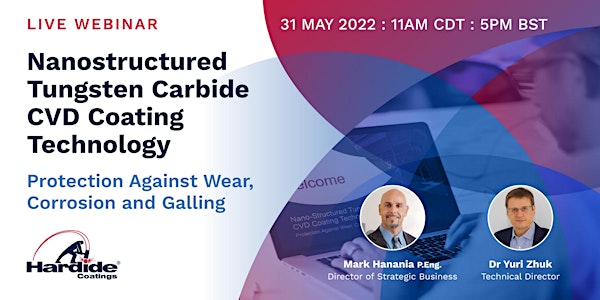 Nanostructured Tungsten Carbide CVD Coating Technology Webinar
Hardide nanostructured tungsten carbide coatings provide exceptional wear and corrosion resistance to metal components
About this event
You are invited to attend a webinar on Tuesday 31 May 2022 on the properties, benefits and applications of Hardide nanostructured tungsten carbide/ tungsten metal matrix composite coatings. Applied by chemical vapor deposition (CVD), the coatings significantly increase the working life of critical metal components operating in abrasive, erosive, corrosive and chemically aggressive environments. They can be applied to internal as well as external surfaces and complex geometries. They are used extensively in the oil and gas, power generation, aerospace and high wear/high value industries. Manufacturing sites in the USA and UK.
Our speakers are:
Mark Hanania, Director of Strategic Business - North America - Technical Presentation
Dr Yuri Zhuk, Technical Director - Introduction and Q&A Moderation
The free-to-attend webinar will take place via Microsoft Teams on Tuesday 31st May 2022 at 11:00 - 12:00 CDT / 17:00 - 18:00 BST including a Q&A with our speakers. Attendees are welcome to submit questions during the webinar.
A recording will be available after the webinar.
www.hardide.com