Nanolytica at SFU

Thursday, May 3, 2018 from 8:00 AM to 6:30 PM (PDT)
Event Details
Join PerkinElmer and SFU at Nanolytica 2018 on May 3rd!
This symposium brings together industrial, government and academic researchers to discuss recent developments and challenges, and future opportunities at the interface of the analytical sciences and nanotechnology.
Presentations will discuss:
New techniques and needs to analyze nanoscale material

Use of nanoscale materials to develop new analytical techniques

Challenges and needs for analytical capabilities in nanotechnology

Importance to life sciences, energy, environment, and other sectors
Registration begins at 8:00 am. A series of oral and poster presentations start at 8:45 am from researchers in academic, industry and government sectors. The event concludes with a networking and social period starting at 5:30 pm, following the awards ceremony for all of the poster presenters. 
Agenda:
8:00am: Registration
8:45am: Welcome and Opening Remarks
9:00am: "Metasurface Computational Imaging," presented by Dr. Arka Majumdar, University of Washington
9:30am: "Immunological Responses to Engineered Nanomaterials and the Role of Physicochemical Properties," presented by Dr. Jared Brown, University Colorado Denver  
10:00am: Coffee Break and Poster Session
10:30am: "Single Cell ICP-MS: Quantification of Metal Content in Individual Cells," presented by Dr. Ruth Merrifield, PerkinElmer 
11:00am: "Fuel Cell Catalyst Layers: Material Challenges and Development", presented by Dr. Matthew Markiewicz, Ballard Power Systems
11:15am: "From Big Data to Understanding: A Modern Data Processing Pipeline", presented by Dr. Arash Ashtiani, Triptech
11:30am: "New Advancements in Diffractive and Plasmonic Nano-Optics" presented by Mr. Clint Landrock, Nanotech Security Corp.
11:45am: "Growth, Characterization and Performance of CdZnTe using the Travelling Heater Method," presented by Dr. Jason MacKenzie, Redlen Technologies, Inc.
12:00pm to 2:00pm: Lunch Break and Poster Session
2:00pm: "Analytical Approaches to Advance and Accelerate Nanomaterial Development for Enhanced Performance and Safety," presented by Dr. Jim Hutchison, University of Oregon 
5 minute presentation by 4D LABS
3:00pm: Coffee Break and Poster Session
3:30pm: "Routine Separation of Mineral Nanoparticles and Major Colloidal Species Using AF4-UV-ICPMS: Optimization, Verification and Application," presented by Dr. Chad Cuss, University of Alberta 
4:00pm: "Innovations in Single Particle ICP-MS," presented by Dr. Chady Stephan, PerkinElmer 
4:30pm: "Singlet Oxygen at the Nanoscale," presented by Dr. Belinda Heyne, University of Calgary
5:00pm: Awards Ceremony: Undergraduate Students, Graduate Students, and Postdoctoral Research Fellows 
5:30pm: Networking Reception and 4D LABS Tour
Attendance of this one day symposium is available to all registered attendees for free, thanks to the generous support of our sponsors. Drinks and food are provided to all attendees throughout the day, and the day will end with a networking reception and tours of 4D LABS.
Prizes will be given to the top posters presented by the graduate students, undergraduate students, and postdoctoral research fellows. 
Need More Information?
Visit: www.sfu.ca/nanolytica
send an email to: nano-lytica@sfu.ca 
or contact Andrews Ahiabu with any questions. 
Andrews Ahiabu
587-930-6514
Andrews.ahiabu@perkinelmer.com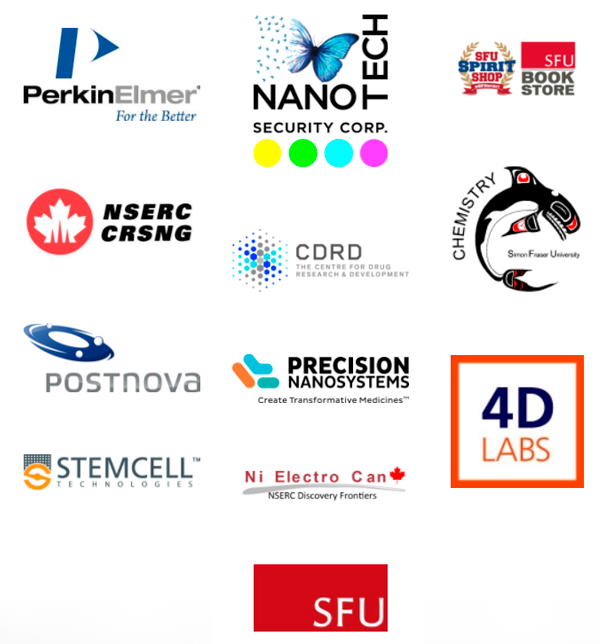 Save This Event
When & Where

Simon Fraser University
Leslie and Gordon Diamond Family Auditorium
8888 University Dr
Burnaby, BC V5A 1S6
Canada

Thursday, May 3, 2018 from 8:00 AM to 6:30 PM (PDT)
Add to my calendar