Description
Learn how you can implement infant massage to aide young children with sleep, feeding, soothing, calming and teething.
This training is offered by Melanie Wattles of Babystrokes Infant Massage.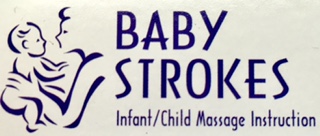 CLASS AGENDA
Introduction and Welcome

Benefits of Infant / Child Massage

Infant Behavioral states and cues, reflexes and crying

Baby / Child friendly oils

Relaxation, positioning and permission

Break (5-10mins)

Massage strokes for whole body

Gas and Colic massage routine

Baby exercises

Questions

Evaluation and close
COURSE OBJECTIVES FOR ATTENDEES
Learn about the benefits of infant massage for both baby and caregiver

Understand infant cues and states to better communicate with the baby

Understand what oils are safe to use with an infant / child and what oils to avoid

Learn how to prepare yourself and the baby for a massage

Learn massage strokes and techniques you can use with the babies in your care

Learn specific massage / touch techniques to help relieve gas and colic
ABOUT THE SPEAKER
Melanie J Wattles RN, CIMI, CPMT.
Melanie is a Registered Nurse (RN), a Certified Infant Massage Instructor (CIMI 1, 2) and a Certified Pediatric Massage Therapist ( CPMT). Melanie owns Babystrokes and teaches Infant / Child Massage and offers in home massage for children over 1 year of age. She is also a parent educator for Seton /Ascension Health where she teaches Prenatal Infant Massage.
Melanie received her CIMI certification through the International Association of Infant Massage in 2001. She updated her skills in January 2014 and received her CIMI2 Certification through "WINC Without Borders" (World Institute for Nurturing Communication). Melanie was trained by Tina Allen and received her CPMT through the Liddle Kidz Foundation in June 2016. Melanie is also a Registered General Nurse and a Registered Sick Children's Nurse in the United Kingdom.
Melanie has over 25 years experience in Pediatric and Neonatal Nursing. Melanie is also certified in Infant / Child CPR.
Melanie is originally from the UK but after 25 years she is now an Austinite. Melanie, her husband Daniel , her son James and "Queso" the cat live in southwest Austin.