Black Mental Health Town Hall w/ CM Zahilay & NAMI. Panelists discuss racial, historical, generational and current trauma + Resources & Q&A.
About this Event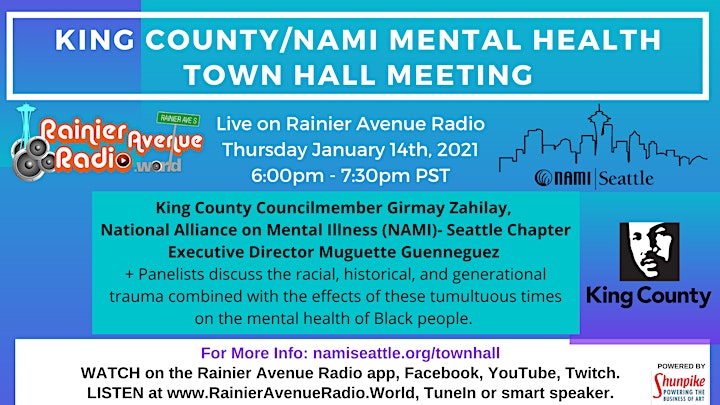 Please join us for a FREE Live Town Hall Meeting with King County Councilmember Girmay Zahilay and the National Alliance on Mental Illness ( NAMI) Seattle. NAMI Seattle's Executive Director Muguette Guenneguez will present information on the triple trifecta of the impact of racial, historical, and generational trauma combined with the effects of these tumultuous times on the mental health of Black people. Director Guenneguez will also review available resources offered by NAMI Seattle. Panelists include Dr. Katrina Sanford, Clinical Psychologist and co-founder of Nile's Edge Healing Arts Center; George Dicks, Geriatric Mental Health Specialist at Harborview Medical Center, Anthony Rivers, Seattle- King County Public Health; Leo Flor, Director, King County Department of Community and Human Services (DCHS); and James Donaldson, NAMI Seattle Board Member. Opportunities for call-in and online Q & A will take place after the panel discussion.
More information can be found at NAMISeattle.org/townhall
***Registration is not required to view or call into the event. Registration allows you to add the event to your calendar and sign up for email updates from NAMI Seattle.