About this Event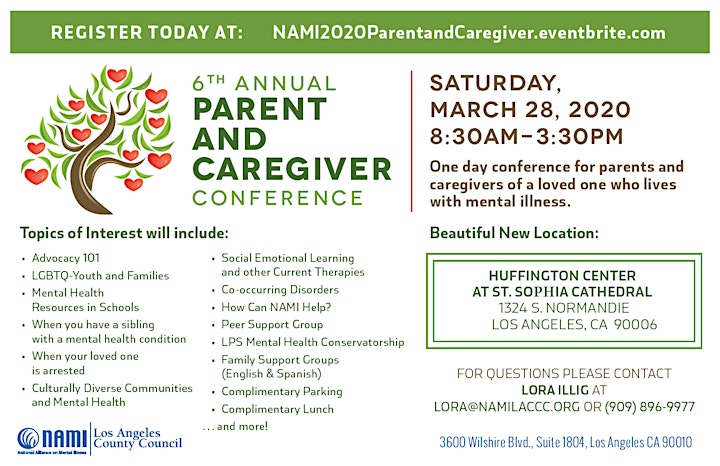 A full day of workshops, discussions, resource fair, support and information.
Saturday, March 28, 2020--8:30 AM - 3:30 PM
Huffington Center at Saint Sophia Cathedral 1324 S. Normandie Los Angeles CA 90006
Guest Speaker: Rep. Judy Chu CA-27th District
First Time Parent/Caregiver Conference to be held at the beautiful Huffington Center at Saint Sophia Cathedral located near downtown Los Angeles.
Free to attend-Donations gladly accepted
Close to public transportation
Free parking
Lunch Provided
Spanish translation available
Topics Include:
Advocacy 101
LGBTQ-Youth and Families
Mental Health Resources in Schools
When you have a sibling with a mental health condition
Culturally Diverse Communities and Mental Health
Social Emotional Learning and other Current Therapies
Co-occurring Disorders
How can NAMI help?
Peer Support Group
LPS Mental Health Conservatorship
Family Support Groups (English and Spanish)
Check back often for program updates.
Thank you to our sponsors: