NAMI-OC Happy Hour provides a safe space to uplift the mental wellness in our community.
About this event
On August 24th, join NAMI-OC and Mike Schubert of Potterless Podcast at Happy Hour for Harry Potter and The Missing Therapist! Wizards need therapists too, especially if your name is Harry Potter! After facing You-Know-Who, the Dursleys, dangerous beasts, and school bullies (looking at you Malfoy and Snape) year after year, having a therapist at Hogwarts is sorely needed! Join the conversation as we explore themes of mental health in the series and what events could have been avoided if a counselor was present at Hogwarts.
Our special guest is Mike Schubert, creator of Potterless podcast. Potterless is a podcast documenting Mike's first-ever journey through the Harry Potter series, starting at age 24. Each week, he sits down with HP fanatics to poke fun at plot holes, make (often incorrect) predictions, and bask in the sassiness of the characters.
Mike's other podcasts include HORSE, Meddling Adults, and the upcoming Modern Muckraker podcast.
**Spoiler alert! We will be discussing various plot points across the Harry Potter series.**
Happy Hour is an engagingly fun way to learn about how teens and young adults can be creative and inspired about prioritizing their mental health. Past Happy Hours included a live DJ music set, a sound bath, yoga, poetry readings, and featured panels and Q&A with special guests.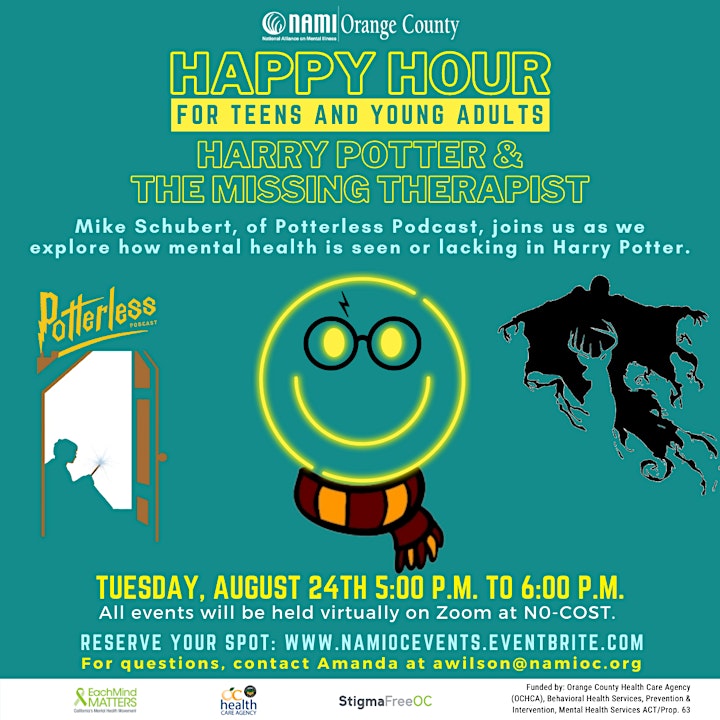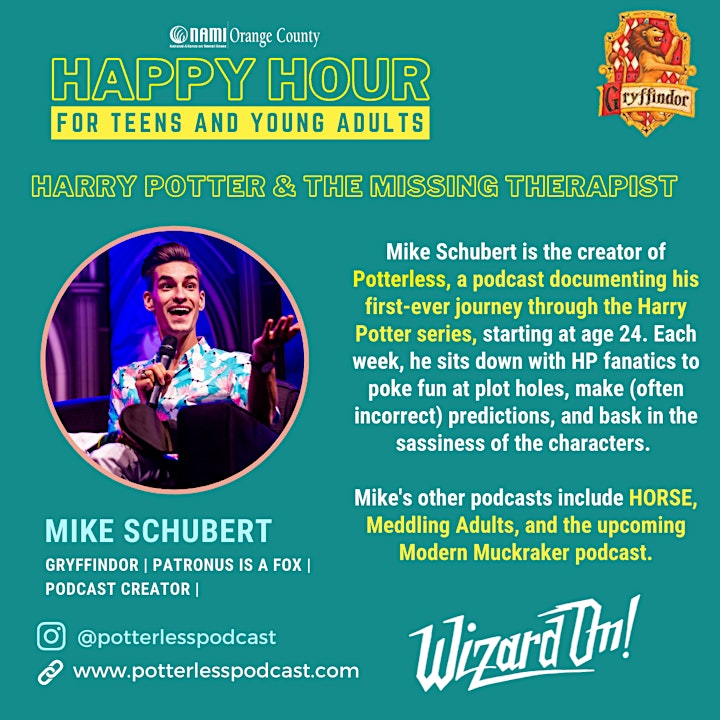 Organizer of NAMI-OC's Happy Hour: Harry Potter and the Missing Therapist