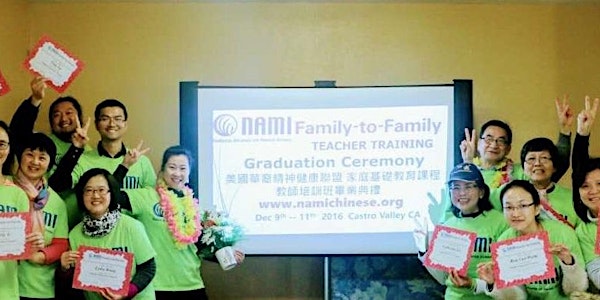 NAMI家連家 教師培訓 NAMI F2F Teacher training for Chinese Community -2019
When and where
Location
Oakland Oakland, CA
Description
NAMI FAMILY-TO-FAMILY TEACHER TRAINING(Mandarin)
美國華裔精神健康聯盟 [家連家 ]課程老師培訓班(普通話)
Saturday and Sunday, Oct 26, 27, 2019
Saturday 9:00 a.m.-9:00 p.m./Sunday 9:30 a.m.-7:00 p.m.
Location TBD (Oakland) REGISTRATION is required!
You could be a great FAMILY-to-FAMILY teacher if:
 You are a family member or caregiver of someone who lives with mental illness.
 You have finished one NAMI Famliy To Family Class.
 You can commit to teaching 1 classes in the next 2 years.
 You are or willing to become a NAMI member.
 You like to teach as a team (all classes are taught by 2 trained teachers).
 You have a welcoming personality and are interested in sharing information with families as they face the challenges of living with mental illness.
Class Content 精神健康家庭教育課程內容
1.家庭教育簡介Introduction to family education
2.精神分裂症,重抑鬱症,躁鬱症的症狀Symptoms of major mental illnesses
3.邊緣型人格障礙,躁鬱症,強迫症,創傷後應激障 礙、雙重診斷Continuation of symptoms of major mental illnesses
4.腦部的基本知識和腦異常的原因Brain biology and the causes of brain disorders
5.問題解決的研習Problem solving workshop
6.醫藥的縱覽Medication review
7.同理心(深入精神疾病)Empathy: Inside mental illness
8.家人溝通/互動的研習Communication skills workshop
9.自我照顧Self-care
10.康復:痊癒的選擇Rehabilitation; making choices for recovery
11.消除歧視,宣導關愛Fighting stigma; Advocacy
12.總結/評估/分享/結業慶祝Review/evaluation/ sharing/certification ceremony

You must REGISTER for this training by Oct 25th,2017
at: https://f2fteacher.eventbrite.com
Contact: Elaine Peng
info@mhacc-usa.org
510-316-1456
www.mhacc-usa.org
Classes fill-up quickly,call today to reserve a spot! 名額有限 , 請您盡早報名!