Description
NAMI Metropolitan Baltimore invites you to join in celebrating its impact in the Baltimore community at the 35th Annual Meeting Brunch on Saturday, September 8th. This event will recognize and celebrate our dedicated volunteers and community partners.
We are delighted to announce our keynote speaker will be Franklyn Baker, President and Chief Executive Officer of the United Way Central Maryland. Mr. Baker will speak to the importance of volunteerism and service to the greater Baltimore community.
NAMI members will have the opportunity to re-elect current members to the Board of Directors. To become a NAMI member or renew your membership, please visit www.namibaltimore.org/get-involved/membership. Members additionally receive a special ticket rate to attend the Annual Meeting.
About Franklyn Baker: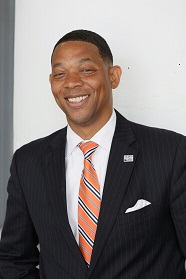 Franklyn is a cross-functional senior executive with more than 26 years of diverse expertise in non-profit organizations. As President and CEO of United Way of Central Maryland ($37 million non-profit with 110 staff), Franklyn shepherds all aspects of the board approved strategic plan and direction. Prior to this role, Mr. Baker served as principal deputy and Chief Operating Officer at Greenpeace USA ($45 million non-profit with 600 staff). Before this position, he served as Chief Operating Officer with Volunteers of America Chesapeake. While there, Franklyn oversaw 32 programs employing 750 staff in the Chesapeake region.
Before Volunteers of America Chesapeake, Baker worked as Executive Administrator of Public Sector Partnerships at Children's National Health System in Washington, D.C. In prior roles, he worked with Magellan Behavioral Health and Blue Cross Blue Shield Association. Franklyn earned a bachelor's degree in business administration from Howard University and a master's degree of nonprofit administration in the Mendoza College of Business at the University of Notre Dame.
Baker has served on and chaired multiple boards including Baltimore's Promise, Parks & People Foundation, Unity Healthcare and others. He has completed a 2-year Executive Development Program, is a 2013 class member of Leadership Greater Washington and is now part of the 2018 Greater Baltimore Committee LEADERship program. Franklyn lives in Annapolis, MD with his wife Michell and 15-year old daughter Gabriell.
Tickets are $10 for NAMI Members and $15 for Non-Members and can be purchased here or by mailing cash or check to NAMI Metro Baltimore, indicating it is for the Annual Meeting. Call 410-435-2600 or email sbrashler@namibaltimore.org with any questions.