About this Event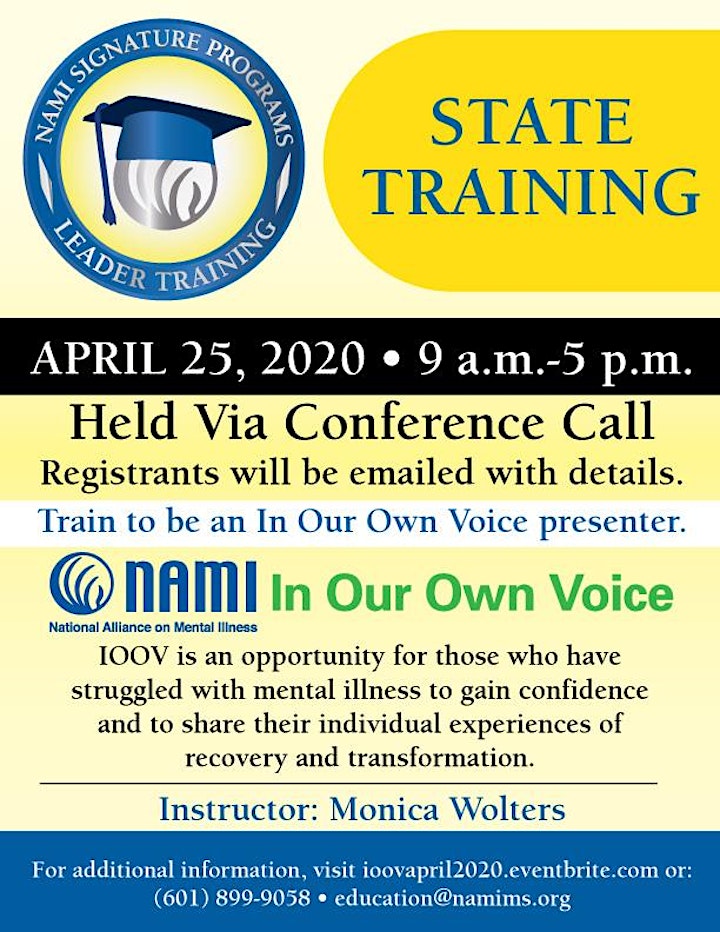 Trainer: Monica Wolters
April 25, 2020
9 a.m.-5 p.m. (includes a one-hour break)
Register by Saturday, April 18, 2020.
An online portion of the training must be completed prior to class.
If you have a mental illness, a history of substance abuse or both, be trained to share your story on behalf of NAMI in a compelling way. You are required to be in one of these categories to participate.
The training is free and requires registration. Space limited.
-----------
What Is IOOV?
In Our Own Voice (IOOV) is a unique public education program developed by NAMI, in which two trained consumer speakers share compelling personal stories about living with mental illness and achieving recovery.
The program was started with a grant from Eli Lily and Company.
IOOV is an opportunity for those who have struggled with mental illness to gain confidence and to share their individual experiences of recovery and transformation.
Throughout the IOOV presentation, audience members are encouraged to offer feedback and ask questions. Audience participation is an important aspect of IOOV because the more audience members become involved, the closer they come to understanding what it is like to live with a mental illness and stay in recovery.
IOOV presentations are given to consumer groups, students, law enforcement officials, educators, providers, faith community members, politicians, professionals, inmates, and interested civic groups.
All presentations are offered free of charge.
If you have questions or need assistance, send an email to education@namims.org or call (601) 899-9058.