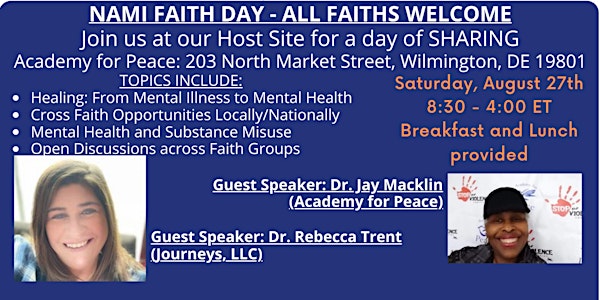 NAMI Faith Day - Mental Health Awareness and Support ALL FAITHS WELCOME
August 27th Faith Day - Join us for a day of sharing on mental health impacts on our Faith Communities.
About this event
NAMI FAITH DAY - ALL FAITHS WELCOME
EVENTBRITE REGISTRATION ENDS AT NOON on August 24th. Email SUE MULHERN directly at SMulhern@namide.org for manual registration.
Saturday, August 27th 9:00 - 4:00 p.m. ET ALL VIRTUAL - Zoom details to be send by end of day Thursday, August 25th
TOPICS INCLUDE (National and Local Guest Speakers)
Healing: From Mental Illness to Mental Health
Cross Faith Opportunities Locally/Nationally
Mental Health and Substance Misuse
Open Discussions across Faith Groups
WHY IS IT IMPORTANT TO JOIN ALL OF OUR FAITH COMMUNITES TOGETHER TO SUPPORT MENTAL HEALTH?
1 in 5 people experience a mental health condition each year, yet more than half do not receive treatment due to lack of information or fear of stigma.
Mental illness is invisible. mental health awareness, accurate information, and appropriate support, we can improve lives and inspire hope.
We will discuss how to recognize potential signs/symptoms of a mental health condition.
And how to reach out and support family, friends, and community members.
ZOOM details will be email to ALL who pre-register by Thursday, August 25th.