Location
94546
3160 Castro Valley Blvd
Castro Valley, CA 94546
United States
NAMI Connection Support Group Facilitator Training Dec 18-19th 2021 OSHPD
About this event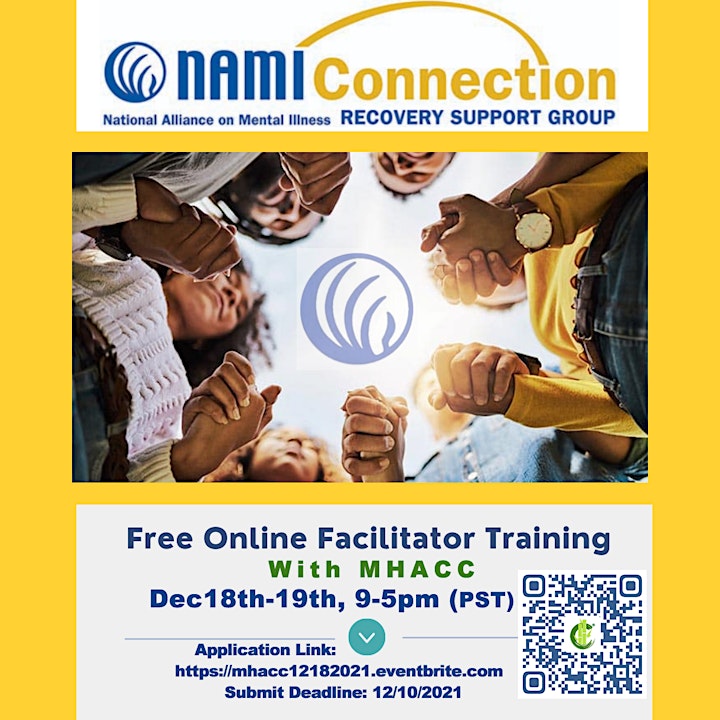 Good News!
Mental Health Association for Chinese Communities will host a free online course of 2021 NAMI Connection Peer training in English for peer support group facilitators.
NAMI Connection Peer Support Group Facilitator training is taking place online, Dec 18th – Dec 19th.
Language : English
Date : 12/18 & 12/19, 2021 Saturday & Sunday
Time : 9 AM to 5 PM PST
Format : Zoom (Zoom link will be given upon approval via emailing)
Application Link :https://mhacc12182021.eventbrite.com
Submit Deadline:: 12/10/2021
****One referral contact information is required.
Please be aware to allow 10 to 20 minutes to complete the application at one time.
NAMI Connection facilitators are trained leaders who facilitate 90-minute Recovery Support Group meetings. Facilitators play an important role in ensuring that all participants feel welcomed and supported. NAMI facilitators are uniquely qualified to lead support groups because they have gone through their own recovery process. They empathize with, and encourage those who may be just beginning the journey. These leaders play a significant role in maintaining the group by providing acceptance and support for peers with follow up. They also help peers understand themselves and learn coping skills towards recovery through sharing their living experiences. They accompany peers, walk with the group members, and grow together in a safe and unbiased environment.
Who Should be Trained: Individuals who have personal experience with mental health challenges and have reached a comfortable place in recovery. Participants should attend at least one Connection Support Group meeting and agree to adhere to the NAMI Connection Support Group model.If you are passionate as a companion walking towards recovery with peers, you are welcome to participate!
https://youtu.be/aRpFWEc9mGM
To learn more and/or to register, CLICK HERE https://mhacc12182021.eventbrite.com
Please reach out to dorothytsang@mhacc-usa.org with any questions.