NALHE Leadership Summit - Defining Excellence in 21st Century Healthcare!
Description

The National Association of Latino Healthcare Executives (NALHE) invites you to the beautiful Universal City region of the City of Los Angeles, California; home to the Universal Studios Hollywood film studio and theme park and the Universal CityWalk shopping and entertainment center.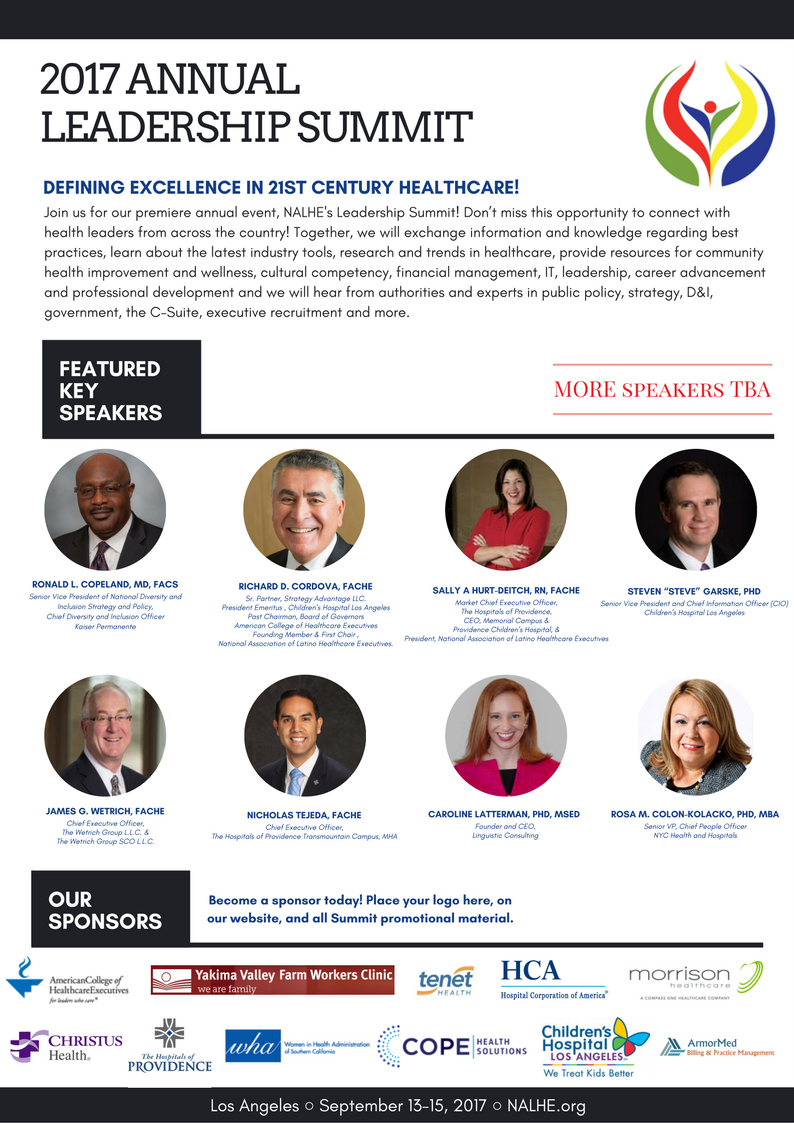 Join us for our premiere annual event, NALHE's Leadership Summit - Defining Excellence in 21st Century Healthcare!
Earn up to (3) American College of Healthcare Executives (ACHE) Face-to-Face Credits!
Don't miss this opportunity to connect with health leaders from across the country! Together, we will exchange information and knowledge regarding best practices, learn about the latest industry tools, research and trends in healthcare, provide resources for community health improvement and wellness, cultural competency, financial management, IT, leadership, career advancement and professional development and we will hear from authorities and experts in public policy, strategy, D&I, government, the C-Suite, executive recruitment and more.
The 2017 Summit registration includes a 1-yr membership to NALHE's exclusive network and programs. If you are a NALHE member, your renewal dues are waived AND, you are eligible to receive 3 face-to-face and 9 qualified ACHE CEUs on top of that! This is a great value, so put this in your calendar and we hope to see you in Los Angeles!
Take a look back at our successful inaugural NALHE Leadership Summit - Where Leaders Connected! in Austin, Texas, at our website www.NALHE.org
If you or your organization wants to be affiliated with NALHE through sponsorship of the NALHE Leadership Summit please contact:
Michael Britton, Managing Director
National Association of Latino Healthcare Executives
325 Miron St. Suite 140, Dallas, TX. 76092, 404.569.2647
About the Venue:
A BUSINESS AND LEISURE HOTEL IN LA'S ENTERTAINMENT CAPITAL
Sheraton Universal Hotel
Next to Universal Studios Hollywood in Hollywood Hills—we host reality shows, musicians visiting the Hollywood Bowl or The Greek Amphitheatre, and stars from film and TV at NBC Universal, Disney, and Warner Brothers.
We're pleased to offer over 30,000 square feet of state-of-the-art meeting space, enabling us to fulfill the needs for the premiere NALHE Leadership Summit - Defining Excellence in 21st Century Healthcare! event. During downtime, Sheraton Fitness and our attractive outdoor pool make it easy to enjoy this home away from home.
You'll feel like a star during every second of your stay at the Sheraton Universal Hotel. Our 457 guest rooms boast great views of Universal Studios or the Hollywood Hills from our 20-story tower.
RESERVATION METHOD
A personalized Web site for the 2017 NALHE Summit- Defining Excellence in 21st Century Healthcare occurring (September 13, 2017 - September 15, 2017) has been created. You can access the site to book, modify, or cancel a reservation from February 23, 2017 to September 18, 2017. Click here to begin your reservation - space is limited, book today!