| | |
| --- | --- |
| Nalanda Institute's 8th Annual Benefit Evening | |
Event Details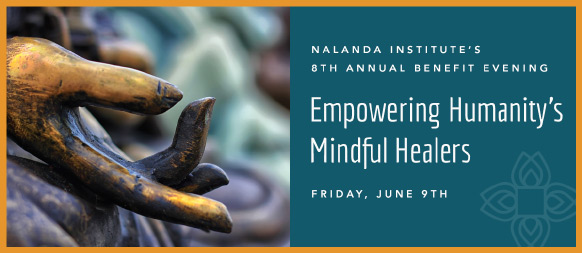 Nalanda Institute's 8th Annual Benefit

Join us as we launch our new book, Advances in Contemplative Psychotherapy, with an evening of global visioning, festive dining, and inspiring music—and help us usher in this exciting new field with the power to heal our age-old instinct for fragmentation!

•

C E L E B R A T I O N

Empowering Humanity's Mindful Healers

Friday, June 9th, 2017
from 6:00–10:00 pm

New York Academy of Medicine
1216 Fifth Avenue, at 103rd Street

•

T H E   B O O K

Advances in Contemplative Psychotherapy:
Accelerating Healing and Transformation
Routledge, May, 2017
Edited by Drs. Joe Loizzo, Miles Neale, and Emily Wolf
More about the book: contemplativebook.com

•

C O - H O S T S

Geri Loizzo
Director of Programming, Nalanda Institute

Joe Loizzo, M.D., Ph.D.
Founder and Director, Nalanda Institute

Miles Neale, Psy.D.
Assistant Director, Nalanda Institute

Emily J. Wolf, Ph.D.
Director, Certificate Program in Contemplative Psychotherapy

•

H O N O R E E S

Professor Bob and Nena Thurman
Founders, Tibet House US and Menla Mountain Retreat

Nalanda Institute Graduates

•

P R O G R A M

Global Visioning Panel and Dialogue

With panel members:

Joe Loizzo, M.D., Ph.D.

Miles Neale, Psy.D.

Emily J. Wolf, Ph.D.

Pilar Jennings, Ph.D.
Nalanda Institute Core Faculty

Koncha Pinós-Pey, Ph.D.
Director, Nalanda Institute Certificate Program, Barcelona

•

M U S I C   A N D   D I N N E R

Bliss-stirring sitar and bansuri flute music
Anjana Roy and Sundar Das
Sumptuous Indian Dinner to follow
---

Your generosity brings...


A thriving Certificate Program in Contemplative Psychotherapy in NYC, San Francisco, Toronto, Barcelona, Mexico, and with exciting new partners on the horizon.
Ongoing teaching and future live streaming of the core 4-Year Program in Sustainable Happiness, co-sponsored by our friends at Tibet House US.
The Radical Compassion Project at Nalanda Institute, an initiative to help create inclusive community that addresses racial, gender, and all other oppression through learning and growing together individually, in community, and institutionally.
A growing Mindful Families Program with partners at the Calhoun School, The Rebecca School, and workshops for NYC children and their families.
Meditation Teacher Training, in partnership with The Path and Pure Yoga, offering intensive training to yoga teachers and meditation instructors.
A robust Mindful Business Leadership Program currently serving a vibrant community of NYC executives and entrepreneurs.
The completion of a new website to bring multi-lingual online learning materials and programs to a global audience.
A groundbreaking Yoga Psychology Training Program to continue its second iteration in the coming year.
Scholarships for those in need to attend any and all Nalanda Institute programs.


Of course, developing and sustaining these offerings requires your generosity and active participation. None of this is possible without you! We look forward to seeing you at what is sure to be a magical evening. If you can't join us, please feel free to make a donation so you can join us in spirit.
Where

New York
The New York Academy of Medicine
1216 Fifth Avenue, at 103rd Street
New York, NY


Organizer
Nalanda Institute for Contemplative Science
At Nalanda Institute, we see an interdependent world where all people flourish together by learning to tame self-defeating thoughts and emotions and to thrive sustainably with others in mutual happiness, compassion, and altruism.
Our mission is to train people from all walks of life in timeless contemplative skills informed by practical neuropsychology to empower themselves and others to cultivate a wise mind, compassionate heart, and altruistic way of being in our interdependent world.
To find out more about the Nalanda Institute visit our website.
Nalanda Institute's 8th Annual Benefit Evening