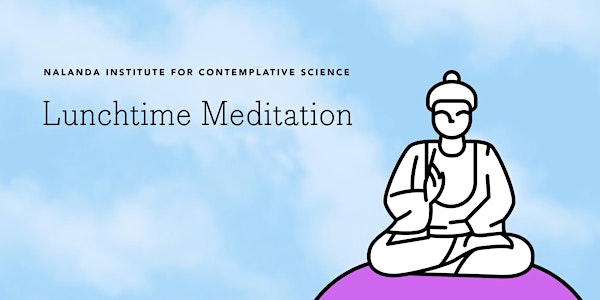 Nalanda Institute Lunchtime Meditation
Take a mid-day pause to refresh your mind and re-establish your center.
By Nalanda Institute for Contemplative Science
About this event
1093 days 3 hours

Mobile eTicket
Meditation is a powerful tool to eliminate stress, to heal the body, mind, and brain, and to enhance your personal well-being and positive relationship with the world. Join Nalanda Institute faculty as they lead Monday through Friday lunchtime meditation sessions.
Your registration is good for all of our meetings.
Be sure to read our Class Participation Agreement below *
The teachers in our Lunchtime Meditation program donate their time in service to the teachings and only receive what participants offer through their generosity. There will be an opportunity to make an offering (suggestion $10) to the teacher in class. Please join us even if you aren't able to make a donation, as your presence is warmly welcome!
Fee: $10 suggested donation.
. . . . .
Mondays: Collective Compassion with Alexa Owen
Tuesdays: Self-Compassion for Every Body with Nina Herzog
Wednesdays: Mindfulness with Marianne Gunther
Thursdays: Embodied Mindfulness with Heather Shaw
Fridays: Loving-Kindness with Rachel Hammerman
Please note there may be occasional teacher substitutions.
We meet Monday through Friday, from 1:00–1:45 pm ET / 10:00–10:45 am PT
..........
* Class Participation Agreement
While each of our guides may share distinctive practices, as a community we strive to offer a contemplative space that supports group learning and self-healing. We encourage you to come with care and speak from the heart while being careful to practice mutual respect by monitoring the impact of your contributions on other group members.
Meditation can be a vital aid on a path of self-healing, especially when combined with the cultivation of contemplative insight and compassionate care. However, paying close attention to our minds and bodies can also bring awareness of uncomfortable, unfamiliar, or painful memories, emotions, and embodied experiences.
In some cases, this new awareness can be overwhelming and require the help of a mental health professional to understand and heal.
In providing the time and space for practice in community, our meditation teachers are not acting as psychotherapists, conducting a group therapy session, or offering any clinical treatment.
To foster a group atmosphere of mutual respect, and to experience the full benefit of meditation and class, we encourage all participants to arrive at the start of class. Please arrive no later than 10 minutes after the scheduled class time.
We welcome all and look forward to your participation in co-creating a space for meditative self-healing and mindful dialogue.
_________________________
I understand that it is my personal responsibility to consult with a physician or therapist if I experience any difficulty that is cause for concern during or after practicing in these meditation sessions.
I agree to respect the time arrival guideline.
By proceeding to take this class, I fully consent to the above statements. To learn more about our guidelines of engagement, see Nalanda Institute's Communal Learning Agreements.
About the organizer
At Nalanda Institute, we see an interdependent world where all people flourish together by learning to tame self-defeating thoughts and emotions and to thrive sustainably with others in mutual happiness, compassion, and altruism.
Our mission is to train people from all walks of life in timeless contemplative skills informed by practical neuropsychology to empower themselves and others to cultivate a wise mind, compassionate heart, and altruistic way of being in our interdependent world.