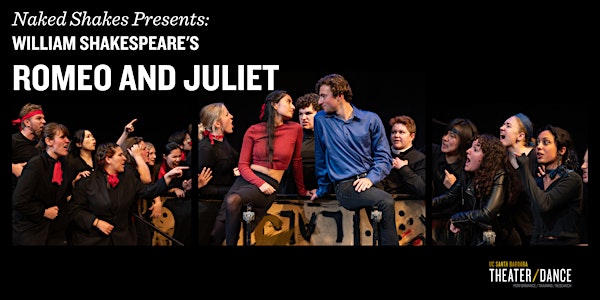 Naked Shakes: Romeo and Juliet in the Summer
The Naked Shakes mission is to present energetic, exciting, raw, vibrant Shakespeare using the power of the actors and the language.
When and where
Location
Studio Theater University of California Santa Barbara Isla Vista, CA 93117
About this event
Waitlists are now open for sold out performances!
If you are interested in attending a performance that is sold out, add your name to our waitlist! While we cannot guarantee you a ticket, you will be among the first to be let in should we have any seats available.
Sign up for the waitlist
Arrive to the Studio Theater by 6:45pm on the day of the performance to affirm your spot on the waitlist
We will know by 7:00pm whether or not we will be able to seat you
If seats become available, guests will be seated first come - first served in order of their check-in at the Studio Theater
If you are interested in securing a seat to one of our performances, we recommend registering for a performance that still has tickets available.
About the Production
UCSB's Naked Shakes presents: Romeo and Juliet
By: William Shakespeare
Directed by: Irwin Appel
Everyone knows how the story goes… "Two households… in fair Verona…a pair of star crossed lovers…" But how does the classic tale take shape in our modern society? This Summer, UCSB Department of Theater/Dance Chair, and Naked Shakes director, Irwin Appel, answers this question as he will present a contemporary adaptation of Romeo and Juliet in UCSB's Studio Theater.
Health and Safety
Romeo and Juliet will be presented indoors in UCSB's Studio Theater. In order to provide a safe and welcoming environment for our audience and performers, we are strongly encouraging audience members to wear their masks while they are inside the Studio Theater.
Health protocols for 2022-2023 events will be determined in conjunction with evolving state, local and university guidelines, and are subject to change.