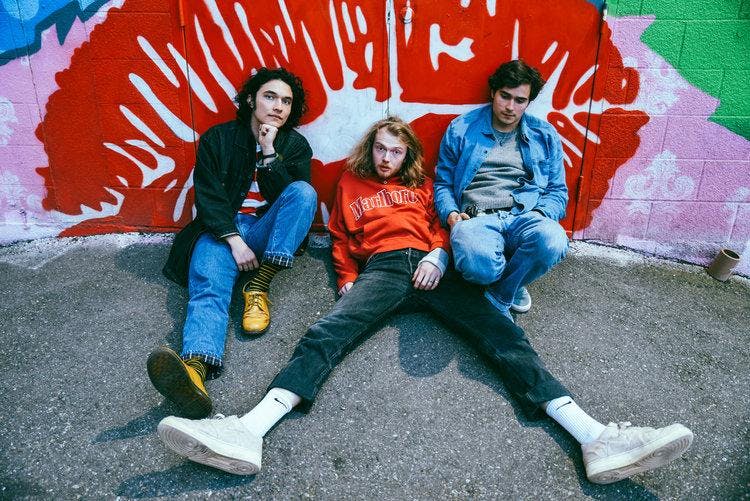 About this Event
$10 // 21+
------------
'SLUFF' is a word that means both everything and nothing, but it definitely sums up the three distinct personalities that make up fuzzed-garage rockers, NAKED GIANTS. Depending which member you ask, SLUFF is either slang for the black gunk that comes off your shoes when it snows in the winter, an acronym that stands for South Lake Union Fuck Face (a reference to the tech bros who have infiltrated Seattle in recent years) or what a snake does when it sheds its skin. It's also the title – and a song on – the band's debut full-length. Formed in 2015, the Seattle trio – guitarist/vocalist Grant Mullen, bassist/vocalist Gianni Aiello and drummer Henry LaVallee – put out debut EP R.I.P. the following year and have been steadily building up their reputation as a fierce and addicting live act in the meantime.
It's fitting that lo-fi garage rockers TWEN's only released project to date is a live EP - the Nashvillian quartet's fuzzed-out riffs and frontwoman Jane Fitzsimmons' powerful vocals sound immense through a venue's soundsystem in a way that a studio recording wouldn't do justice. They're noisey and heavy, but never sloppy; their often complex rhythms & melodies are executed with a precision that will leave you with your head banging and your jaw hanging open.
Opening tonight is Chicago's very own THE EVENING ATTRACTION. The band's swooning vocal delivery alongside clean, lush guitar work is reminiscent of days gone by and they've mastered a folky but quick-paced interpretation of all things jangly. It's literally impossible to frown while soaking in THE EVENING ATTRACTION's indie-blues and lovestruck grooves.