"Naked Alien Massacre" Movie Casting Now, Shooting April: Meet Prod. Sunday

Sunday, January 19, 2014 from 12:00 PM to 2:15 PM (PST)
Event Details
 Award-Winning Producer-Writer-Comedian-Actor TIM CHIZMAR 
 to Discuss His Upcoming Film Projects -- and He's Seeking Talent!
"Naked Alien Massacre" will be Chizmar's "Pulp Fiction."
CASTING NOW - Principal Photography Begins April, 2014
Meet Him In Person This Sunday!  
============================= 
Please Join Us For a Very Special Afternoon with
at Least 3 Producers-Directors-Publicists including 
TIM CHIZMAR
& GRACE FRAGA 
 Sunday, January 19, 2014:  12:00 Noon until 2:15 PM  
The Jeremiah Comey Studio
 (a beautiful theater in a great area with lots of free secure parking)
 12215 Ventura Blvd., Suite 111 Studio City, CA  91604
(located in the Times Square Plaza, the home of Peet's Coffee, about 1 1/2 blocks west of Laurel Canyon Blvd.) 

Very Limited Seating - Reserve Your Seat Now and Experience an Amazing Afternoon!
The Following Feature Film is One of Several Upcoming Tim Chizmar Projects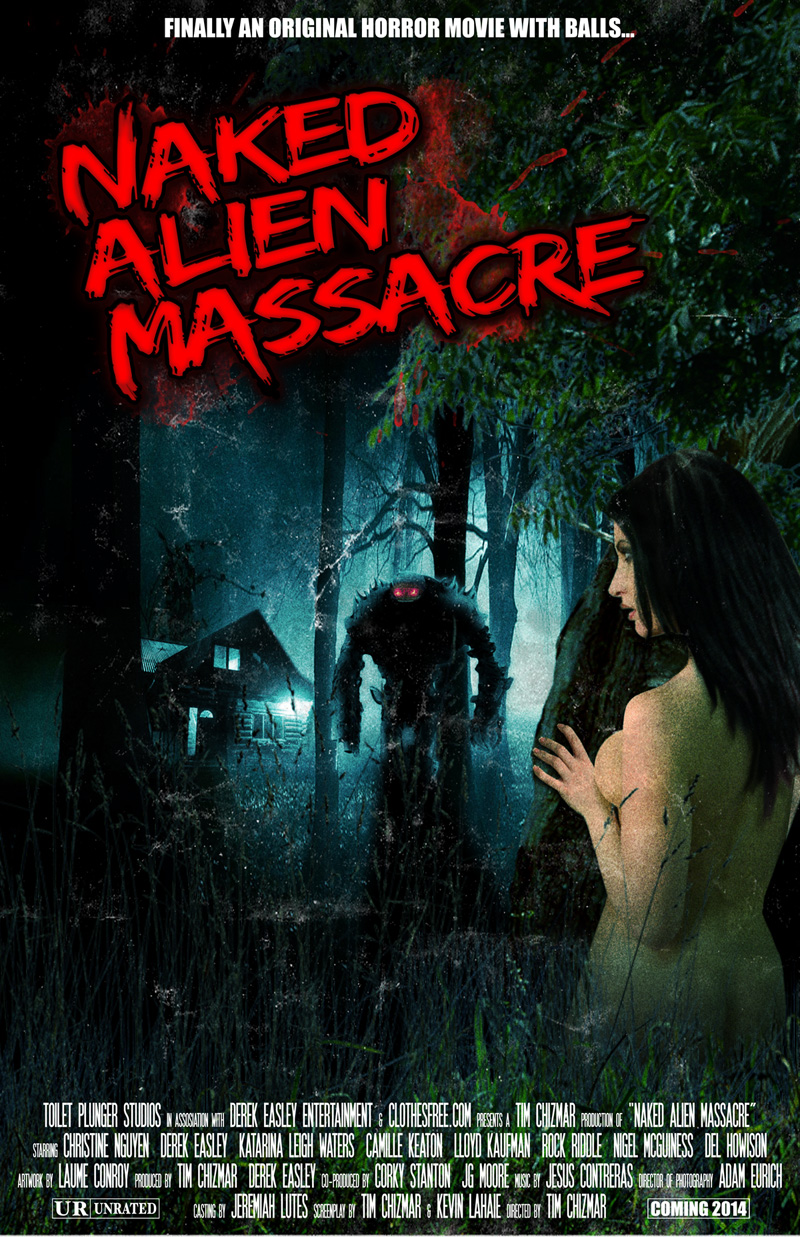 Tim Chizmar (confirmed!) is a comedian/actor/producer from Pennsylvania who focuses on real life observational comedy in his act, coming from tough times himself. Tim is a favorite at popular comedy clubs such as The Irvine Improv, Ontario Improv, Hollywood Improv, Brea Improv, Jon Lovitz Comedy Club, and many other spots in the Southern California area. He has toured all over the world and entertained the troops.
Tim co-hosts the popular internet show 'NoPantsCast" featuring notable actors, authors, wrestlers, etc. In recent years Tim has been producing movies and TV shows in addition to his live shows -- such as the popular smash hit concept "Championship Comedy." "Championship Comedy" mixes pro wrestling storytelling with standup comedy and features professional wrestling superstar & WWE Champion Rob Van Dam. The production has spawned a DVD set of 6 episodes.
Tim has been on "Last Call" with Carson Daly twice, shot multiple TV pilots, and has worked with studios such as Full Moon and Troma. He has performed live with such Headliners as Ron White, Jeff Foxworthy, Brad Williams, Daniel Tosh, among others. You may have heard the famous quote: "Seeing Tim Chizmar live is the most FUN you can have with your clothes on!"
Tim's latest projects have included:
►Assistant director on the feature "Frankenstein's Bride"
►Writer and producer of the film "'Til Death Do We Deceive" with former WWE wrestler Katie Leigh Burchill.
►Current Host of Necrocity Entertainment's "NecroVision."
►Current Host of "TMI with TIM" 
►And considerably more 
On Sunday he will entertain, enlighten, and educate. He will also discuss a few of his upcoming film and TV projects. This is a wonderful opportunity. We look forward to seeing you there  ---  According to today's IMDB STARmeter, Mr. Chizmar is ranked within the top 2% of entertainment industry professionals worldwide.
============================= 
Producer/Director/Actor/Comedienne GRACE FRAGA
Confirmed for Sunday and Seeking Talent! 
The bi-lingual award winning actress, comedienne, writer and producer has appeared on national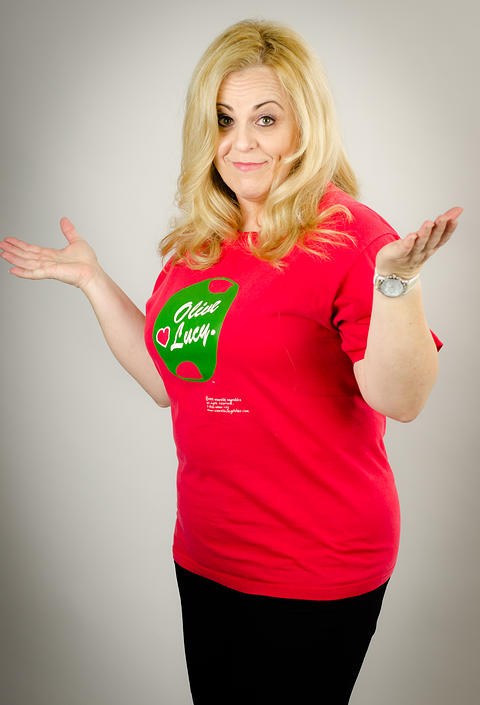 television on NBC, A&E, CBS, Discovery Channel, Animal Planet, VH-1, Court TV, Univision, Galavision and Telemundo. Some of her guest star roles include, "The Steve Harvey Show", "Gene Simmons Family Jewels," "Comedy Cage Match," "FBI Files," "Mystery ER," "Killer Outbreaks," "The First Time" and "North Mission Road." Spanish language credits include "No Me Hallo," "Accesso Maximo" and "Amor or Mentira."
Night club appearances include stops in Los Angeles, New York, Miami, San Francisco, Salt Lake, Chicago, New Orleans, Reno and Las Vegas at top rated venues such as The Comedy Store, The Improv, The Laugh Factory, The Ice House, The Comedy Zone and Harrah's. Grace has performed in colleges all over California including the University of San Diego, Cal State University, West Hills College and East Los Angeles College. She has also toured in the "Las Comadres of Comedy, the Funniest Latinas in America" and "Women Who Kick ComedyButt" troupes and been a guest on National Lampoon and a co-host on Playboy Radio. Her Internet show "Laff It Off With Grace" is still currently in syndication around the country.
Rumored to be distant relative of Eva Peron, Grace Fraga arrived in Los Angeles via New Orleans from her home town of Buenos Aires, Argentina. Since taking each city by storm, the blond bombshell has accomplished a lot. One was her win of a Big Easy Entertainment Award for Best Actress in a Comedy for her supporting role in Walt Donk's stage play "Rio Seco." Another was to develop a sitcom, "For the Love of Grace," being mentored by Ellen Sandler (an Emmy Award nominee for her work on "Everybody Loves Raymond".) Her one woman show the Latin American Princess' international search for her Knight in Shining Armor "Sleeping Booty: A Modern Fairy Tale" recently had a one night only sneak peek.
As a child growing up in South America, the ever inquisitive over achiever of a civil engineer and concert pianist earned three college degrees - a BA in Art History Education, an MA in Art History with an emphasis in Theatre and Film Analysis and a MBA in Finance, which of course led her to her career in the entertainment field. Recently, with Emmy Award winner Anne Beatts, she co-created, wrote, produced and starred in webisodes of "Dr. Lupe's Love Picante". Currently her comedy DVD "Full of Grace" is distributed by New Wave Entertainment and is available on iTunes and Amazon.com.
Grace can now add author to her impressive list of accomplishments. Her book titled, "Love at First Ex", has been getting excellent reviews on amazon.com. The book teaches how to incorporate your Ex's into your life. She has appeared on "The Steve Harvey Show", launching her career as a relationship coach. She just published her second book, "Love at First Ex, the Self Help Edition", a practical guide on how to deal with the post break up aftermath. Not one to rest on her laurels, Grace got a development deal from PBS to shoot a TV pilot, "The ART of Storytelling" which she created, executive produced and hosted. ---  According to today's IMDB STARmeter, Ms. Fraga is ranked within the top 3 1/2 percent of entertainment industry professionals worldwide.
---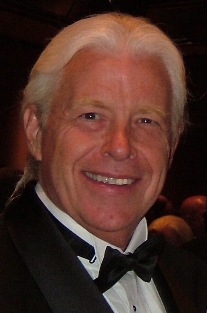 Rock Riddle will be your host and "Master of Ceremonies" for the seminar event. Rock has over a quarter of a century and well over 135,000 hours' professional experience in the film and television industry.  His background includes:  Publicist and President of APS Entertainment, of course, as well as SAG Franchised Talent Agent and Agency Co-Owner, Personal Manager, Producer, Casting Director, Stunt Person, Talk Show Host, Film and Television Actor, and Amazon.com #1 Best-Selling Author ("How to Become a Magnet to Hollywood Success") - not to mention his legend status as the original "Mr. Wonderful" of professional wrestling.  His greatest talents include (1) his mastery in the marketing of entertainment industry professionals and (2) his amazing ability to motivate, inspire, and teach actors how to achieve and go beyond their dreams.  On April 21, 2007, Rock was presented with the prestigious Reel Honoree Award, an award which is presented once a year to an individual who has made a difference in the entertainment industry. Past recipients of this award include Sylvester Stallone, Charles Bronson, James Cagney, David Carradine, Robert Conrad, Kirk Douglas, Cesar Romero, Mickey Rooney and others. Rock has dedicated the majority of his life to helping people achieve and live their dreams in the entertainment industry, and he is very proud of this honor.  According to today's IMDB StarMeter, Rock is currently ranked in the upper 2 1/2 percent of entertainment industry professionals worldwide.
More information is available here: www.HollywoodSuccess.com/special_event.htm
---
REMINDER:  WE START AT 12:00 NOON - PLEASE BE ON TIME.  THANK YOU!
THIS IS NOT ANOTHER "ACTOR SEMINAR." It is a unique experience that is motivating, inspiring, hard-hitting, blatantly and brutally honest, eye-opening, practical, useful, and extraordinarily valuable. It is crammed full of usable information that, when applied, can quickly accelerate your success in the film and television business! Hundreds of actors who attended past events sent thank-you cards and/or praised the events in writing. Over fifty actor attendees were actually hired for film and/or television projects as a result of meeting producers at these events - including a starring role for an actor in a SAG feature film (and that actor had no SAG card at the time and had never done a previous starring role). Please join us Sunday for an event that can potentially change your entire professional life! - And please invite a deserving actor friend . . .
---

For additional information:  www.HollywoodSuccess.com/special_event.htm
When & Where

The Jeremiah Comey Studios Theatre
12215 Ventura Blvd
Studio City, CA 91604


Sunday, January 19, 2014 from 12:00 PM to 2:15 PM (PST)
Add to my calendar
Organizer
APS Entertainment & Hollywood Success Marketing and Public Relations
We are Hollywood Success -- Associated Producers Services; Actors Promotional Services, Ltd.; Hollywood Success Marketing & Public Relations; and APS Entertainment.  

Incorporated in Hollywood, California in late 1978, APS is a powerful networking organization, a support system, a publicist and a highly effective "marketing machine" for  Entertainment Industry professionals. For over 30 years, our mission has been to empower select professionals in the film and television industry -- to provide them with the tools, support and opportunities that help them achieve success more quickly.  We work with dedicated, determined industry professionals who will achieve a high level of success -- with us or without us.  Our job is simply to greatly speed up the process. 
Dozens of brilliantly talented actors and actresses give up their "Hollywood Dreams" every day.  These gifted people know their craft, but they don't know their business. 
It's Show BUSINESS, Not Show Art.
Our organization provides the business aspects of the Entertainment Industry.  We provide powerful PR, marketing, promotion, networking, and support systems for entertainment industry professional clients.  Much more information is available at www.HollywoodSuccess.com.
"Naked Alien Massacre" Movie Casting Now, Shooting April: Meet Prod. Sunday