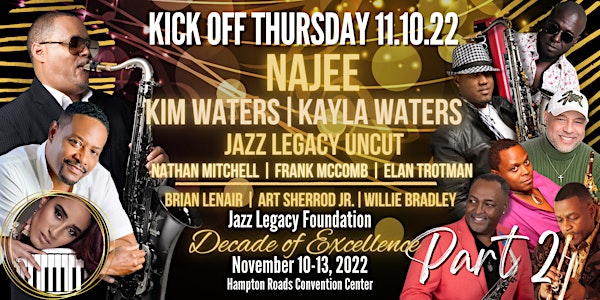 Najee|Kim Waters |Kayla Waters |Nathan Mitchell |Frank McComb |Elan Trotman
Najee |Kim Waters |Kayla Waters |Nathan Mitchell |Frank McComb |Elan Trotman |Brian Lenair |Art Sherrod Jr. |Willie Bradley
When and where
Location
Hampton Roads Convention Center 1610 Coliseum Dr. Hampton, VA 23666
About this event
KICK OFF THURSDAY
Kick Off Thursday November 10, 2022

Jazz Legacy Foundation Decade of Excellence Fundraising Gala Part 2

Najee |Kim Waters |Kayla Waters |Nathan Mitchell |Frank McComb |Elan Trotman |Brian Lenair |Art Sherrod Jr. |Willie Bradley

5:00 pm - Doors Open VIP

5:30 pm - Doors Open Special Reserved & General Admission

6:00 pm - Showtime

We have a strict NO REFUND policy. Postponed events will honor your tickets on the new date. We reserve the right to change artists, schedules and/ or prices at any time without notice.

Jazz Legacy Foundation is taking the safety of our community, supporters, and associates very seriously. We want you to feel comfortable knowing everyone around you is working to ensure your safety which will enable you to thoroughly enjoy the phenomenal talent headed your way.

After careful consideration, we have implemented the following measures to promote the health and wellbeing of all attendees, vendors, staff, and artists:

Proof of full vaccination with ID for entry
Un-vaccinated, partially vaccinated, or exempt attendees must provide a professionally administered negative COVID test results within 72 hours of event date. No proof, no entry!
Mask Mandates will be followed in accordance with the state and local COVID directives at the time of the event.

Venue: The Hampton Roads Convention Center has completed renovations to further enhance the safety of all guests.

We are all in this together! As COVID-19 mandated and protocols evolve, so will our approach to keeping you safe. We thank you for your patience and flexibility as we manage our sincere concern for you, our Jazz Legacy Family. Please continue to check our website jazzlegacyfoundation.org for updates.