Location
NoOri Rooftop
98 North 6th Street
Brooklyn, NY 11249
DJ Sydney Love's 'NAIRA' Party Returns to New York City August 21st, 2022! DJ's, Hosts, Lagos Vibes, Small Chops and more!
About this event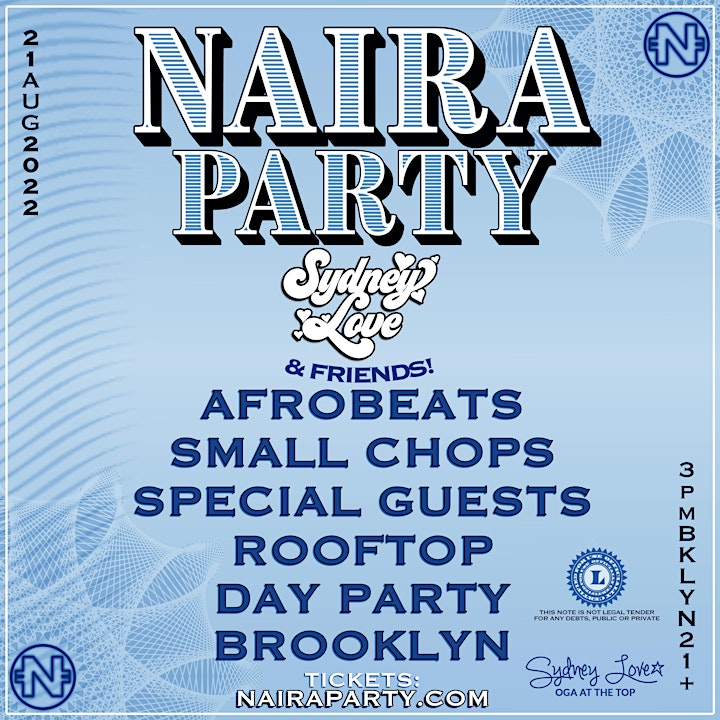 *Disclaimer, the date has been rescheduled to 21st of August!*
We're back with our 3rd Summer Series installment of
A DAY (PARTY) IN LAGOS!
"Afrobeats on a Roof"
The NAIRA Party mirrors the nightlife scenes of West Africa, especially our home: Lagos, Nigeria.
Join us where Afrobeats and the Afro Diaspora meet!
Come experience what it's like to be in LasGidi (Lagos), with good music, small chops and great vibes!
Afrobeats, AfroPop, Amapiano, Alté & more!
+ Special Guests!
DISCLAIMER: TICKETED ENTRY ONLY.
ABSOLUTELY NO TICKETS AT THE DOOR.
NO EXCEPTIONS.
To combat door issues, we ask that all attendees purchase tickets online, ONLY.
EARLY ARRIVAL IS HIGHLY SUGGESTED!
Thanks for your cooperation!
DATE: Sunday August 21st, 2022
TIME: 3PM — 9PM
DOORS CLOSE: 8PM
FOOD / MENU:
Nigerian Small Chops & more!
Dress Code:
Casual / West African / Upscale!
FAQ's:
••• WILL THERE BE TICKETS AT THE DOOR?
No, do not try. We are not bluffing.
••• HOW DO I RESERVE A TABLE?
Email:: NairaParty@gmail.com
••• WILL THERE BE FOOD?
Food for purchase while supplies last!
••• IS THERE AN AGE RESTRICTION? DO I NEED ID?
Yes. 21+ Only.
Follow Us! @NairaParty @DJSydneyLxve @EkoMiamiRecords
#NairaParty #NairaWorldwide