About this Event
20% of workers would willingly step aside to let someone else give a presentation, even if it lost them respect at work.
BUT
Of those who don't avoid presenting 70% agree it's critical to their success at work. Love it or hate it, public speaking is a powerful tool for career success.
Whether you are running a meeting, pitching an investor, or building a social media empire, today's business world requires all of us to share our messages quickly and clearly and inspire others to take action.
The good news is, you can LEARN to present effectively and feel good about it without losing your own authentic style.
Join us for this fun and practical presentation where we will explore the neuroscience behind stage fright and charisma and how to turn that knowledge into concrete action. Participants will leave with simple interventions for handling stage-fright and a structure for crafting presentations that are memorable, enjoyable, and authentic.
EVENT SCHEDULE
6:00-6:45 - Registration & Networking
6:45-6:50 - Introduction by WOD leadership
6:50-7:30 - Workshop with icebreaker and learning activities (40 min)
7:30-7:50 - Breakout discussions with 3-5 attendees
7:50-8:00 - Debrief and closing
+ Appetizers are provided, and parking is free in the adjacent lot or on the street nearby.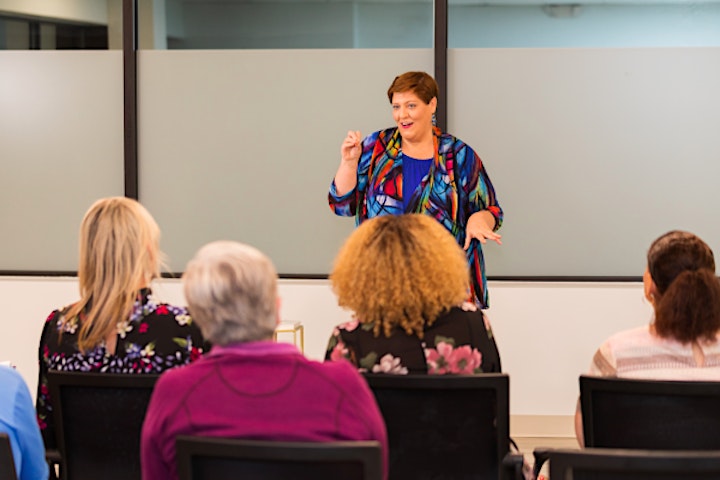 SPEAKER
Mari Geasair is on a mission to help more smart, creative women share their wisdom. She is a performance coach who helps subject matter experts, and professionals learn to be more relaxed and effective on video, in podcasts and during in-person speaking engagements. Over the last 20 years Mari has provided over 1800 coaching and/or work sessions, and supported more than 4000 women professionals through her workshops, classes, public speaking events and courses.
About Women of Denver Career Track Events
Women of Denver's Career Track meetings provide training and networking opportunities to help you navigate your career journey, level-up your skill set, and develop key relationships for long-term success. At each event we feature a powerful Denver leader who will share valuable career tips, essential business knowledge, and answer questions you have about career growth and success.
ATTEND OUR EVENTS COMPLIMENTARY
Become a Women of Denver Impact Member and get access to all of our events for only $35 per month. Become a member today.
BECOME AN EVENT SPONSOR
Event sponsors receive a table during the event and opportunity to share a 1-minute elevator pitch to the group with an offer before we start our event presentation. Order your sponsorship here, or contact krystal@thewomenofdenver.com.