Description
Attention NAHREP Members
: Please click "Get Tickets" then click on blue link- top right corner "Enter Promotional Code". Type in your email address affiliated with your NAHREP membership. Click "Apply" member ticket price will be shown. Select dropdown for ticket selection. Click on "checkout", finalize registration with filling out your contact information. For help, please call 310-432-4000.

Early Bird Member Ticket: $59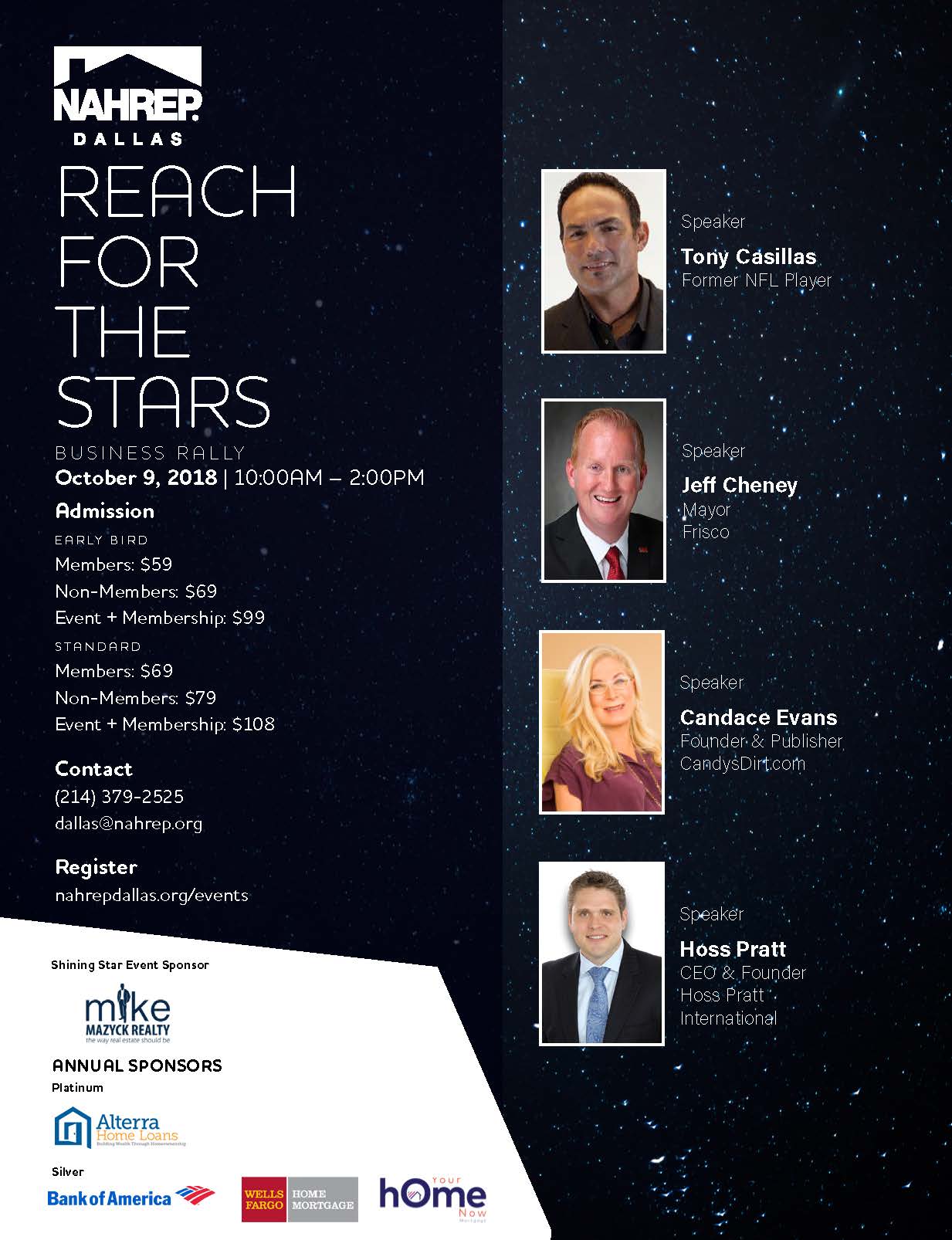 Speakers:
Tony Steven Casillas
Tony Steven Casillas is a retired American football Defensive tackle in the National Football League from 1986 through 1997. While at the University of Oklahoma he helped win the 1985 NCAA National championship. He also won the Lombardi Award in 1985 and was the 1985 UPI Lineman of the Year. Casillas was also part of the Dallas Cowboys back to back victories in Super bowl XXVII and XXVIII, both against the Buffalo Bills. In 2004, he was inducted into College Football Hall of Fame
Mayor Jeff Cheney

Native Texan Jeff Cheney was elected Mayor of Frisco, Texas, in May 2017, and holds the distinction of being the youngest Mayor of Frisco. Mayor Cheney's big initiatives are developing Grand Park, working with the private sector to build a performing arts hall, planning the northern section of our city, keeping taxes low for our residents and protecting against density and congestion. Mayor Cheney and his wife, Dana, are the co-founders of The Cheney Group, a Frisco-based residential realty firm. The Cheney Group is the top residential real estate firm in Frisco and was recognized as the Frisco Small Business of the Year 2015. Professionally, Mayor Cheney has earned the distinction of Certified Public Accountant and a Registered Financial Advisor.

Hoss Pratt: CEO and Founder of Hoss Pratt International

Hoss Pratt is the CEO and founder of Hoss International, the premier resource for agents and firms that want to take their businesses to the next level. This renowned coaching and training firm helps clients build better real estate businesses.