Tickets included's entrance to the event Frida 9 am - 5 pm and lunch Friday gala dinner Saturday June 12 from 9 am to 11 am, and brunch
About this event
NAHPA National Conference seeks to unify the voices of the Hispanic pastors across the United States with the goal of advocating and defending our Christian Values and training our leadership. The conference will equip and empower pastors and leaders with the knowledge and tools on how to interact and influence legislation and administrations at the local and national level. Experts from different fields such as faith, church, policy, advocacy, media, and government, will share with us how we can activate and works to defend our values. We are in the process of creating a grassroots movement in the Hispanic community that will speak for our values and our faith. Come join us.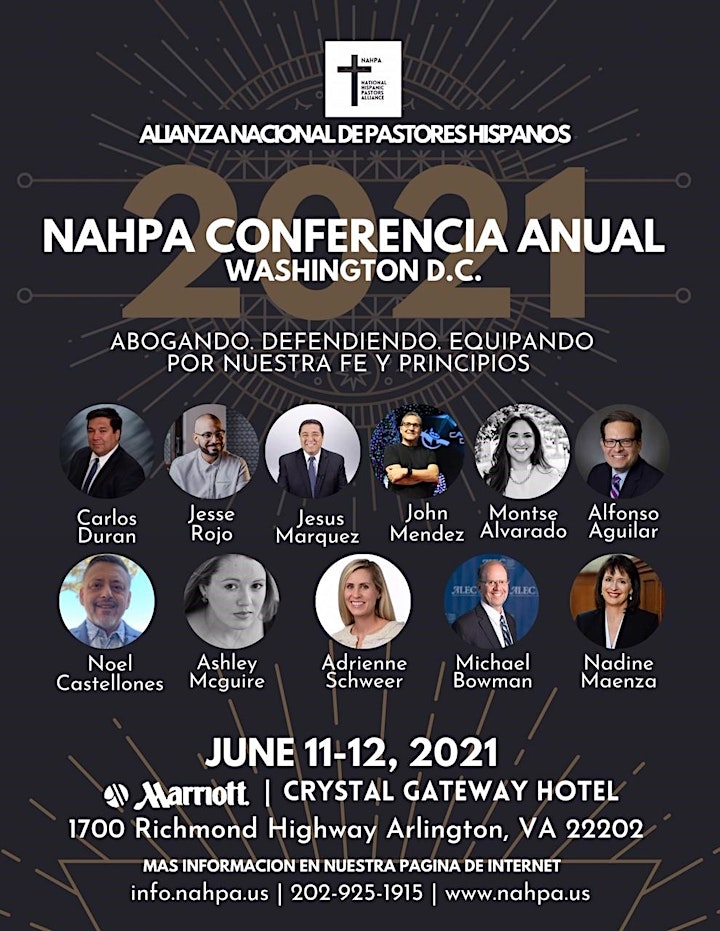 Organizer of NAHPA 2021 National Conference. June 11-12 Washington DC
Visión
Ser una voz de la Iglesia Cristiana Hispana ante el gobierno y las autoridades en asuntos relevantes para nuestra fe y valores y su relación con la sociedad en general.
Misión
- Unir el liderazgo cristiano para hablar como una sola voz al poder.
- Abogar por nuestra fe y valores.
- Educar a nuestro liderazgo para que sirvan a sus comunidades de manera efectiva.
- Promover la unidad entre todas las etnias, denominaciones e iglesias.