NAFTA: A Make or Break Moment

Thursday, October 19, 2017 from 5:30 PM to 8:00 PM (PDT)
Event Details
The San Diego World Affairs Council

Is Pleased to Invite You to an Important Panel Discussion:
"NAFTA: A Make or Break Moment?"
Thursday, October 19, 2017
5:30 p.m.- 6 p.m. Registration & Reception
(Hors d'oeuvres catered by AMN Healthcare.)
6 p.m.-7 p.m. Presentation
7 p.m.-8 p.m. Q & A
AMN Healthcare Auditorium
12400 High Bluff Drive, San Diego 92130
More than 20 years after the North American Free Trade Agreement (NAFTA) went into effect, its consequences are a topic of heated debate in Mexico, Canada and especially the United States. Are President Trump's claims about NAFTA and its negative effects on the U.S. economy accurate? Are his goals for renegotiating the agreement achievable? Are supply chains now too integrated to undo key clauses of the treaty without creating major economic disruption? Can an amended NAFTA return jobs and manufacturing to the U.S.?  Who has benefited and who has suffered as a result of NAFTA? Has the U.S. fared worse than its trading partners? Are there practical ways to improve the treaty, such as adding new chapters? What are the red lines of U.S. trading partners Canada and Mexico in the negotiations?

The San Diego World Affairs Council (SDWAC) and the University of San Diego Joan B. Kroc School of Peace Studies bring the debate to you by assembling a top-notch panel to consider all things NAFTA.
Meet Our Panelists

Jeffrey Davidow is former U.S. Ambassador to Mexico and former U.S. Assistant Secretary of State responsible for U.S. Latin America policy. Currently Senior Counselor of The Cohen Group, Ambassador Davidow is the author of The US and Mexico: The Bear and the Porcupine, a bestseller in Mexico that is often used as a textbook for university courses in the United States.

Dennis Arriola is Executive Vice President of Sempra Energy, Corporate Strategy and External Affairs, with responsibility for Sempra's extensive international activities. Sempra has pursued an aggressive investment strategy in Mexico, where it owns 66 percent of IEnova, an energy infrastructure company whose equity value exceeds $7 billion.

Gavin Nardocchio-Jones, Deputy Consul General of Canada in Los Angeles, is a career diplomat who oversees the Political/Economic section of the Consulate General. Mr. Nardocchio-Jones is responsible for making policy recommendations to Ottawa regarding California. Bilateral trade between Canada and California exceeds $46 billion.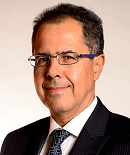 Rafael Fernández de Castro is a professor at the School of Global Policy & Strategy at UCSD and director of its Center of U.S.-Mexican Studies (USMEX). A former foreign policy adviser to President Felipe Calderón, he is an expert on bilateral relations between Mexico and the U.S. His current research includes a book on leadership and decision-making in Mexican foreign policy and he serves as a principal investigator for the project "Co-constructing Security Provision in Mexico: A Methodology and Action Plan from Communities to the State."
Admission

University of San Diego students, faculty and staff: Free
SDWAC members: $10
General public: $20
For questions or more information, email: sdwac@sdwac.org or visit www.sdwac.org

SDWAC extends sincere gratitude to the sponsors of this event:





When & Where

AMN Healthcare Auditorium
12400 High Bluff Drive, San Diego
San Diego, CA 92130


Thursday, October 19, 2017 from 5:30 PM to 8:00 PM (PDT)
Add to my calendar
Organizer
The San Diego World Affairs Council (SDWAC), a non-profit, nonpartisan organization affiliated with the World Affairs Councils of America, is dedicated to educating and engaging San Diegans on international issues. SDWAC's mandate extends from global and multilateral issues to political/strategic aspects of foreign affairs, economic and trade issues, and international cultural and social matters.