Visit Hotel del Coronado, Wizard of Oz Home, Beach, Marilyn Monroe Movie Site, Seaside Mansions and hear haunting Kate Morgan Ghost Stories!
About this Event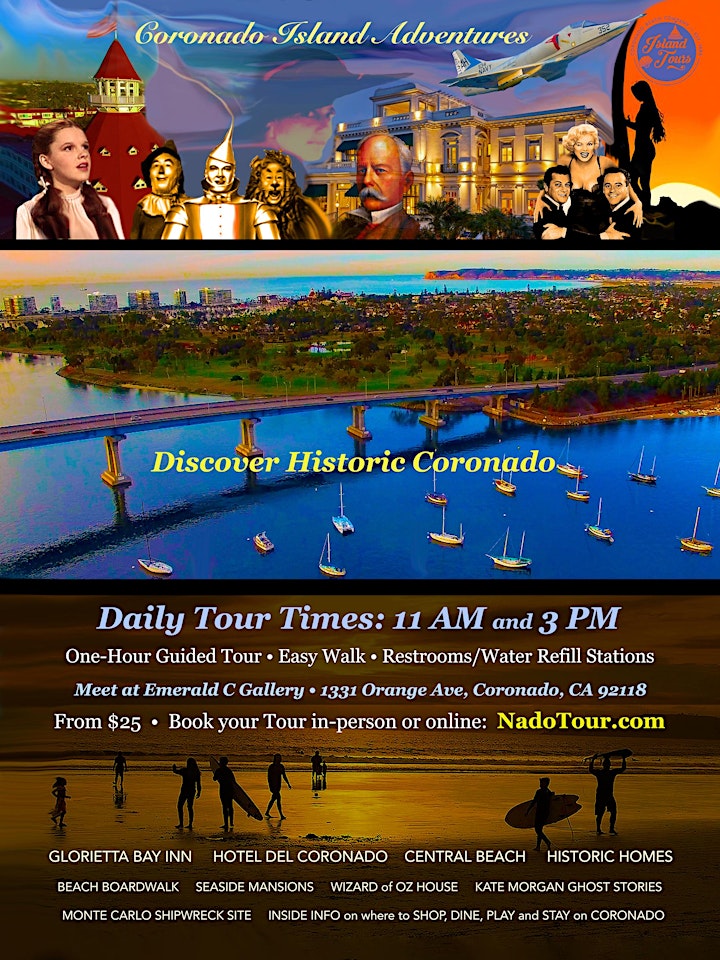 The 'NADOLAND Adventure Tour is a one-hour walking tour hosted by a local and highly knowledgeable Coronado Ambassador Guide.
The meet-up location for the roundtrip Tour is EMERALD C GALLERY, located at 1331 Orange Ave, Coronado, CA 92118. Walk-in Tour Bookings and Reservations are always available.
Tour Times: 11:00 AM and 3:00 PM DAILY
Duration: 1-Hour. Length: 1.2 Miles - Easy Walk. Elevation: Sea Level
Tour Highlights: CENTRAL BEACH; GLORIETTA BAY INN; HOTEL del CORONADO; Mysterious KATE MORGAN Ghost Stories; World's First Electric CHRISTMAS TREE; CORONADO Shop, Dine, Play and Stay INSIDER TIPS; See MARILYN MONROE Movie Locations; ORANGE AVENUE Village Shops; ROTARY PLAZA; HISTORIC Homes and World Famous LANDMARKS; The Gambling Ship MONTE CARLO Shipwreck Site; Huge SEASIDE MANSIONS; The WIZARD OF OZ House; CORONADO VISITOR CENTER and MUSEUM; NAVAL AVIATION Sites; Charming MAIN STREET Restaurants, Stores, Cafes and Inns; STAR PARK Military Site; and amazing OCEAN BLVD Pacific Sea Views!