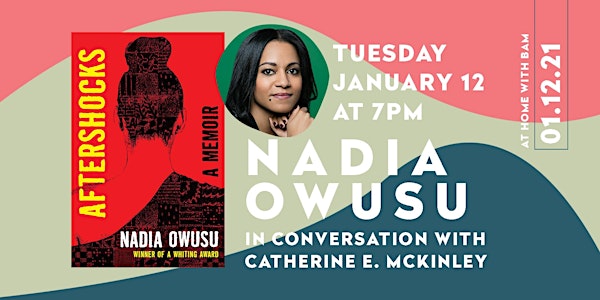 Nadia Owusu: Aftershocks w/ Catherine E. McKinley
Join Books Are Magic to celebrate the launch of Whiting Award-winner Nadia Owusu's debut memoir AFTERSHOCKS!
Refund Policy
Contact the organizer to request a refund.
About this event
Community Guidelines:
By registering for this event, you agree to be respectful towards authors and other audience members and to refrain from inappropriate or disruptive behavior and/or harassment of any kind including, but not limited to: hate speech, spam comments, slurs, obscenities, etc. Any attendees who violate these community guidelines will be immediately ejected from this event and barred from attending all future Books Are Magic events.
To request accessibility accommodations, please contact assistant@booksaremagic.net.
In the tradition of The Glass Castle, a deeply felt memoir from Whiting Award–winner Nadia Owusu about the push and pull of belonging, the seismic emotional toll of family secrets, and the heart it takes to pull through.
Young Nadia Owusu followed her father, a United Nations official, from Europe to Africa and back again. Just as she and her family settled into a new home, her father would tell them it was time to say their goodbyes. The instability wrought by Nadia's nomadic childhood was deepened by family secrets and fractures, both lived and inherited. Her Armenian American mother, who abandoned Nadia when she was two, would periodically reappear, only to vanish again. Her father, a Ghanaian, the great hero of her life, died when she was thirteen. After his passing, Nadia's stepmother weighed her down with a revelation that was either a bombshell secret or a lie, rife with shaming innuendo.
With these and other ruptures, Nadia arrived in New York as a young woman feeling stateless, motherless, and uncertain about her future, yet eager to find her own identity. What followed, however, were periods of depression in which she struggled to hold herself and her siblings together.
Aftershocks is the way she hauled herself from the wreckage of her life's perpetual quaking, the means by which she has finally come to understand that the only ground firm enough to count on is the one written into existence by her own hand.
Heralding a dazzling new writer, Aftershocks joins the likes of Don't Let's Go to the Dogs Tonight and William Styron's Darkness Visible, and does for race identity what Maggie Nelson does for gender identity in The Argonauts.
Nadia Owusu is a Brooklyn-based writer and urban planner. She is the recipient of a 2019 Whiting Award. Her lyric essay So Devilish a Fire won the Atlas Review chapbook contest. Her writing has appeared or is forthcoming in the New York Times, the Washington Post's The Lily, Literary Review, Electric Literature, Epiphany, and Catapult. Aftershocks is her first book.
Catherine E. McKinley is author of four critically acclaimed books, most recently The African Lookbook (Bloomsbury, January 19), an exploration of fashion, trade history and selfhood, which features works from The McKinley Collection, a personal archive representing African photographies from 1870 to the present. She's taught creative nonfiction writing at Sarah Lawrence College and Columbia University. She lives in New York City.