About this Event
Thursday June 6, 2019
Nadah El Shazly
Stefan Christensen
Reduction Plan
8pm
$20 advance / $22 day of show
Nadah El Shazly
Nadah El Shazly is a singer and composer living and working in Cairo. She released her critically acclaimed debut album AHWAR in Nov 2017 via Nawa Recordings. Backing up her release with extensive worldwide touring through a solo set and a four-piece band, El Shazly has been featured in local and international festivals including Le Guess Who?, REWIRE, Best Kept Secret, Supersonic and many more. She continues to compose for film and visual art.
Two years in the making, Ahwar was composed, written and produced by El Shazly herself in collaboration with Maurice Louca and Sam Shalabi on co-composition and arrangement duties. The album was crafted across two continents, between Canada and Egypt, and features the best of Montreal's contemporary-classical and improvised music scene, most of whom are members of Shalabi's Land of Kush.
https://www.thewire.co.uk/audio/tracks/stream-nadah-el-shazly-s-new-album
https://www.facebook.com/ElShazlyNadah/
https://nadahelshazly.bandcamp.com/album/ahwar
https://www.youtube.com/watch?v=MgvESkyoEdg
https://www.youtube.com/watch?v=jaZXA48r8Cc
Nadah el Shazly is part of a burgeoning underground music scene in Egypt that has been rightly garnering more and more interest of late.
Stefan Christensen
New Haven, CT based artist Stefan Christensen's work is known for its contemplative and melancholic mood; always filtered through a home-recorded, DIY dirge that hits a wide range of sounds; from gentle acoustic work and long form drone, to wiry post punk songwriting, freakout psychedelia and beyond.
In 2007, after years of playing in hardcore and punk outfits, Christensen formed his best known act, avant-punk quartet Estrogen Highs. The band released numerous full lengths and EP's, and toured extensively before parting in 2015. Christensen himself moved swiftly into solo work at that time and has since been releasing a steady stream of music, as well as touring in the US and Europe. As a solo artist Christensen incorporates a 4-track home-recording style, somber tone and skirts the line between song and noise, often blurring said line. A collage of textures and tones land his work somewhere in the realm of the much heralded Xpressesway, Siltbreeze and Twisted Village labels. Christensen released tapes and EP's on such esteemed labels as Night People, ever/never and I Dischi Del Barone before releasing his 2017 Shake Off The Village full length, which received widespread acclaim. It was followed by 2018's City Code on Belgium's Knotwilg label, with more records looming just around the corner.
Christensen is also a frequent collaborator in the fertile New Haven free rock underground. He plays guitar for psych heavyweights Headroom (Trouble In Mind Records), as well as recently becoming a full-time member of long-running free improv guitar group Nagual. He also runs C/Site Recordings, a label that serves not only to release music from his New Haven cohort but the world at large.
"Like a one-legged Crazy Horse sort of walking on the Xpressway towards the Twisted Village and stopping by Columbus, Ohio for a minute... ranging from Galbraithian over-before-it-began cassette-folk to V-3 like smutty, downer rock, accidently scratching a few Precious Metal lathe cuts in-between. Christensen manoeuvres the 4-track recorder like there is no tomorrow, mixing down dirge but at the same time oddly uplifting and smashing songs that are just as immediate as they are life-affirming somewhere in all their distorted and tape-saturated gloom." -I Dischi Del Barone
"Shake Off The Village is in no way an 'easy' listen but the ebbs-and-flows and nimble guitar playing result in an ultimately rewarding experience." -Vice
"Christensen's delivery sounds almost desperately insistent, as if through repetition and willpower he'll enact the chorus' alchemical transformation. It also suggests a sense of simmering frustration, imminent collapse. [It] suggests an array of influences, including the homespun and punk-adjacent undergrounds of 1970s Midwest and 1980s New Zealand, though it surges into the present nonetheless." -Impose
2017 Artist Of The Year-Terminal Boredom
stefanchristensen.bandcamp.com
http://www.csiterecordings.com/stefanchristensen
soundcloud.com/c-site-recordings
Reduction Plan
Reduction Plan's music comes from within solitude's frigid embrace. "I will never get what I want," broods frontman Daniel Manning on self-released debut, Paradise. The heavily reverberated breaths and ominous atmosphere that open Reduction Plan's latest full-length album, Somewhere, evoke that same sense of solitude, one that is almost palpable.
Pulling from 80s goth, 90s shoegaze and industrial, and the anti-folk tendencies of acts like Grouper and Mount Eerie, Reduction Plan uses both noise and space to illustrate the power of silence. A swell of synths, pulsing drum machines, and haunting murmurs is the foundation upon which the project draws its sound.
Somewhere is Manning's third full-length under the Reduction Plan moniker, following the Child of Light EP, which saw him branching out stylistically to collaborate with fellow musicians. On the project's first two full-lengths, 2015's Paradise and 2016's Shade, Manning's compositions were frigid, harsh, and unrelenting. Here, the songs let the light in; blossoming into lush, melancholic pieces that maintain the bite of the project's roots.
Although a solo endeavor in concept, Manning is accompanied live by Luis Durango, who breathes new energy into the songs on second-guitar and synth.Together, the two have shared the stage with acts such as Xiu Xiu, Boy Harsher, Planning For Burial, Torres and many more.
https://reductionplan.bandcamp.com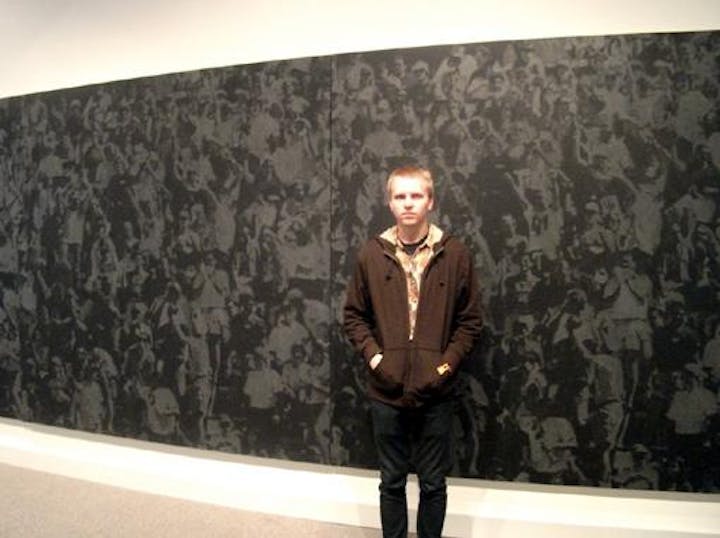 Performers
Date and Time
Location
Refund Policy