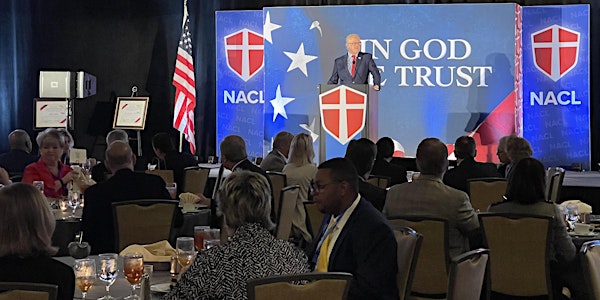 NACL 2023 National Policy Conference - One Nation Under God
Please join us for the National Association of Christian Lawmakers 2023 National Policy Conference: One Nation Under God, June 8-10, 2023.
By National Association of Christian Lawmakers, Inc.
Date and time
June 8 · 6pm - June 10 · 1pm EDT
Location
Liberty University Liberty University 1971 University Blvd Lynchburg, VA 24515
About this event
1 day 19 hours

Mobile eTicket
We expect this event to sell out quickly so please register now and reserve your spot as soon as possible!
MEETING OVERVIEW
Join with NACL members, current and former Christian elected officials, faith leaders, believers and supporters for the National Association of Christian Lawmakers (NACL): 2023 NACL National Policy Conference.
Our conference theme is "One Nation Under God" and will include leading Christian elected officials, Jewish leaders, Christian faith leaders, pro-life leaders, special speakers, expert panels, induction of new NACL members, NACL-National Legislative Council committee meetings, and the presentation of special awards.
Special presentations and panels will be hosted covering hot topics such as electing more Christians to serve in public office, restoring faith in America, abolishing abortion in America, imminent threats to our economy surrounding ESG, the undermining of our culture by the LGBTQ movement, the woke Transgender movement threatening our schools and women's sports, standing with Israel, wars and rumors of wars - the Communist Chinese Party threat to world peace.
CONFIRMED SPEAKERS & PRESENTERS:
1. Congressman Bob Good, representing Virginia's Fifth Congressional District in the 117th United States Congress since January 2021. Member of the House Freedom Caucus, member of the Budget Committee and the Education and the Workforce Committee where he is Chairman of the Health, Environment, Labor and Pensions Subcommittee.
2. Kristan Hawkins, President of Students for Life of America and Students For Life Action (NACL National Advisory Board Member).
3. Mat Staver, Founder & Chairman of Liberty Counsel (NACL National Advisory Board Member).
4. The Honorable Robert Sprague, Ohio Treasurer (NACL Member).
5. Ambassador Khazar Ibrahim, Ambassador of the Republic of Azerbaijan to the United States of America
6. Michael Farris, Co-Founder of Convention of States, former President and CEO of Alliance Defending Freedom, founding president of of Patrick Henry College and the Home School Legal Defense Association.
7. Gordon Chang, expert on the Communist Chinese threat to America and the world.
8. The Honorable Matt Krause, First Liberty (NACL Member).
9. Justin Danhof, Head of Corporate Governance at Strive Asset Management.
10. Rod Martin, Founder & CEO, The Martin Organization (NACL National Advisory Board Member).
11. Bunni Pounds, Founder & President , Christians Engaged
12. Shannon Royce, CEO Christian Employers Alliance
13. Rep. Mary Bentley, Arkansas, (NACL-NLC Chair)
14. Rep. Sarah Vance, Alaska (NACL-NLC 3rd Vice Chair)
15. Sen. Dennis Baxley, Florida (NACL-NLC 1st Vice Chair)
16. Rep. John McCravy, South Carolina (NACL-NLC 2nd Vice Chair)
17. Sen. Dan Sullivan, Arkansas (NACL Member)
18. Pastor Robert Pacienza, D. James Kennedy Ministries
19. Dr. David Naylor, Conway Arkansas Public Schools Board Member (NACL Member).
20. Justice Everette Hatcher, Justice of the Peace Saline County Quorum Court (NACL Member).
21. Dr. Jameson Taylor, Director of Policy and Legislative Affairs, American Family Association Action.
22. William J. Federer, nationally known speaker, best-selling author, and president of Amerisearch, Inc. (NACL National Advisory Board Member).
23. Dr. William Lile D.O., FACOG, Founder of ProLife Doc, Inc. (NACL National Advisory Board Member).
24. Allan Parker, President of The Justice Foundation (NACL National Advisory Board Member).
25. Steve Noble, Founder of Called2Action Radio and host of The Steve Noble Show.
26. Kevin Freeman, host of ECONOMIC WAR ROOM, considered one of the world's leading experts on the issues of Economic Warfare and Financial Terrorism.
*All announced 2024 U.S. Presidential Candidates have been invited to speak at our upcoming meetings. It is in the interest of NACL members and all American citizens to understand the beliefs and values of anyone running for elected office, especially those running for president of the United States. We will announce any confirmed speakers when they respond. The NACL is a 501(c)3 non-profit organization and we do not endorse political candidates.
CONFERENCE AGENDA:
Thursday, June 8, 2023
Members and guests begin to arrive.
5:00pm - Registration Desk opens at Liberty University (location to be announced)
6:00pm - Welcome Reception for Registered Attendees at Liberty University
6:30pm - Opening Dinner Banquet (Dress is Business)
This is always an exciting event with special music, powerful speakers, and award presentations.
Friday, June 9, 2023
8:00am - Welcome Breakfast and Chairman's Welcome with Special Guest Speaker
9:00am - 12:00pm - Featured Speakers, Expert Panels, Committee Meetings
12:00-1:00pm - Lunch and Special Guest Speaker
1:00-4:00pm - Featured Speakers, Expert Panels, Committee Meetings, Elected Official Spouses Meeting
4:00pm-6:00pm - Break and preparation for evening event.
6:30pm - Dinner Banquet (Dress is Business)
Saturday, June 10, 2023
8:00am - Prayer Breakfast & Special Guest Speaker
9:00am - 12:00pm - Featured Speakers, Expert Panels, NACL Executive Committee Meeting
12:00 - Lunch and Closing Ceremony with Special Guest Speaker
(A detailed agenda will be publicized when all speaker confirmations have been received. Dress for all evening events is business, dress for all day meetings is business casual or business.)
The NACL was originally announced in 2018 and incorporated in 2019 to become the first fully functioning national legislative policy organization led by Christian elected officials at the local, state and federal levels. In fact, historians have stated the NACL is the very first official national association of Christian lawmakers in the history of our country - and we want you to join and be a part of what we are doing.
The organization is dedicated to restoring the Judeo-Christian foundation of our nation and addressing major policy issues facing our states and nation from a Biblical worldview. The charter meeting of the NACL was held August 4-5, 2020, in Miramar Beach, Florida with Christian elected officials and supporters from all around the United States who chose to take a stand for God and Country. At that meeting 23 elected officials were installed as state chairs for the NACL. The NACL received official recognition as an IRS approved 501(c)3 organization in 2021. The organization continues to grow and now has elected officials serving as state chairs in 32 states, with members and supporters in all 50 states and Puerto Rico. The NACL has 7 committees operating as the NACL-National Legislative Council and have passed 12 model laws to date.
Special Note Spouses Welcome: NACL welcomes spouses of elected officials to be at our event. We know that behind every married lawmaker is a spouse that sacrifices for public service as well.
EXCLUSIVE EVENT
This is an exclusive event for Christian lawmakers, faith leaders, policymakers, believers, pastors, NACL members and supporters from around the United States. We are dedicated to our Judeo-Christian history and heritage.
MEETING LOCATION & HOTELS
All conference meetings are taking place at the Montview Ballroom in the Student Union on the campus of Liberty University located at 1971 University Blvd.
As of 05/22/2023 block room rates are no longer available. Lynchburg, VA has many nice hotel options surrounding Liberty University for you to choose from. You can search online at www.expedia.com or other online search tools - rates are very reasonable.
Click here to search for Hotels in Lynchburg, VA
NO REFUNDS
There will be NO REFUNDS. All registrations, tickets, memberships, sponsorships or donations are non-refundable. If the meeting is forced to be cancelled for any reason all registered attendees and/or sponsors will be given credit at a future conference.
Thanks to our Event Sponsors!!!
Hunter Lundy, NACL Governing Board Member
We welcome you to become a sponsor as well. For more information email jason.rapert@christianlawmakers.com.
IMPORTANT NACL NOTICES
The NACL is a private membership organization. Only paid members and registered attendees who are our guests are allowed to participate and attend our meetings.
The NACL is not responsible for accidents, illness or loss of property of attendees.
Registered NACL attendees must display their meeting credentials at all times in order to be admitted to all meetings and events including the receptions, breakfasts, lunches or dinners.
Security will be present for the security and safety of our attendees.
The NACL reserves the right to ask any registrant or attendee to leave the meeting if they become disruptive to the meeting or other attendees. Registration fees will not be refunded.
PURPOSE
In 1776, the founding fathers of our nation made four specific references to God in the Declaration of Independence, referring to Him as Nature's God, our Creator, the Supreme Judge of the World, and Divine Providence. They understood that God has given every person natural rights that no man created and no man can take away. Our nation is forgetting this fundamental principle and it is time that we take action before it is too late.
In Proverbs 29:2 the scripture declares, "When the righteous are in authority, the people rejoice: but when the wicked beareth rule, the people mourn." Our nation has been experiencing spiritual decline for decades and we now are dealing with social unrest and political division at levels not seen since the Civil War in the 1860s. We believe that the answer to these challenges can be found by uniting Christian believers together with Christian elected officials who are dedicated to restoring the Judeo-Christian foundation of our nation and serving in elected offices at every level around the nation.
The National Association of Christian Lawmakers (NACL) is host to the first functioning National Legislative Council that is led by Christian lawmakers from the local, state and federal levels.
Based on discussion and debate, Christian lawmakers through the NACL formulate model statutes, ordinances and resolutions based upon a Biblical worldview for introduction in cities, counties, states, and at the federal level in Congress. No other organization has done this or is currently doing this in our country today.
The goal is for lawmakers to come together in support of clear Biblical principles so that our nation lives up to its national motto "In God We Trust." In Psalm 33:12 of the Holy Bible the message is clear, "Blessed is the nation whose God is the Lord." We have been suffering in this nation because ungodly leaders are in many positions of authority and their actions result in ungodly laws, decisions and judgments.
The Bible is very clear on several issues including the protection of all life and the fact that God created man and woman for companionship and marriage. The Bible also is clear that God's plan for humanity was for those who believe in Him to take authority over everything in the earth, Genesis 1:26-28. Christians are being forced out of the public square and chastised for speaking up on issues in the private and public realm. The early signs of Christian persecution are already present in our culture today and we must stop this now.
It is time to take action and we are recruiting solid leaders who are willing to take a stand. Come join us and take your place to stand in the gap for the future of America and be a part of saving our nation!