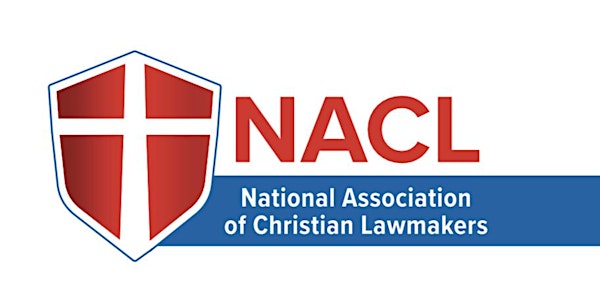 NACL 2022 Annual Meeting & Awards Banquet
Please join us for the National Association of Christian Lawmakers: 2022 Annual Meeting & Awards Banquet, being held November 16-17, 2022.
When and where
Location
Omni Las Colinas Hotel 221 Las Colinas Boulevard East Irving, TX 75039
About this event
We expect this event to sell out quickly so please register now and reserve your spot as soon as possible.
MEETING OVERVIEW
Join with NACL members, current and former Christian elected officials, faith leaders, believers and supporters for the National Association of Christian Lawmakers (NACL): 2022 Annual Meeting & Awards Banquet.
Our conference theme is "Save the Nation" and will include national pro-life leaders, special speakers, expert panels, induction of new NACL members, NACL-National Legislative Council committee meetings, and the presentation of special awards. Evangelist James Robison will be delivering our keynote speech during the opening event on November 16th and will receive the NACL George Washington Lifetime Leadership Award for his decades of ministry and his impact upon the conscience of Americans preaching the Gospel of Jesus Christ. Brother James is founder and president of LIFE Outreach International. He co-hosts the daily television program LIFE TODAY with his wife, Betty. Since entering public ministry in the 1960s, James has spoken to more than 20 million people in several hundred city-wide evangelistic outreaches and has personally inspired religious, political and social leaders across five decades.
We are very excited to have Gene Bailey, host of the very successful and informative television program FlashPoint that is making a real difference in our nation right now. Regularly on his show, Gene Bailey, along with regular contributors Mario Murillo, Hank Kunneman and Lance Wallnau, are joined by leaders in politics, government, business and the Church. FlashPoint focuses on current issues facing America and delivers news and commentary under the anointing—encouraging evidence and hope that God is indeed working to bring about His plans and purposes during these turbulent times.
We will also be honoring Mr. Allan Parker, president of the Justice Foundation, for his decades of service fighting to end abortion in our nation. He is one of the most respected Prolife advocates in America today and serves on the NACL National Advisory Board. Mr. Parker was lead counsel for Norma McCorvey, formerly "Roe" of Roe v. Wade, from 2000 to 2012, and Sandra Cano, the "Doe" of Doe v. Bolton, until 2014 in their efforts to overturn the two landmark cases that brought legalized abortion on demand to America.
We are happy to have Lt. Governor Mark Robinson of North Carolina joining us this year to provide inspiration to our members and attendees as we begin our meetings on Thursday, November 17th. Lt. Governor Robinson is a bold and courageous Christian elected official and has the distinction of being the very first African-American man elected to serve as the Lieutenant Governor of the State of North Carolina.
We will also be installing NACL Charter Member and current NACL-NLC Vice Chair Rep. Mary Bentley of Arkansas as the new Chair of the NACL-National Legislative Council. New NACL state chairs from across the country will also be installed including Rep. Mark Jennings of Wyoming, Delegate Phillip Scott of Virginia, and Delegate Ric Metzgar of Maryland.
The NACL was originally announced in 2018 and incorporated in 2019 to become the first fully functioning national legislative policy organization led by Christian elected officials at the local, state and federal levels. In fact, historians have stated the NACL is the very first official national association of Christian lawmakers in the history of our country - and we want you to join and be a part of what we are doing.
The organization is dedicated to restoring the Judeo-Christian foundation of our nation and addressing major policy issues facing our states and nation from a Biblical worldview. The charter meeting of the NACL was held August 4-5, 2020, in Miramar Beach, Florida with Christian elected officials and supporters from all around the United States who chose to take a stand for God and Country. At that meeting 23 elected officials were installed as state chairs for the NACL. The NACL received official recognition as an IRS approved 501(c)3 organization in 2021. The organization continues to grow and now has elected officials serving as state chairs in 29 states, with members and supporters in all 50 states and Puerto Rico. The NACL has 7 committees operating as the NACL-National Legislative Council and have passed 10 model laws to date.
Special Note Spouses Welcome: NACL welcomes spouses of elected officials to be at our event. We know that behind every married lawmaker is a spouse that sacrifices for public service as well.
EXCLUSIVE EVENT
This is an exclusive event for Christian lawmakers, faith leaders, policymakers, believers, pastors, NACL members and supporters from around the United States. We are dedicated to our Judeo-Christian history and heritage.
You can register now to attend the full awards banquet and conference, or we have a special Awards Banquet Only Ticket for local attendees that would like to join us for the opening ceremonies, banquet meal, special speakers and entertainment on Wednesday night 11/16/2022. Just click the REGISTER button on this page and you will be taken to your registration and ticket selections.
LOCATION & CONFERENCE HOTEL
***Our conference hotel for this event is the beautiful Omni Las Colinas Hotel, 221 Las Colinas Blvd E, Irving, TX 75039. This is the location for all our events and meetings.
If you are unable to book a room at the conference hotel, please see these references for hotels located nearby:
1. Marriott Dallas Las Colinas, 223 West Las Colinas Blvd., Irving, Texas, 75039. Map note: On same street as Omni, just a few blocks away.
2. Homewood Suites by Hilton Dallas-Irving-Las Colinas, 4300 Wingren Dr., Irving, Texas, 75039. Map note: A few blocks away.
3. Aloft Las Colinas,122 East John Carpenter Freeway, Irving, Texas, 75062. Map note: Across the highway from the Omni, appx. a five-minute drive.
Wednesday, November 16th - Opening Event & Awards Banquet
The registration desk opens at 3pm at the hotel venue.
6:30pm OPENING RECEPTION sponsored by Hunter Lundy For Governor of Louisiana
7:00pm Opening Ceremony, Entertainment, Dinner, Awards, special comments from Gene Bailey host of wildly popular conservative program FlashPoint, legendary prolife attorney and advocate Allan Parker will be receiving a lifetime leadership award, and the evening will be topped off with a powerful keynote speech from Evangelist James Robison who will also be awarded a lifetime leadership award for his Christian leadership in our nation.
Thursday, November 17th - NACL-National Legislative Committee Meetings
This will be a full day of committee meetings and special presentations. The committee agendas will be available to attendees at the meeting and posted closer to the event. Breakfast and a box lunch will be served.
8:00am - 9:00am: Breakfast and Featured Speaker Lt. Governor Mark Robinson
9:10am - 12:00pm: NACL Committee Meetings and special presentations.
Featured Speakers Include:
State Representative Jared Patterson (TX) on the LGBTQ agenda targeting youth through library books. Rep. Patterson led a group of Republican state lawmakers in Texas calling on school districts to pledge they will not buy books from vendors that have supplied what they describe as a "pornographic" LGBTQ graphic novel, and to remove certain materials already on school campuses.
Janet Boynes addressing the LGBTQ agenda and recommended policies to protect children. Janet Boynes Ministries (JBM) was founded when the CEO and founder, Janet Boynes, felt God's call on her life to help those who are trapped in the sin of homosexuality and yearn to be set free. She sees this as a "holy calling" (2 Timothy 1:9) and has also been led to reach those who struggle with same-sex desires and gender identity dysphoria.
Sam Sorbo will be addressing concerns about education in the United States. Sorbo is an Education Freedom Advocate and an expert on Home Learning . She is an author, podcast host, writer, producer and actress. She hosts the Underground Education community and is launching a series of events by the same name.
Dr. David Naylor, member of the Conway, Arkansas School Board, addressing their actions to address transgender bathroom policies and the removal of inappropriate books from school libraries. Proposal of Model School Board Policy.
Allan Parker, addressing the overturn of Roe v. Wade and the fight for life in our state capitols.
Richard Harris, executive director of the Truth & Liberty Coalition. This is an awesome conservative Christian organization that was launched in affiliation with NACL National Advisory Board Member Andrew Wommack.
Sue Liebel, State Policy Director, Susan B. Anthony List, providing an update on important Pro-Life issues and legislative efforts after the overturn of Roe v. Wade.
Steven Aden, serves as Chief Legal Officer & General Counsel at Americans United for Life. He will be providing insight on legislative strategies to end abortion in individual states and also discussing a proposed U.S. Constitutional amendment to end abortion nationally.
Sarah Zarr, Midwest Regional Manager Students for Life. She will be sharing legislative ideas and information to help lawmakers in their efforts to end abortion.
Bruce Lee, of the Phoenix Correspondence Commission , addressing issues surrounding an Article V amendments convention and a balanced budget amendment.
12:00pm - 1:00pm: Lunch and Featured Speaker Bishop Ron Archer
1:15pm - 2:30pm: NACL-National Legislative Council Executive Committee Meeting and Officer Installation
2:30pm - 3:00pm: Closing Ceremony and Call To Action
The NACL committees and expert panels will be dealing with issues ranging from honoring God in the public square, critical race theory, election integrity, pro-life policy, religious liberty, transgender legislation, America-Israel relations, 2nd Amendment rights, saving our schools from liberal elites and the education system, national security, navigating social media, registering Christians to vote, and electing Christians to public office.
SPECIAL OPPORTUNITY BONUS: Our NACL meeting is being held immediately before the WallBuilders 2022 ProFamily Legislators Conference that begins on November 17th, which is conveniently meeting in the same hotel venue and begins immediately after the NACL meeting adjourns. This was done to accommodate NACL members who wish to also attend the Wallbuilders conference which we support. They have separate registration for that meeting but we encourage interested state legislators who wish to attend and stay over for that meeting to do so. They will have great content and speakers including some of our own NACL National Advisory Board Members. Please visit their conference website to get more information: WALLBUILDERS 2022 PROFAMILY LEGISLATORS CONFERENCE
NO REFUNDS
There will be NO REFUNDS. All registrations, tickets, memberships, sponsorships or donations are non-refundable. If the meeting is forced to be cancelled for any reason all registered attendees and/or sponsors will be given credit at a future conference.
Thanks to our Event Sponsors!!!
Patriot Sponsors:
Founder Sponsors:
Friend of NACL Sponsors:
IMPORTANT NACL NOTICES
The NACL is a private membership organization. Only paid members and registered attendees who are our guests are allowed to participate and attend our meetings.
The NACL is not responsible for accidents, illness or loss of property of attendees.
Registered NACL attendees must display their meeting credentials at all times in order to be admitted to all meetings and events including the receptions, breakfasts, lunches or dinners.
Security will be present for the security and safety of our attendees.
The NACL reserves the right to ask any registrant or attendee to leave the meeting if they become disruptive to the meeting or other attendees. Registration fees will not be refunded.
PURPOSE
In 1776, the founding fathers of our nation made four specific references to God in the Declaration of Independence, referring to Him as Nature's God, our Creator, the Supreme Judge of the World, and Divine Providence. They understood that God has given every person natural rights that no man created and no man can take away. Our nation is forgetting this fundamental principle and it is time that we take action before it is too late.
In Proverbs 29:2 the scripture declares, "When the righteous are in authority, the people rejoice: but when the wicked beareth rule, the people mourn." Our nation has been experiencing spiritual decline for decades and we now are dealing with social unrest and political division at levels not seen since the Civil War in the 1860s. We believe that the answer to these challenges can be found by uniting Christian believers together with Christian elected officials who are dedicated to restoring the Judeo-Christian foundation of our nation and serving in elected offices at every level around the nation.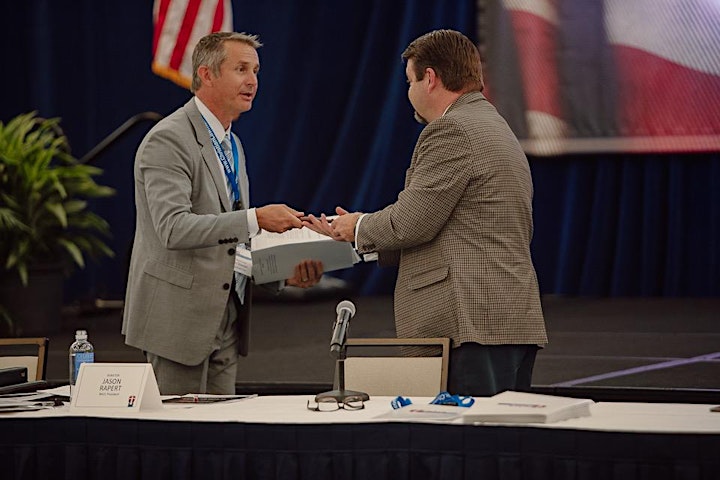 The National Association of Christian Lawmakers (NACL) is host to the first functioning National Legislative Council that is led by Christian lawmakers from the local, state and federal levels.
Based on discussion and debate, Christian lawmakers through the NACL formulate model statutes, ordinances and resolutions based upon a Biblical worldview for introduction in cities, counties, states, and at the federal level in Congress. No other organization has done this or is currently doing this in our country today.
The goal is for lawmakers to come together in support of clear Biblical principles so that our nation lives up to its national motto "In God We Trust." In Psalm 33:12 of the Holy Bible the message is clear, "Blessed is the nation whose God is the Lord." We have been suffering in this nation because ungodly leaders are in many positions of authority and their actions result in ungodly laws, decisions and judgments.
The Bible is very clear on several issues including the protection of all life and the fact that God created man and woman for companionship and marriage. The Bible also is clear that God's plan for humanity was for those who believe in Him to take authority over everything in the earth, Genesis 1:26-28. Christians are being forced out of the public square and chastised for speaking up on issues in the private and public realm. The early signs of Christian persecution are already present in our culture today and we must stop this now.
It is time to take action and we are recruiting solid leaders who are willing to take a stand. Come join us and take your place to stand in the gap for the future of America and be a part of saving our nation!