Description
Results of the

NACE International 2016 Measures of Prevention, Application, and Economics of Corrosion Technologies (IMPACT) Study
The fifth technical talk of the season by the NACE Edmonton section will be on Tuesday, April 24th at the Nest on the NAIT campus by Pierre Crevolin on the 2016 IMPACT study. NACE International ran the 2016 IMPACT study to examine the current role of corrosion management in industry and government and establish best practices. The resulting report will guide the focus of NACE International and, as a result, the corrosion community for years to come. The study updates the global cost of corrosion and the effectiveness of corrosion practices as well as identifying key deficits we have as a corrosion community. The complete report can be found here.
Pierre Crevolin is a standing member of the NACE International technical advisory board. Pierre was one of the IMPACT study technical advisory board members and has extensive knowledge about the process, conclusions and next steps following the study. Pierre graduated from the UofA with a Metallurgical Engineering degree in 1971 and has been involved with many corrosion companies as a manager, board member, major shareholder and president. Pierre was previously with Caproco, United Corrosion Cosultants, United Pipeline Systems, Waygard Coating Systems, and CSI Coating Systems and is currently with HDMI Protective Coatings and Codefleet Assured Resourcing Solutions. Pierre has also been involved with the different levels of NACE for over 40 years including the Edmonton Section, Northern Area, and International and was the President of NACE in 2003-04.
NACE Edmonton focuses on growing and supporting the corrosion community in Edmonton and the surrounding area and these technical talks provide an excellent networking and education opportunity for anyone related to corrosion. The talk is appropriate for NAIT and U of A students interested in a career in corrosion and meeting professionals in the corrosion field as well as for engineers and technicians involved with the corrosion community. The technical talk includes a dinner and presentation about corrosion.
Registration
Attendees who pre-register are automatically entered to win incredible door prizes
6:00 Registration
6:20 Welcome and Dinner
6:45 Presentation
7:45 Questions, Networking & Door Prizes
Cost:
$10 Students (NAIT & UofA)
$25 NACE or other technical society member
$35 non-NACE member
Details
Please be advised that attendees are encouraged to wear appropriate business casual clothing.
Attendees should refrain from wearing the following:
Clothing with offensive slogans or pictures, e.g., profanity and nude or seminude pictures, offensive gestures, suggestive cartoons, derogatory words or political slogans.
Additionally, please ensure proper transportation is planned ahead of time if you choose to enjoy a few cocktails and beers for the night. Transportation can be provided by Uber (1-800-593-7069), Taxi (780-462-3456) or ETS.
Parking:
There is $5 parking east of the Nest and free parking to the west.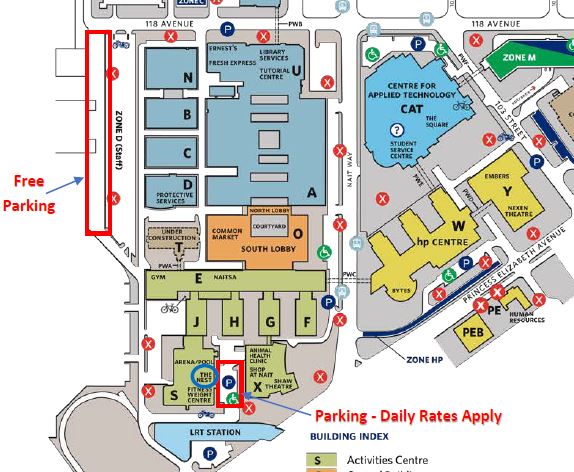 Future Events:
NACE Edmonton Annual Golf Tournament - June 22 - Coloniale Golf Club