Description
Remote Monitoring Units in the Cathodic Protection Industry and Tools for Analyzing Data
Overview
The fourth technical talk of the season by the NACE Edmonton section will be on Tuesday, February 27th at the Nest on the NAIT campus. NACE Edmonton focuses on growing and supporting the corrosion community in Edmonton and the surrounding area and these technical talks provide an excellent networking and education opportunity for anyone related to corrosion. The talk is appropriate for NAIT and UofA students interested in a career in corrosion and meeting professionals in the corrosion field as well as for engineers and technicians involved with the corrosion community. The technical talk includes a dinner and presentation about corrosion.
Remote Monitoring Units (RMUs) have been in use for several years in the CP industry to monitor system performance (eg rectifier outputs, CP potentials, bond currents). Experience with the actual deployment of these RMU systems has shown that without a robust installation procedure, RMUs can be left transmitting unreliable (but still auditable) data for months or years. Furthermore, manually managing data from multiple RMU sources (and other non-CP data sources) is not practical, but there are analytics tools that can be easily deployed to automate this process. The presentation will discuss a strategy for effective RMU deployment to minimize unreliable data and discuss a strategy for managing and analyzing RMU data from multiple sources using modern database dashboard tools.
Speaker Bio
Scott McKelvey, P. Eng., has been in the corrosion prevention industry for just under four years, where he has specialized in cathodic protection. His experience has primarily been in supporting cathodic protection and AC mitigation field operations, providing technical guidance for installation, commissioning, and surveying of cathodic protection and AC mitigation systems, and also leading diagnostic testing and troubleshooting of cathodic protection systems. He has also been responsible for training field and office staff on the fundamentals and frustrating quirks of cathodic protection. Prior to this, he worked in the defense industry, performing electromagnetic interference testing and mitigation on armoured vehicles, and also in the automation industry, building and maintaining machine vision systems for sawmills.
He is currently employed by Corrosion Service Company Ltd, based on out Edmonton, where he is the Senior Team Lead of that office's engineering group. He holds a Bachelor's Degree in Electrical Engineering from the University of Victoria, a Diploma of Technology in Electrical and Computer Engineering from BCIT, and can usually be found chasing after his twin toddlers or making saw dust in his wood shop.
Registration
Attendees who pre-register are automatically entered to win incredible door prizes
6:00 Registration
6:30 Welcome and Dinner
7:00 Presentation
Cost:
$10 Students (NAIT & UofA)
$25 NACE or other technical society member
$35 non-NACE member
Parking:
There is $5 parking east of the Nest and free parking to the west.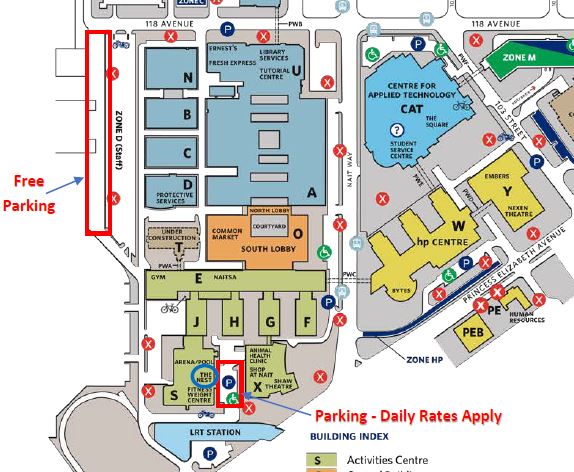 Future Events:
February 22nd - Faculty Club (Joint with ASM)
March 20 - Faculty Club
April 24th - The Nest