Description
Pharmacists: Interested in earning a Point-of-Care Testing certificate of completion? Need 20 hours of CPE?
Pharmacy Leaders: Interested in implementing a POCT service in your pharmacies? Want to offer the NACDS POCT program to your pharmacists?

These back-to-back sessions not only provide a practical way to complete the program, they provide an opportunity to begin offering the NACDS POCT Certificate program in your organization. Due to an update to the program format, participants can complete the program be trained as instructors all in one day.
POC Consultants, Inc. is hosting the NACDS Community Pharmacy-based Point-of-Care Testing Certificate Program. This accredited Continuing Pharmacy Education (CPE) program is a practice-based activity designed specifically for community pharmacy, academia and pharmacy association staff. The program offers 16 hours of home study and four hours of live, practice-based activity for a total of 20 contact hours of CPE credit.
Participants gain skills necessary to develop and implement a collaborative testing program for influenza, Group A streptococcus, HIV and hepatitis C. Get more information at http://nacds.learnercommunity.com.
This program is being offered concurrent with the NACDS Total Store Expo.
The POCT Certificate Program will run from 8:00am till 12:00pm.
Following a one hour and 30 minute lunch break, the Train-the-Trainer (TTT) program will run from 1:30-3:00pm.
Registration deadline is August 16th.
Faculty:
Donald G. Klepser, Ph.D., M.B.A. Associate Professor and Vice Chair Pharmacy Practice & Science
University of Nebraska Medical Center
The NACDS Community Pharmacy-based Point-of-Care Testing Certificate Program provides an opportunity to gain the skills and information necessary to develop a testing program for influenza, Group A Streptococcus, HIV, and Hepatitis C. The target audience for the certificate program is community pharmacists including students, academia, and pharmacy association staff. While the program is primarily designed for community pharmacists, non-pharmacists interested in point-of-care testing are also welcome to complete the program.


The 20-hour ACPE-accredited certificate program includes comprehensive material regarding key disease states, physical assessment, point-of-care tests, collaborative practice models, and business models through:
16 hours of home study
4 hours of live training
Students take an online assessment after each of the 12 modules of home study, in addition to a cumulative assessment (must pass 70% within three attempts), and then their proficiency to conduct physical assessments and offer point-of-care testing services is assessed in the live training. Upon successful completion of both portions of the program and all program evaluations, participants are awarded a certificate of completion and pharmacists can receive 20 hours of Continuing Pharmacy Education (CPE) credit.
Learning Objectives

The pharmacist who completes the home-study and live components of this Point-of-Care Testing Certificate Program should be able to:
Identify

at least 3 opportunities for expanding patient-centered services in the community pharmacy setting, using point of care

Discuss

the value and limitations of patient reported symptoms, medical history, and drug allergies

Describe

and perform the following physical assessments, when appropriate to patient care: Blood Pressure, Pulse, Respiratory Rate, Oxygenation, Cervical Lymph Node Inspection, Body Temperature

Describe

and perform the following specimen collections used in point of care testing: Throat swab, Oral fluid collection, Nasal swab, Finger stick

Identify

characteristics of the four exemplar infectious diseases (influenza, Group A Streptococcus, Human Immunodeficiency Virus, Hepatitis C) regarding: Causative agents, Transmission, Immunizations, Symptoms and Presentation, Appropriate therapy, Point-of-Care testing

Define and contrast

the following terms as they relate to point-of-care testing in community pharmacies: CLIA, CLIA-waived, Collaborative Agreement, Protocol, Prescribe, Diagnose

Explain

the value and limitations of Point-of-Care Tests, including rapid diagnostic tests, and list the steps a pharmacist can take to improve test performance

Apply

all information to patient-specific cases based on common community pharmacy-based patient interactions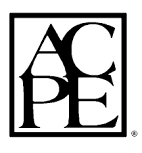 Continuing Pharmacy Education Information NACDS is accredited by the Accreditation Council for Pharmacy Education as a provider of continuing pharmacy education. The home study portion of this program is approved for 16 contact hours and the live training is approved for 4 contact hours of continuing pharmacy education credit (UAN: 0206-0000-17-012-B04-P). Credit is only awarded for completion of the entire 20 contact hour program. Credit must be claimed within 60 days of completing the program.
Activity Type: Practice-based
Target Audience: Pharmacists in all practice settings
Release Date: January 2, 2018
Expiration Date: January 2, 2021