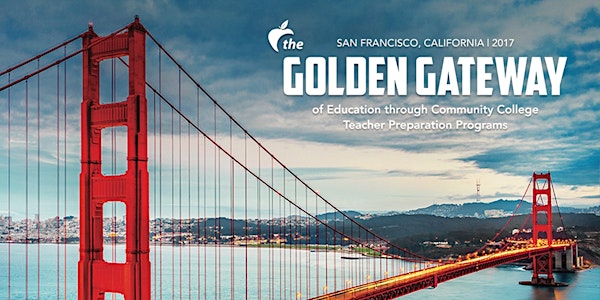 NACCTEP'S GOLDEN GATEWAY CONFERENCE
Location
San Francisco Marriott Marquis
780 Mission Street
San Francisco, CA 94103
Description
Join us at the beautiful Mariott Marquis with community college education faculty, administrators, and students from across the country to discuss innovative and research-based best practices for training pre-service teacher candidates who understand technology enriched approaches to learning, collaborate across aca­demic disciplines, utilize learning analytics, are culturally responsive to students, and teach with their heart. Participants will find that each workshop, forum, and general meeting session will provide resources to utilize within your home institution to help students better bridge their transition from community college to four year institution or forge new bridges that lead to new program offerings that meet community and PreK-12 educational needs.
The NACCTEP national conference is held in partnership with and prior to the Innovations 2017 conference. With limited travel funds, take advantage of two conferences in one great location.
1. What happens if I need an invoice to be sent to my institution?
At this time, you cannot register for the conference without submitting payment. If your institution requires an invoice to issue payment, please email

nacctep@riosaldo.edu

and in your subject line please state: "Conference Invoice". Our office will process an invoice and send to the requested party. Please note that the deadline to submit a request is

Wednesday, February, 1, 2017

.

After this deadline, payments will be accepted however, no invoice will be issued

.
2. What happens if I want to make payment by a check?
If your institution wishes to make payment by check, please send an email at

nacctep@riosalado.edu

and in the subject line please state: "

Conference Payment via Check

". Also, please include all attendees and their individual email addresses. Once our office has received payment, we will manually register attendees and send payment confirmation. Please note that the deadline to submit a request

is

Wednesday, February, 1, 2017

.

Manual registration will end

,

and you will be directed to complete registration via the conference website

. Again, if you have additional questions regarding the payment process for this event, please email us at

nacctep@riosalado.edu

.
3. Will the registration deadline be extended or the late registration fee waived?
Unfortunately, the registration deadline

will not be extended

, nor will the

late registration fee of $100

be waived. These policies have been set in place so that the organization or conference attendees do not incur further costs in preparation for the conference. We encourage all attendees to begin working with their institution's fiscal departments. If you have questions you may contact us at

nacctep@riosalado.edu

.
​4. Where can we send payment?
Payment can be remitted to the following address:

Rio Salado College
c/o: NACCTEP
EDU -3rd Floor
2323 W. 14th Street
Tempe, AZ 85281

5. Do you have a cancellation policy for registration?
Yes, we do have a cancellation policy. Attendees are encouraged to notify us in writing regarding cancelling registration at

nacctep@riosalado.edu

. Please note that there is a

$50 processing fee for cancelling registration

.
6. What happens if I cancel my registration after Friday, January 20, 2017?
Cancelling your registration after the deadline date of January 20, 2017 is an automatic forfeiture of your registration fee.
​7. What if I am a presenter, and I am not registered by the deadline date of Friday, January 20, 2017?
As a presenter, if you are not registered by the deadline date, as stated in the Presenter Agreement, your session will be cancelled. ​
8. Will membership be included by registering and attending the conference?
At this time, NACCTEP will not be offering membership with conference registration. To renew or begin new membership, please visit our conference

website

.