NACADA New York Drive-in Conference at Marist College - May 5, 2017
Actions and Detail Panel
NACADA New York Drive-in Conference at Marist College - May 5, 2017
Fri, May 5, 2017, 9:00 AM – 3:30 PM EDT
Description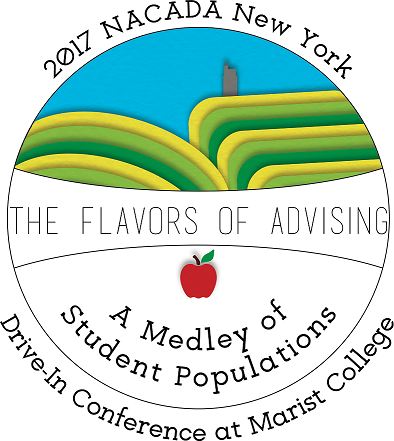 Hello everyone!
On behalf of the Marist College Center for Advising & Academic Services (CAAS) and the National Academic Advising Association (NACADA) we have the pleasure of inviting you to participate in "The Flavors of Advising: A medley of student populations" New York Drive-in Conference on Friday, May 5, 2017 at Marist College.
This conference will be a great learning opportunity for members of the local community and those in nearby states to join in on the conversation on academic advising in higher education.
In addition to the convenient proximity, attendees will pay a registration fee of only $30.00 which will cover admission, parking, breakfast and lunch. Click on the "Register" button above to register today! (open through April 21, 2017 or until the conference is sold out - Note: Payments can only be made online via credit card and tickets are non-refundable but can be given to someone else to attend).
This conference presents a great value and an excellent opportunity to meet the needs of academic advisors.
Please view the conference brochure for keynote, presentation and other conference specifics...http://bit.ly/nacadany17
Should you have any questions, feel free to call us at 845-575-3500 or email the conference chair, Dabby Hines at Dabby.Hines@marist.edu.

We look forward to seeing you at the conference!!
---
Conference Day at a Glance
9:00 a.m. – 9:45 a.m. - Check-in & Breakfast - Student Center Hallway
9:45 a.m. - 10:15 a.m. - Welcome Address - Nelly Goletti Theatre
10:15 a.m. – 11:00 a.m. - Keynote Speaker - Nelly Goletti Theatre
15 minute transition
11:15 a.m. - 12:15 p.m. - Breakout Sessions - Student Center Rooms 3101-3105
12:15 p.m. - 1:15 p.m. - Lunch - Cabaret
1:15 p.m. - 2:15 p.m. - Breakout Sessions - Student Center Rooms 3101-3105
15 minute break
2:30 p.m. – 3:00 p.m. - Unconference Sessions - Student Center Rooms 3101-3105
3:00 p.m. – 3:30 p.m. - Closing & Giveaways - Nelly Goletti Theatre