Annual Meeting 2021 in Raleigh, Carolina, Triangle Area (Raleigh/Durham/Chapel Hill).
About this event
NABWIC Annual Meeting 2022
The National Association of Black Women in Construction (NABWIC) is happy to announce that it is hosting NABWIC's National Annual Meeting in Raleigh, NC with the theme, "A Time to Build: Opportunities in a New Era".
Please join us in supporting our upcoming Annual Meeting which includes NABWIC's Billion Dollar Luncheon in Transportation Opportunities. Your contribution helps support the mission, vision, and purpose of our organization to assist in job creation and business opportunities within the community.
The annual meeting, previously held in person in locations such as Detroit, Miami, Atlanta and Ft. Lauderdale will take place in Raleigh , NC Triangle Area on January 19-22 , 2022 at the Embassy Suites by Hilton Raleigh Durham Airport and/or on the virtual ZOOM platform.
We look forward to seeing you in the North Carolina Triangle Area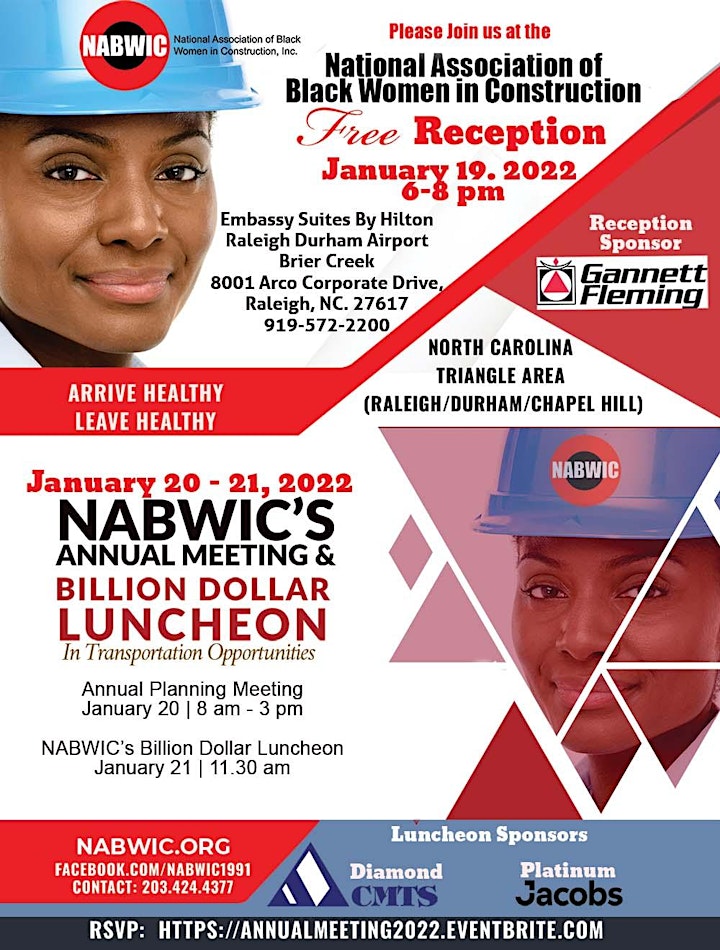 Organizer of NABWIC 2022 Annual Meeting & Billion Dollar Transportation Luncheon
National Association of Black Women In Construction
The vision of NABWIC is to build lasting strategic partnerships with first-rate organizations and individuals committed to providing ground breaking and innovative solutions for Black women in construction and their respective communities.
Founded to increase the national awareness of African American women in the construction industry. The charge of the National Association of Black Women in Construction (NABWIC) is to advocate for Black women to further opportunity for its membership. We advance the NABWIC mission, as our core foundation is strengthened, with the building blocks of new educational, entrepreneurial, professional and social network connections.
The Voice of Black Women in Construction.
Visit www.nabwic.org to learn more.