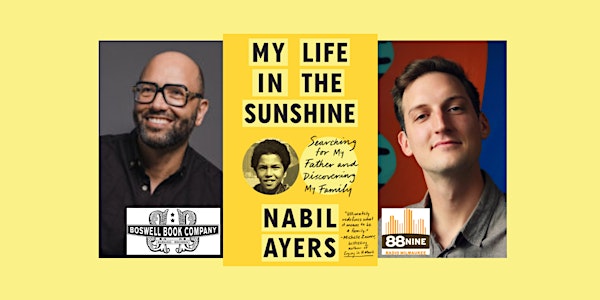 Nabil Ayers, author of MY LIFE IN THE SUNSHINE - an in-person Boswell event
Nabil Ayers, author of MY LIFE IN THE SUNSHINE - an in-person Boswell event
When and where
Location
Boswell Book Company 2559 North Downer Avenue Milwaukee, WI 53211 United States
About this event
Boswell presents an evening with Nabil Ayers, author of My Life in the Sunshine: Searching for My Father and Discovering My Family. In conversation with Justin Barney, Music Director of 88Nine Radio Milwaukee, our cohost for this event. Register here to be part of the in-person program.
In 1971, a white, Jewish former ballerina chose to have a child with the famous Black jazz musician Roy Ayers, fully expecting and agreeing that he would not be involved in the child's life. In this highly original memoir, their son, Nabil Ayers, recounts a life spent living with the aftermath of that decision, and his journey to build an identity of his own despite and in spite of his father's absence.
From New York Times bestselling author of Crying in H Mart and Grammy nominated musician Japanese Breakfast Michelle Zauner: "Across a soundscape of '70s New York jazz, '90s Pacific Northwest grunge, and '00s indie rock, Nabil traces the image of his father through song. With growing fascination and heartbreak, he draws out meaning from the shadow of absence, and ultimately redefines what it means to be a family."
Nabil Ayers has written about music and race for publications including The New York Times, NPR, and The Root. Ayers is the President of Beggars Group US, where he has released albums by many GRAMMY Award-winning artists. He currently resides with his wife in Brooklyn, New York.
Click here to purchase your copy of My Life in the Sunshine. Signed copies and personalization available on pre-orders. Please note that signed copies will not be shipped until after the event.
If you'd like to watch the event virtually, we're planning to broadcast it on Zoom Webinar. A link will be sent out on the day of the event.
Please note that we're only allowing two people to register on one email so that we can keep registered folks aware of any changes to this event.