Description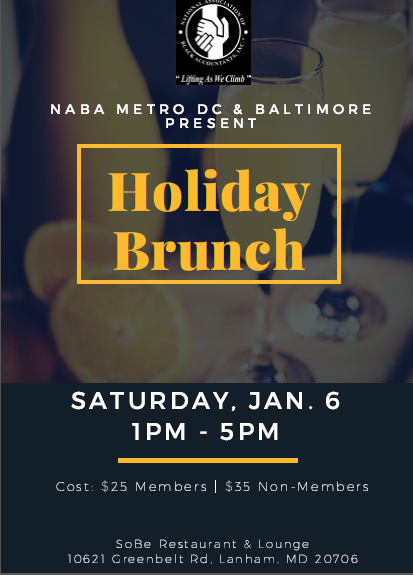 The National Association of Black Accountants Inc., Metropolitan Washington, D.C. Chapter hopes that all is well with you this holiday season! NABA Metro DC has had a productive Fall 2017, packed with monthly programming, membership, and community service events, ensuring that we continue to move in the NABA spirit of "Lifting As We Climb." We are excited to announce that on Saturday, January 6th from 1pm-5pm at SoBe Restaurant & Lounge in Lanham, MD, we will be helping you move into the holiday spirit with our NABA Metro DC Holiday Brunch!
Menu
Simply Fried Wings
Jamaican Jerk Wings
Shrimp & 3 Cheese Grits
Salmon Filets
Saffron Rice
Smoked Collard Greens
Macaroni & Cheese
Salad Station
Red Velvet Pound Cake
Gooey Butter Cake
Mimosas
This will be an awesome event to enjoy good music, great food, and network with the Metro DC leadership and members, both new and seasoned. There will also be an opportunity to pay your membership dues and learn more about the exciting programs that will be occurring during the remainder of the fiscal year! The event is open to NABA members ($25) and non-members ($35) so feel free to bring a friend or colleague. All must RSVP!