Description
Join us for a warm and cozy casual social evening to celebrate Black/African American achievements across business, arts and social causes. The evening will include:
Part 1: Spoken Word and Musical performances (6:00 – 7:15pm) - exhilarating poetry and live music celebrating black history, achievements and promise. Enjoy the performances with a light fare of tasty African-American/Black heritage food and cocktails!
Part 2: Engaging Discussion with Danni Starr local author of "Empathy & Eyebrows" (7:15 – 9:00pm) - Danni is an author, national media personality, mental health advocate, and activist. The former Miss Minnesota International 2007 can be heard every morning on 93.9 WKYS and seen weekly on the TLC network as host of TLCme Now. She graduated magna cum laude in May 2008 with a communications degree from St. Catherine's University in Minneapolis.

When she is not rendezvous-ing with radio, her first love, and TV, she keeps herself busy with social advocacy and activism. She currenty serves as the ambassador for the U.S. Department of Health and Human Services' Office on Women's Health. Besides being the best mom possible to her two daughters, Danni is all about sharing her #BlackGirlMagic.
Check out last year's candid moments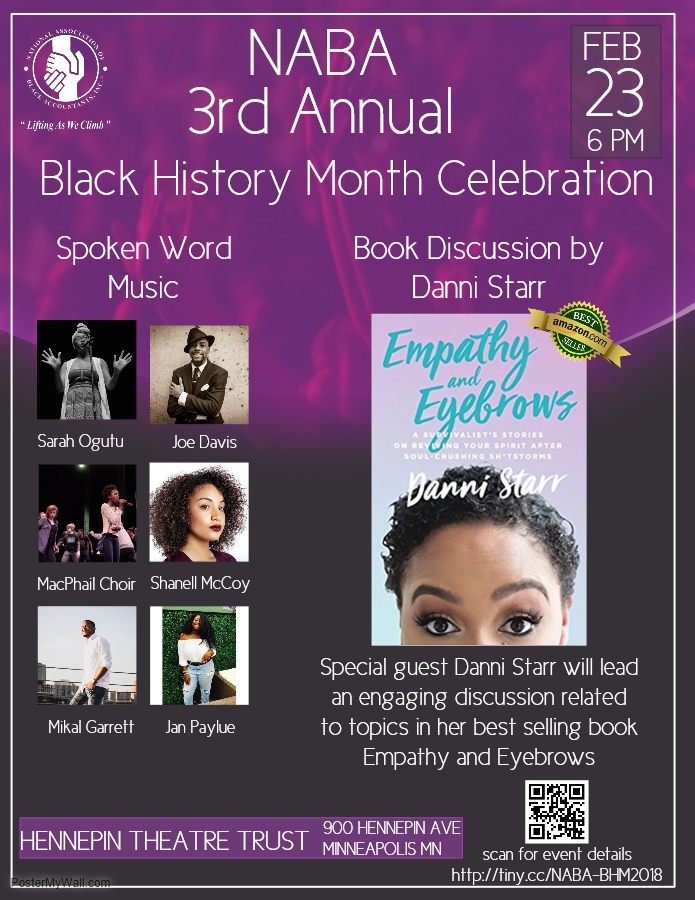 Thank you to our Event Sponsors: