NAASC-Tampa Bay Chapter 1st Annual Golf Tournament Scholarship Fundraiser
About this Event
Spelman College is a historically Black college and a global leader in the education of women of African descent. The College made significant gains on the 2019 U.S. News and World Report's list of college rankings. The College jumped 10 places to No. 51 on the list of the Best National Liberal Arts Colleges. It is also listed as the No. 1 HBCU for the 12th year in a row and was included on the list of the nation's most innovative liberal arts colleges. Spelman College educates the highest number (at 43) of Gates Millennium Scholars than any other college or university in the country.
We invite you to be a Sponsor and Supporter of this event! As a leader in the community and/or supporter of education, this is an opportunity for you to make a difference in the life of a young woman from the Tampa Bay Community. The proceeds raised from this event will support Spelman College students through financial scholarships that will be awarded in 2019-2020. In the past the NAASC- Tampa Bay Chapter's fundraisers have helped defray tuition and book expenses for Spelman students meeting scholarship qualifications.
NAASC - Tampa Bay is a 501c3 nonprofit. All dona­tions are tax-deductible based upon IRS regulations.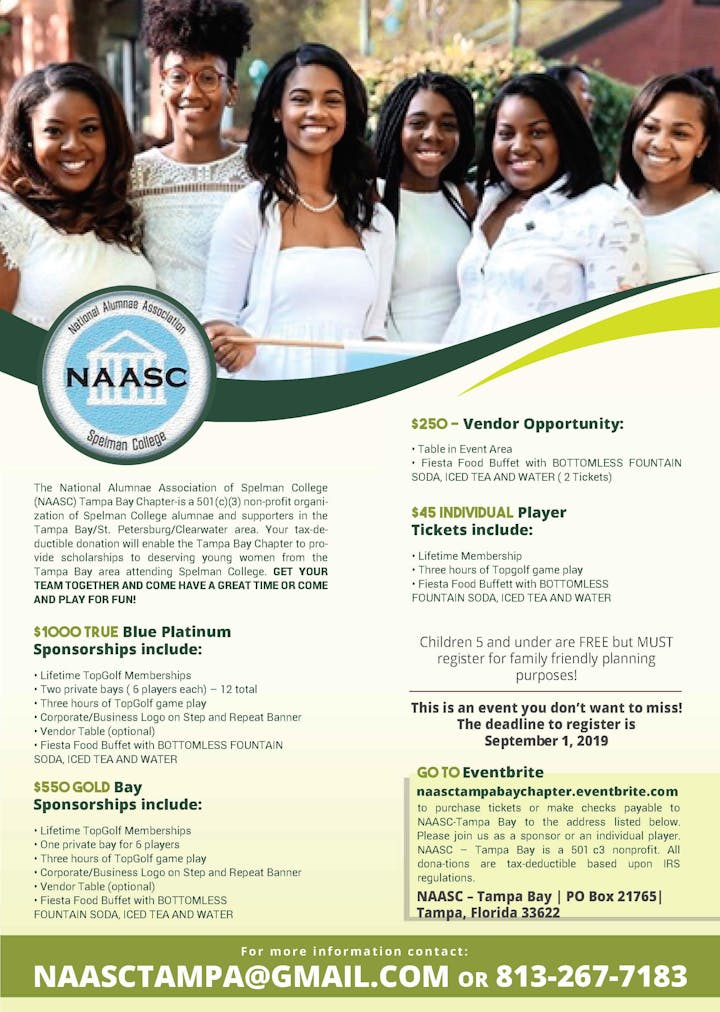 https://www.facebook.com/naasctampa/
https://www.spelman.edu