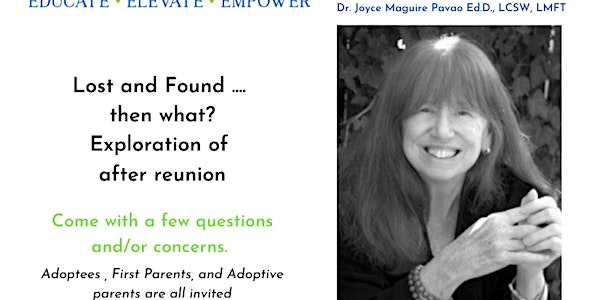 NAAP - 8.16.22 - Putting Yourself Together After Reunion
NAAP - Putting Yourself Together After Reunion - Dr. Joyce Maguire Pavao
About this event
Join Dr. Joyce Maguire Pavao for Putting Yourself Together After Reunion.
Bring your questions and share your challenges. Adoptees , First Parents, and Adoptive parents are all invited in order to better understand each other.
Meeting Structure: We discuss challenges, experiences, solutions, actions, and resources related to our mutual desire to increase our wellbeing.
For more information about this group, please email us at Jen@NAAPUnited.org
Dr. Joyce Maguire Pavao, Ed.D., LCSW, LMFT, was the Founder and CEO of Center for Family Connections, Inc. in Cambridge and New York, Founder and Director of Riverside After Adoption Consulting and Training, PACT (Pre/Post Adoption Consulting and Training, and Pavao Consulting and Coaching. Dr. Pavao has done extensive training, both nationally and internationally. She is a lecturer in Psychiatry at Harvard Medical School, and she has consulted to various public and private child welfare agencies, adoption agencies, schools, and community groups, as well as probate and family court judges, lawyers, and clergy. Additionally, she has worked closely with individuals and families touched by adoption, foster care, and other complex blended family constructions. She has developed models for treatment, and models for training, using her systemic, intergenerational, and developmental framework, The Normative Crises in the Development of the Adoptive Family. Her book, The Family of Adoption, has received high acclaim. Dr. Pavao has received many awards and honors, including the Children's Bureau/U.S. Department of Health and Human Services Adoption Excellence Award for Family Contribution (2003) and the Congressional Coalition on Adoption award for Angels in Adoption (2000).
Please download and LOG into Zoom Meeting in advance of the event https://zoom.us/download#client_4meeting
By clicking on this link, you understand and agree that:
1. This is a public meeting with no guarantee or representation that information or identity shared is confidential.
2. Here's how to create a first name only or an anonymous user profile. https://support.zoom.us/hc/en-us/articles/201363203-Customizing-your-Profile You will have the option to disable your image and mute your microphone, should you choose to do so.
3. This is a facilitated peer support group, not a group therapy session. If you are experiencing a serious mental health event, such as suicidal thoughts, please contact a licensed professional or suicide hotline at 1-800-273-8255
4. You agree to hold harmless NAAP, its individual board members, facilitators, and planners from any liability for outcomes of your participation in this event.
5. The hosts of this facilitated peer support group reserve the right to limit access to anyone deemed inappropriate, threatening, or otherwise disruptive to the group and its intended purpose.